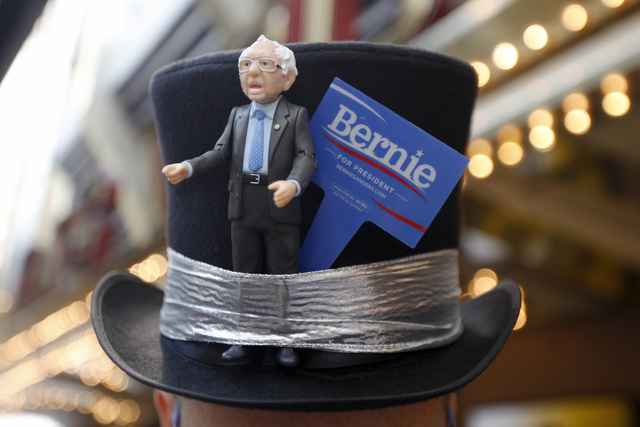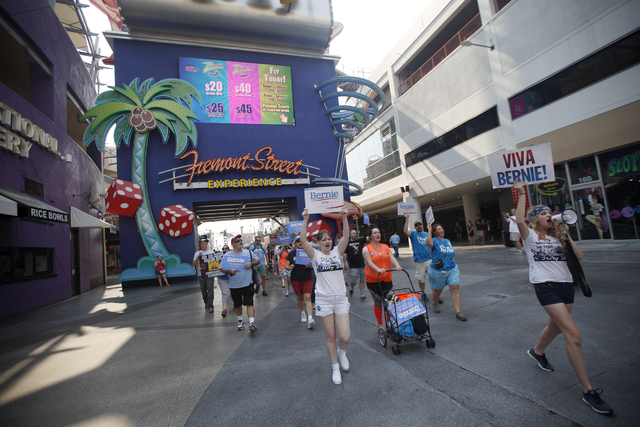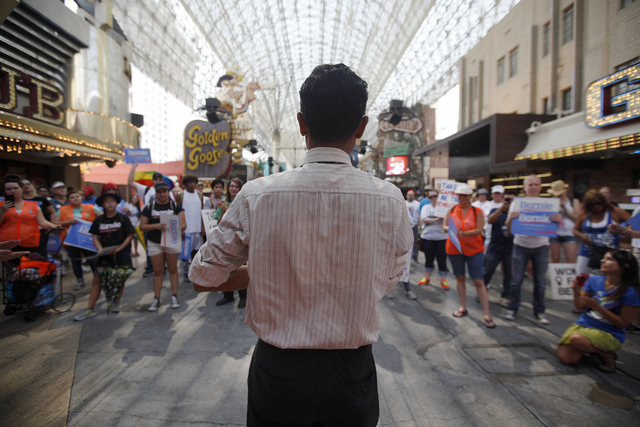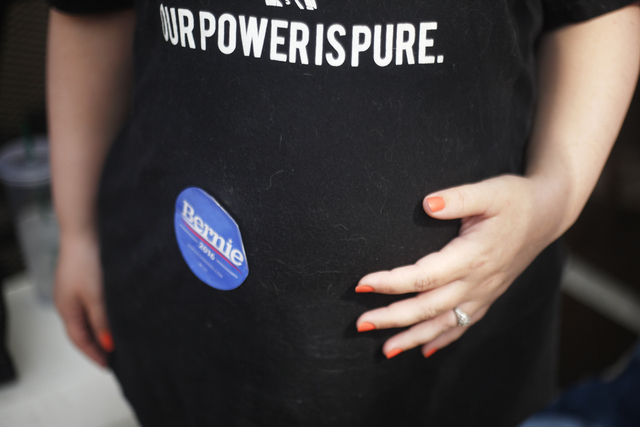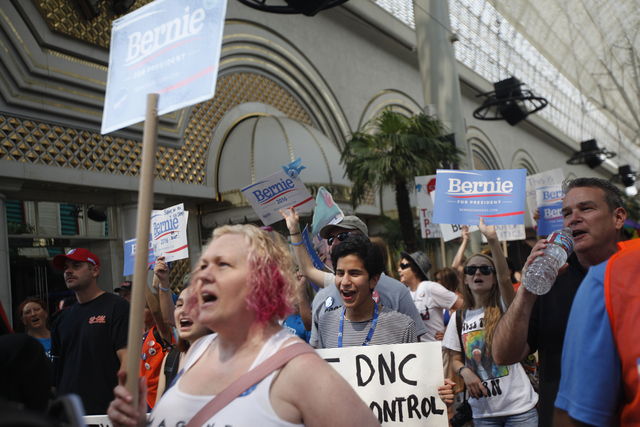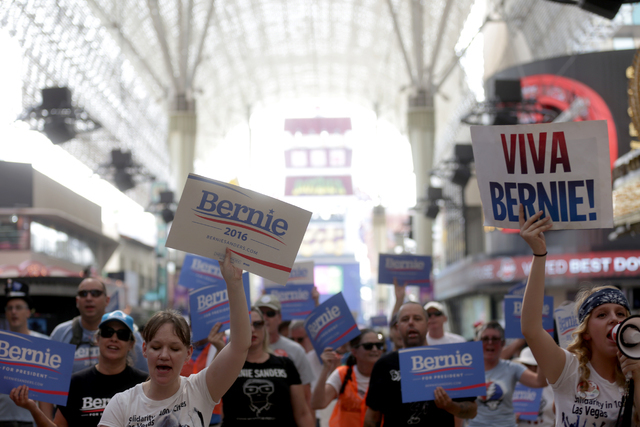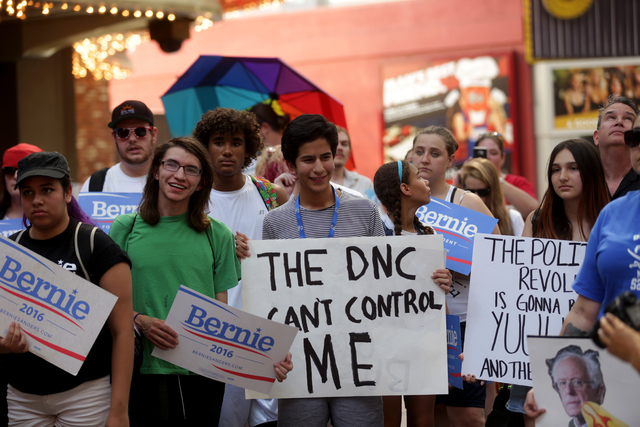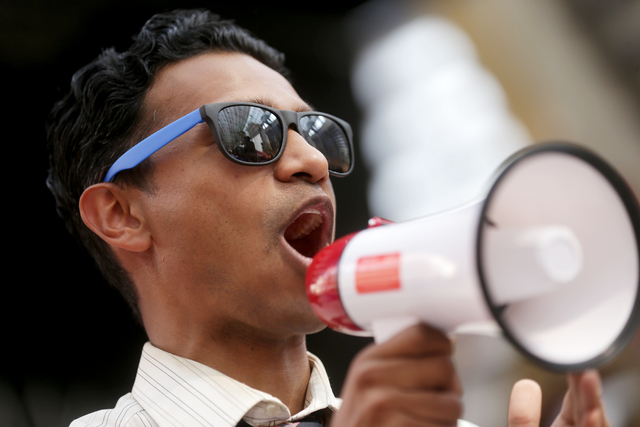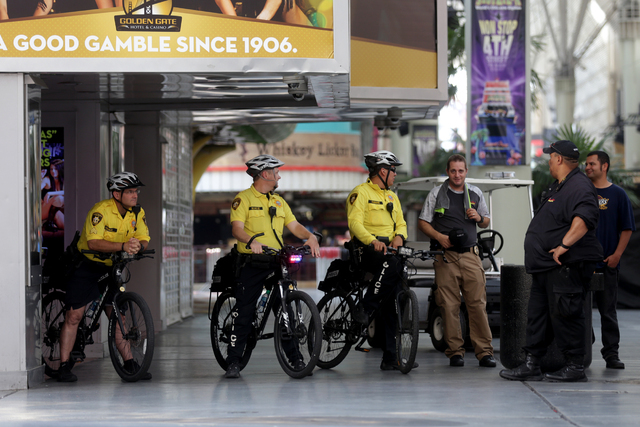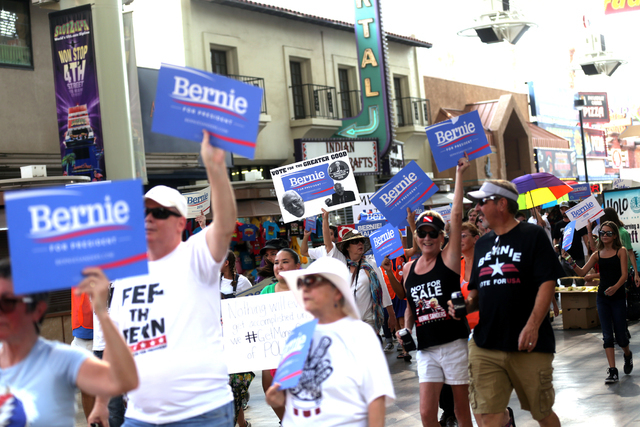 A day before the start of the Democratic National Convention in Philadelphia, about 50 Bernie Sanders supporters rallied at the Fremont Street Experience on Sunday morning to show the candidate and the country they are still behind him.
"Endorsement or not, we still believe in the same values we did last week," Jenna Garrett said, addressing the group. "We're not going to stray just because of an endorsement."
Garrett organized the Las Vegas event as part of the National March For Bernie, a series of rallies planned at the same time Sunday in more than 60 cities.
Thousands of demonstrators took to the streets in Philadelphia in the first major protests ahead of the convention. Throngs of Sanders supporters marched down a main thoroughfare to show their support of him and disdain for presumptive nominee Hillary Clinton ahead of the convention.
Chanting "Hell No, DNC, we won't vote for Hillary" and "This is what democracy looks like," the Philadelphia marchers headed from City Hall down Broad Street, the main north-south artery that leads from the city center to the convention site about 4 miles away.
In Las Vegas the group gathered at a parking garage on Ninth Street before marching with signs and T-shirts proclaiming their support for Sanders. The marchers walked from one end of the Fremont Street Experience to the other for about four hours.
Sen. Sanders, I-Vt., has not conceded his spot at the convention despite endorsing his Democratic opponent Hillary Clinton this month. His supporters at the rally were skeptical of his support for the former secretary of state.
"The majority of Bernie supporters will not vote for Hillary," Garrett said. Instead, they'll vote for Donald Trump or Jill Stein in November, or add Sanders back onto the ballot in the 43 states that allow write-in candidates, she said.
Others at the rally said they believe Sanders will win the Democratic nomination, predicting a backlash following the 19,252 hacked Democratic National Committee emails released through Wikileaks on Saturday.
"They cannot shut us down on the (convention) floor," Sanders supporter "Downtown" Ronny Wolf said. "They cannot shut us down beyond any reasonable doubt. (Clinton) needs to drop out.
"No matter what anyone else says, we are going to fight, fight, fight on the floor."
Contact Max Michor at mmichor@reviewjournal.com or 702-383-0381. Find @MaxMichor on Twitter.
The Associated Press contributed to this report