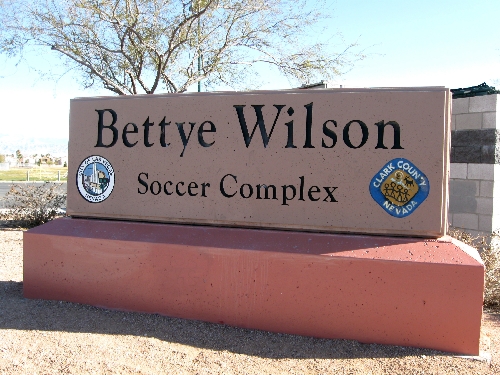 The Bettye Wilson Soccer Complex has been a staple of the Summerlin area for roughly a decade and is named for a woman whose contribution to girls soccer came from being an at-home mother with a passion for the sport.
The complex at 7353 Eugene Ave. sits on the northwest corner of Lake Mead Boulevard and Tenaya Way and is one of the sites that hosts the Las Vegas Mayor's Cup International Soccer Tournament each year, bringing in teams from as far away as Canada and Mexico. But about 10 years ago, it was just raw land. The city of Las Vegas and Clark County partnered to open the soccer field, and a number of names were kicked about.
Voices from the soccer community chimed in, and the decision to dub it the Bettye Wilson Soccer Complex scored a goal with everyone.
Who is the woman for whom the soccer complex was named?
Wilson was born in 1937. She lived in Arkansas as a child and played sports in high school. She married Don "Slick" Wilson in 1960, and they moved to Las Vegas.
Wilson worked as a secretary at the Nevada Club until she and her husband began a family – two daughters, Christy and Sherri. From then on, Wilson was a stay-at-home mother, but she was also active in the community. For a number of years, she was a 4-H leader. She was also a founding member of the Southern Nevada Hunter Jumper Association and belonged to the Nevada State Horse Association. She was also an active member of the Appaloosa Club.
In 1978, she signed her daughters up for soccer. As much as they liked it, their mother loved it, and she made sure players had the chance to participate. If children had no means for getting to practice, Wilson would go out of her way to pick them up. The inside joke was that if she was running late, half the team was late with her.
Many parents move on when their child has outgrown a sport. But Wilson was as involved as ever, even after her daughters were in college. She counted 20 years of involvement with youth soccer.
Wilson was a founding member of the Silver State Girls Soccer League and later became its president. She was the United States Youth Soccer Association Nevada state board member and district commissioner. It was Wilson who pushed to establish college scholarships for women's soccer.
Sherry Alexander, who is active in the soccer leagues, knew Wilson for 20 years and said setbacks were something she took in stride.
"Even when her house burned down, she was still signing up people for soccer … working out of her garage," Alexander said.
Christy Wilson recalled her mother's characteristic big laugh and the sense of humor that helped cement her many friendships.
"It was always, 'Is Bettye coming?' Wherever you went," she said.
Darl Rose was director of Region IV of the USYSA from 1988 to 2006 and knew Wilson for nearly 30 years. He called her a likeable person who was dedicated to children and the girls soccer program.
"At that time when we first started, the game wasn't that popular here," he said. "We had to grow the game, grow the sport, grow the participation and keep up the interest in it. She was great at doing this. She had a great love and passion for the game."
Her strength, he said, was organizing and that she was like a mother to all the girls in the sport.
"You hear about team moms," said Rose. "Well, Betty was the team mom for all the teams."
In 1995, Wilson was diagnosed with two brain aneurysms. She underwent emergency surgery as her family members held their collective breath. She survived the delicate surgery but faced a tough rehabilitation.
Two years later, there was more bad news – she had stage 3 ovarian cancer. She was told she had three years to live.
In her last days, Wilson asked Christy to take her from hospice care and drive her to the soccer complex that bears her name so she could visit it one more time.
She died a little while later, on July 2, 2000. She was 63.
"She wanted no recognition," Rose said. "She just wanted to give to the game."
Contact Summerlin/Summerlin South View reporter Jan Hogan at jhogan@viewnews.com or 387-2949.
Naming Las Vegas
The history behind the naming of various streets, parks, schools, public facilities and other landmarks in the Las Vegas Valley will continue to be explored in a series of feature stories appearing in View editions published on the first Tuesday of every month.
If you're curious about how or why something got its name, post a comment on our Facebook page, facebook.com/viewnewspapers, or email sblust@viewnews.com.
Thanks for reading View.