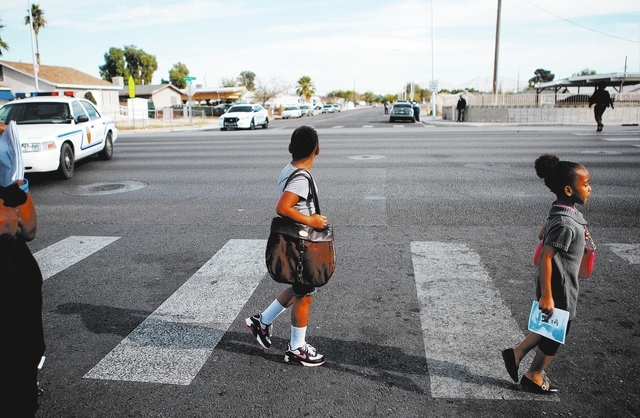 Streets don't always do justice to their namesake's historical stature.
If they did, North Las Vegas' Balzar Avenue would be one of the biggest commuter routes in the city, with streetlights visible from the Stratosphere and signs fit to mark casino entrances on the Strip.
As it stands, the road named for former Gov. Fred Balzar — the two-term Republican who oversaw the legalization of statewide divorce and gaming — runs less than a mile between Simmons and Revere Streets, cutting West Las Vegas in half at its intersection with Martin Luther King Boulevard. He was governor from 1927 to 1934.
It's an unassuming residential street named for a larger-than-life personality: a politician who was handsome and outgoing, with an Oscar Goodman-esque flair for celebrity.
Balzar worked as a butcher, railroad conductor and even a stagecoach driver before rising to statewide political prominence for barricading himself in a Hawthorne jail during a stint as Mineral County Sheriff.
The Virginia City native, who was trying to prevent the escape of two Chinese gang members, earned plaudits from national newspapers for the move, one that helped him win a state Assembly seat at 25.
He served several terms in the state Senate before taking incumbent Gov. John Scrugham's seat in 1926.
Five years later, the state had legalized gaming and enacted one of the country's most liberal divorce laws, moves widely credited with helping drag Nevada out of its Depression-era economic slump.
Balzar, who enlisted celebrity testimony from Will Rogers to help push the gaming bill over the top, signed the watershed bills on the same day, without much fanfare.
"I signed them both," a uncharacteristically quiet Balzar told reporters on signing day.
A March 1981 Las Vegas Review-Journal article claims that from then on, "Hollywood stars could always count on an audience" with the governor when they stopped in Reno to ditch their latest spouse.
It goes on to note that "Friendly Fred" was never sheepish about his fishing trips with boxer Jack Dempsey or his frequent appearances at actress Clara Bow's ranch in Searchlight.
Balzar died in office three years after signing the state's watershed gaming and divorce bills.
Clark County Museums Administrator Mark Hall-Patton said for all the flashbulbs and famous friends, history will still remember him as a man of the people.
When the chips were down — and the minerals being pulled out of Nevada's ground practically worthless — it was Balzar who decided to cut the budget and let revenues generated by the state's newly legalized vices fill up the coffers, a budget formula state legislators still rely on today.
"You're talking about a guy who was in office during both good times and the Great Depression," Hall-Patton said. "In terms of who we are today, as a state, he was very important."
Contact Centennial and North Las Vegas View reporter James DeHaven at jdehaven@viewnews.com or 702-477-3839.