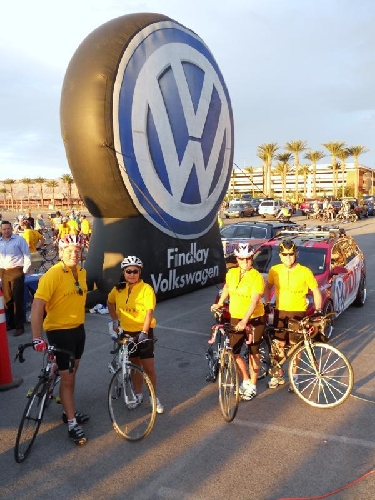 The Las Vegas Cancer Foundation's second annual bicycle ride to benefit Lance Armstrong's Livestrong more than quadrupled in size Saturday, and Findlay Volkswagen is getting credit for the increase in participation.
The dealership, situated in the Valley Automall, donated the jerseys for the event helping expand the field of competitors to 650. The event, which commenced just east of the Red Rock Resort, included 20-, 40- and 60-mile layouts that took entrants to areas including Red Rock Canyon, Desert Shores and Sun City Summerlin.
The bicycle ride raised more than $30,000 for Livestrong and the Childhood Cancer Foundation.
Illustrating dedication to bicycle riding was the fact that 500 of the entrants competed in the 60-mile run.
"It's wonderful to have someone like Findlay Volkswagen come along and say they want to sponsor the jerseys," said event organizer Christina Luzod, adding that the 2009 event drew 125 entrants. "There was a great improvement to this year's event due to the fact that jerseys were available."
Findlay Volkswagen entered a team in the event with participants including dealership General Manager James Krumme; local school principal Ryan Merritt and his wife, Massiel; and CarFax Strategic Client Manager Teri Gallus of Coeur d'Alene, Idaho.
"Jim guilted me into do the ride," said a joking Gallus, who rode the 20-mile segment through Red Rock Canyon. "I had never done anything like this before, and it was awesome. I actually started training for it and I'm going to enter the 60-mile segment next year.
"It's so nice for the dealership to be a part of something like this."
Krumme, a fitness enthusiast who, in November at Lake Las Vegas, will participate in the Silver Man Triathlon — one of the 10 hardest Iron Man competitions in the world — rode alongside Gallus.
"This is a great event," said Krumme. "It was a beautiful day, and we were able to participate in a wonderful program to benefit Lance Armstrong's efforts to help cancer survivors.
"We are going to be involved next year, for sure."
Krumme's team participated in the event complete with the all-new 2011 VW Jetta. The dealership is heavily involved in community events bringing vehicles to each event.
"You can find Findlay Volkswagen supporting community events throughout Las Vegas and Henderson," said Krumme, a 49-year-old native of Las Vegas. "Just look for the big Findlay Volkswagen balloon at community events throughout Southern Nevada."
Situated in the Valley Automall, Findlay Volkswagen is part of Findlay Automotive Group founded more than 49 years ago by the late Pete Findlay whose son, Cliff, now spearheads new and used car dealerships in Nevada, Utah, Arizona and Idaho.
Further information regarding Findlay Volkswagen can be found at www.findlayvolkswagen or by calling 558-6600.