Blind Center of Nevada helps patrons soar to new heights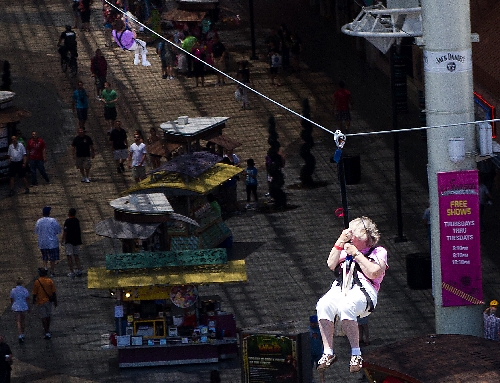 Stella Romero couldn't really see much on her zipline ride above Fremont Street.
She could only feel the breeze brush across her skin as she gained momentum.
She was flying.
The 92-year-old is legally blind, but that didn't stop her from soaring along the famed canopy. Only 10 minutes earlier, she was clutching onto her friend's hand — her knuckles white. But Romero wore a brave face, and by the end of her ride, she was ready to go again.
"It was wonderful," a breathless Romero said with a chuckle. "My kids will faint when I tell them, but I loved it."
Her biggest concern wasn't the 60-foot slope or the speed — an average of 30 miles per hour for most who make the 850-foot-long descent.
It was her hair.
"Do I look OK?" she asked as she fussed with her graying locks. "I bet I'm a mess."
Romero was part of a 30-person group that traveled from the nonprofit Blind Center of Nevada, 1001 N. Bruce St., this month as part of an effort to get visually impaired people active and out of the house. Some wore dark sunglasses — not for shade from the sun but to hide the eyes that no longer see. Others carried long red and white canes that scuffed on the sidewalk, searching for curbs, bumps, cracks and other people.
Most said they weren't afraid of the zipline. After all, they couldn't see how high off the ground they were exactly, Tom Volbruck said.
Behind his darkened lenses, the 65-year-old wore a big smile.
"Why not? It's something new," Volbruck said. "I've never gone before, but it can't be much different than when I could see."
Volbruck chatted about doing his own cooking (he can still fillet a salmon) and living by himself, a decision he made to become more independent. He lost his vision three years ago from cataracts he could not control. There just wasn't enough money for surgery.
"There isn't any difference," he said. "It takes a little bit longer to do things, and you're conscious of how you're cooking and where you're walking. That's it. I know I'm more outgoing since I've been blind. I used to be real shy, and now I don't care. I meet people on the street, and people watch out for me. I don't care, I say, 'Hi,' too."
Veronica "Ronnie" Wilson, the Blind Center of Nevada's executive director, said the goal is to help people become independent for as long as possible.
"The only alternative is to stay home and be isolated and depressed, and that's what we're fighting against," Wilson said. "Part of that independence is building up their self-confidence. … We all want to stay in that little safe place, but look at what we accomplish when we step out of that."
About 280 people used the center's resources this past year, and there are about 650 members on the books, Wilson added. About 80 percent of the clientele live at the extreme poverty level, earning as little as $625 per month to be budgeted for all of their expenses. The majority lost their vision because of diabetes or macular degeneration.
"There's lots of sad stories, but this is not a sad place," Wilson said.
According to national statistics, there are about 40,000 visually impaired people in the Las Vegas Valley. About 28,000 of those are severe cases, and about 7,500 of those are completely blind, she added.
The center serves free lunch every day and offers classes in music, arts and crafts, yoga and guest lectures, among other activities. There's a two-lane bowling alley and a park. The center is in the process of installing solar panels to become completely reliant on the sun for electricity. Green credits will be used in the cloudier seasons to compensate.
The group collects and refurbishes old computers from municipalities and other places to generate revenue for the nonprofit. Members recycle computer parts and other components that are sold on eBay, which not only provides jobs, Wilson said, but helps eliminate millions of pounds in electronic waste from old fax machines and computers that cannot be tossed in the dump. That money, combined with grants, donations and fundraising, helps keep the center afloat.
But the center desperately needs volunteers, Wilson said.
"Blind people aren't scary," she said. "They just have a visual problem. Come down and volunteer."
Contact Downtown and North Las Vegas View reporter Kristi Jourdan at kjourdan@viewnews.com or 383-0492.