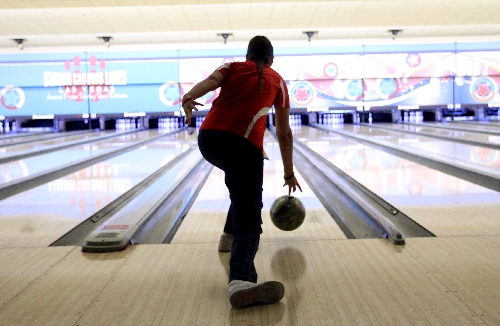 Jessica Sexton came home from Athens, Greece, last summer with a few new observations.
First, it's far away. Second, 19 days of meals with potatoes is too many. The third point is foremost, Sexton's excitement will tell you. To come home three fourth-place ribbons strong after representing your country in the 2011 Special Olympics World Summer Games is "really cool."
The 22-year-old Centennial Hills resident donned the red, white and blue with Team USA during the games, which were hosted June 18 to July 4 in Greece. She was one of 299 bowlers — in a total of about 7,500 athletes — invited to the games.
Three years ago, Sexton's spina bifida had doctors telling her she would never be able to bowl, she said.
Now, she's proud to wear her ribbons and her 2011 Special Olympics World Summer Games name badge around her neck. It's decorated with about 50 pins traded among athletes from all around the world.
She saw Stevie Wonder perform during the games. She endured 16 hours on a plane and 17 hours on a boat to reach them, she said.
Sexton clinched fourth-place finishes in the three bowling events in which she competed. During her down time, she played tourist, kept a journal and socialized, she said.
Her new friends comforted her when the 19-day absence from her parents wore thin.
"They kept me calm when I was homesick," she said.
Although the organization paid for all of Sexton's expenses, her parents, Gary and Millie Watts, were unable to finance trips to accompany her. They watched as much as they could on live feeds online, they said.
An example of Sexton's changing independence at the games prevented her parents from spotting her in opening ceremonies footage, Millie Watts said.
"She has long hair and usually wears it down, but a coach braided it back for her," she said. "We were looking and looking for her, but we kept looking for her long hair."
Sexton earned a spot on Team USA after qualifying at a regional event in Reno this year, regional sports director Harry Mong said. Names of regional winners were then put in a hat for selection for the 2011 Special Olympics World Summer Games, he said.
"She took her selection as a real big honor," he said.
Her trip to Greece was her first visit overseas and away from her parents.
"She'd call and cry on the phone," Millie Watts said. "She missed her mama. Mama spoils her."
Sexton shed more tears when saying goodbye to her teammates, she said. But her return home was filled with reasons to celebrate, the Wattses and Mong said.
"Now she doesn't complain about Mom's cooking," Millie Watts said.
Sexton keeps in touch with fellow athletes from Massachusetts and Utah via email, Facebook and a favorite pastime : texting.
Sexton also gained confidence.
"She used to be really quiet . Now she's more outgoing," Gary Watts said.
Mong echoed the sentiment.
"She's more talkative," he said. "We joke around with her and she jokes around back. She's a great girl."
Sexton practices through the Special Olympics twice a week at Texas Station, 2101 Texas Star Lane, and competes in a league with her dad and her 10-pound green and purple swirls bowling ball. Her average score is 108, up from the low 60s, her dad said.
She's acquiring a knack for picking up spares, he added.
Her best game was a 170, Sexton said.
Her Ninetendo Wii average is around 190, though, she boasts.
"I keep telling her it's not the same," Gary Watts said.
When the Special Olympics' bowling season concludes next month , Sexton plans to try swimming. She also volunteers once a week in the Special Olympics offices and at events that the organizations hosts.
She's to the point about her successes on the lanes. "I just bowl," she said.
But she has wisdom to impart.
"The best bowling advice I've gotten is you have some good games and some bad games," she said.
Contact Centennial and North Las Vegas View reporter Maggie Lillis at mlillis@viewnews.com or 477-3839.