Boxing group offers troubled youths a chance at a better life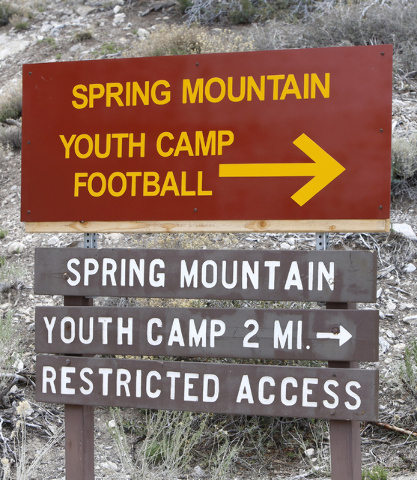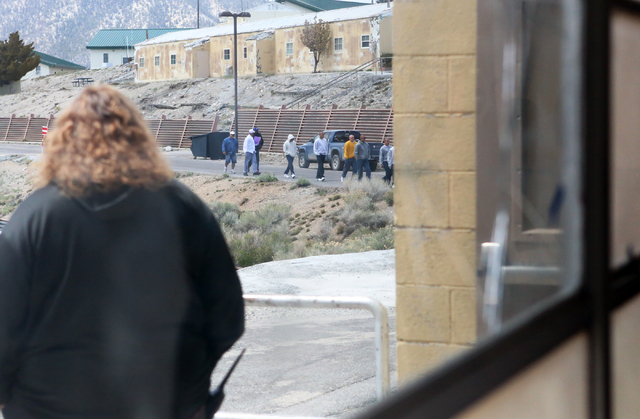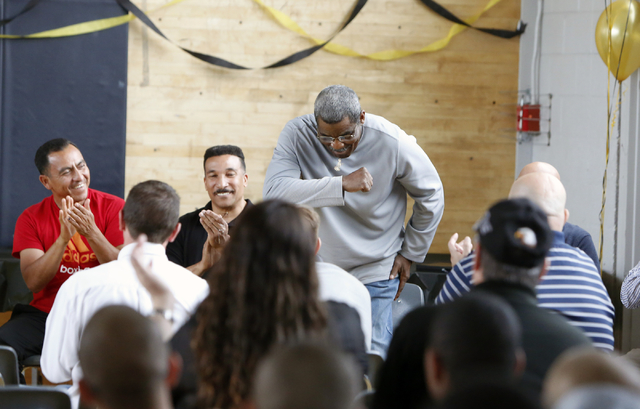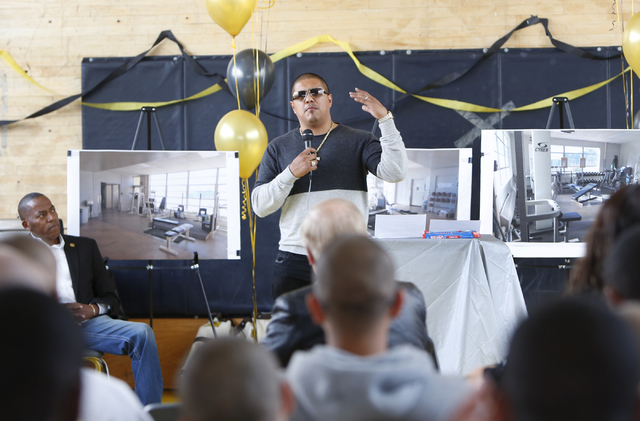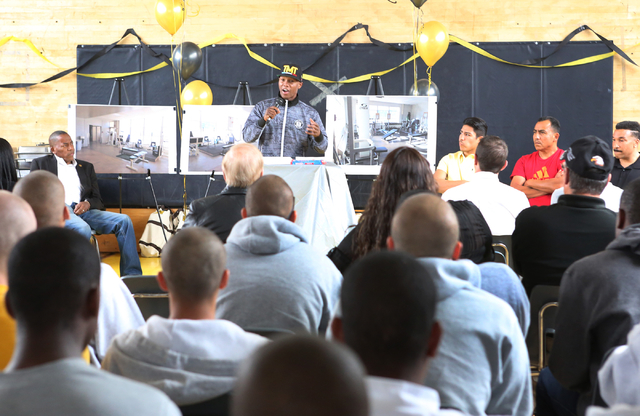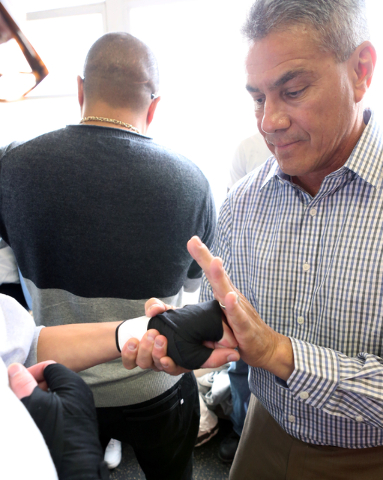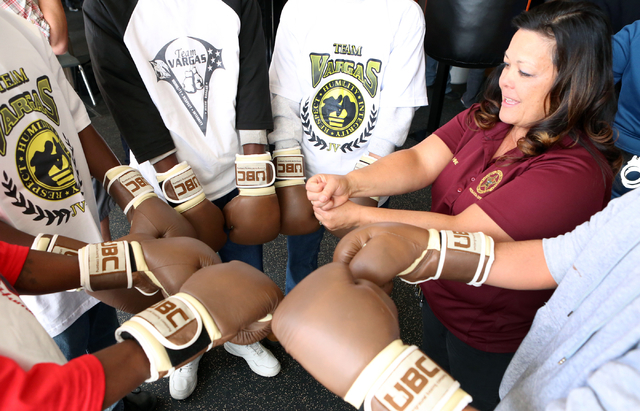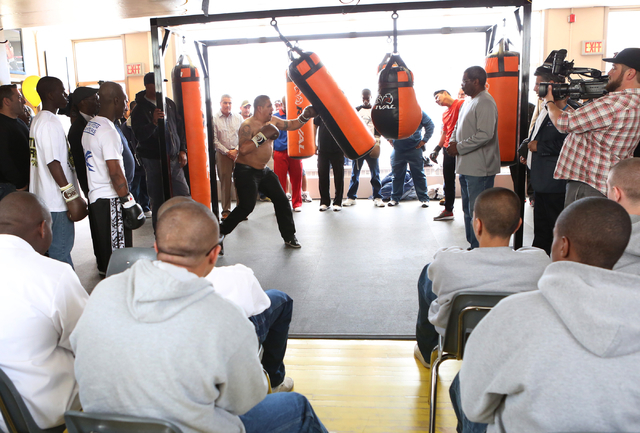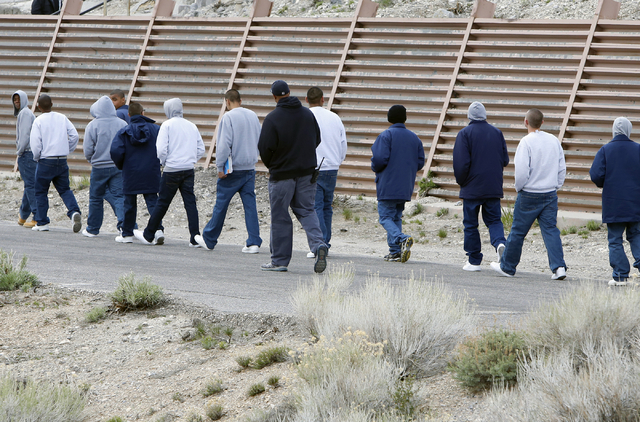 Residents at the Spring Mountain Youth Camp gathered in mid-April to listen to stories about redemption and hope at the inauguration of the camp's boxing gym.
The gym was created after professional boxers Jessie Vargas and Zab Judah visited the correctional facility in January. After seeing how many youths had an interest in the sport, the boxers, Clark County and camp officials decided to create a fitness gym.
"A lot of us here come from a similar background as these kids," said Vargas. "We made the gym into something that Zab and me would have loved to use. This is what these kids need to learn self-discipline and act right."
The facility houses males between 12 and 18 who have been adjudicated for delinquent acts by a juvenile court judge, but not everyone will be able to use the gym. Vargas said youths will be chosen based on their behavior.
Inside the gym, professional boxers and referees spoke about their days as inner-city youths in hopes of inspiring attendees.
"Where you guys are right now, I was years ago," retired professional boxer Fernando Vargas said. "When I was 10 years old, I was sent to juvenile hall. It wasn't until I found boxing that I knew my life had changed. If not for boxing, I'd be locked up in jail."
During the event, county Commissioner Lawrence Weekly asked youths how many were ready to start the program. Within seconds, most raised their hands.
Yet when he asked how many wanted to attend college, only a few hands went up.
"I, too, come from a broken home," retired boxing referee Joe Cortez said. "We hope that these young people can listen to our stories and have the same successful outcome in life. Boxing gave a lot of us the opportunity to lead life in the right direction. By becoming a champion in boxing, we became a champion in life."
Youths had a chance to watch the professional boxers punch the bags during the event.
A few youths who were deemed exemplary were also able to try out the bags while getting coaching from the boxers.
"We really care about you guys," Judah said. "We all have a wild side, but it's time to let the man inside come out."
Local businesses donated boxing equipment, six punching bags and electrical work, among other items and services.
"Hearing these guys speak today made me realize that I can work towards something great," said a 15-year-old participant, whose name was withheld. "I come from a broken home, but everyone inspired me to keep going and never give up."
After completing their time at the camp, youths who wish to continue training will be transitioned to select boxing gyms in the Las Vegas Valley.
In addition to boxing, youths placed at the camp can participate in a variety of programs, such as for substance abuse, parenting and social skill development.
They also attend school, have daily chores that must be completed, are taught independent living skills and provided counseling and other services as needed to create a better life.
"You guys have hope because you're young," boxing referee Tony Weeks said at the event. "Our hope is that boxing will give you discipline and confidence to move forward with your lives."
Weeks, who said he worked as a federal prison guard at a maximum-security detention center, said his life was spared after a "stone gangster, stone killer" stopped him from committing a crime with him.
"He said, 'No, Tony. You ain't going. You got potential,' " Weeks said. "There's something good in you all, too. Everything has a start and a finish."
Boxing referee Robert Byrd said he also was saved from the gang life.
His brother, who he said was "the No. 2 guy" in The Disciples, a gangster group based in Chicago, prohibited him from joining a gang.
"I hope that boxing teaches you discipline, teamwork, and that with effort, you can succeed not only in boxing but in life," Byrd said at the event.
For more information about the Spring Mountain Youth Camp, visit clarkcountynv.gov or call 702-455-5196.
To reach North View reporter Sandy Lopez, email slopez@viewnews.com or call 702-383-4686. Find her on Twitter: @JournalismSandy.