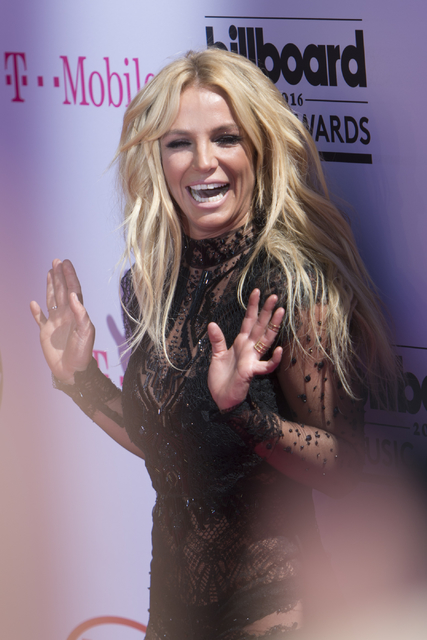 Britney Spears has raised $533,130 for the Nevada Childhood Cancer Foundation.
Spears donated $200,000 of her own money, and she's collected $1 per ticket at her Planet Hollywood show for the charity.
On Thursday, fans with disposable income paid thousands of dollars to ride next to her at Xcycle spin studio in Boca Park.
At the gym, she held up a giant check filled out for $533,130. She wants to get that donation up to $1 million in coming months.
"Extra" TV host Mario Lopez rode next to her, and in an "Extra" interview, Spears divulged what she and Hillary Clinton talked about backstage at Planet Hollywood earlier this year.
"We talked about food a lot. We talked about jambalaya, we talked about our favorite restaurants here in Las Vegas. She's a great lady," Spears said.
WHO'S FOR CLINTON, WHO'S FOR TRUMP?
More Las Vegas headliners are choosing sides in the election, but to help soothe your blood pressure, this roundup is written as calmly as possible.
Planet Hollywood headliner Jennifer Lopez will be in Miami Saturday, asking voters to elect Hillary Clinton while performing a free, get-out-the-vote campaign concert.
Meanwhile, former Caesars headliner Cher (who will return to Vegas February at Monte Carlo's new Park Theater) is hosting a Clinton fundraiser in Chicago on Sunday.
Caesars star Elton John called Donald Trump a "barbarian" during a Clinton event two weeks ago, according to the Hollywood Reporter.
Caesars star Rod Stewart (while being knighted in native Britain this month) told the press Trump is "sort of a friend of mine," but added, "I don't think he's presidential."
Caesars star Mariah Carey has said she's voting Clinton.
Planet Hollywood star Britney Spears met Clinton and posted photos with her online but didn't officially endorse her.
Planet Hollywood headliner Lionel Richie has sung at a Clinton fundraiser.
Mirage headliners Boyz II Men performed at the Democratic National Convention.
Vegas DJs Steve Aoki and Khaled have endorsed Clinton, while Vegas DJs Diplo, Zedd, The Chainsmokers, Porter Robinson, Dillon Francis, MakJ and Tommy Trash have publicly spoken against Donald Trump.
As for Trump supporters currently onstage:
Mirage headliner Terry Fator has endorsed Trump.
Caesars headliner Ronnie Dunn has posted pro-Trump/anti-Hillary comments on Facebook.
And MGM Grand comedian Rodney Carrington this month wrote on Facebook he's an even bigger Trump supporter than ever.
DESERT AIR GETS TO ROD'S VOICE
Rod Stewart really likes Vegas and his Colosseum gig. You'd expect him to tell locals that, but this is what he's saying overseas.
"It's such a gorgeous place to work," he told a writer at the Nottingham Post in his native England. "The venue is amazing, the sound is incredible and the audience is about 4,500, so a really great size.
"The only downside is the dry desert heat, which is very hard on the voice. Other than that, I'd play there the rest of my life. And it's not like the old Vegas shows. You hear those recordings of Elvis and Sinatra and you can hear people chatting and eating steak in the background."
HOTEL SHUT DOWN DJ ELIJAH WOOD
"Lord of the Rings" actor Elijah Wood sometimes DJs in Vegas with a buddy under the DJ name Wooden Wisdom.
But Wood's penchant for spinning world music and old disco (instead of top 40 hits) has led to a Vegas hotel gig, and some jobs in other cities, getting cut short.
"This happened in Vegas, too, where we've gone to play, we're like 40 minutes into our set and they'll shut us down," he said on "Late Night with Seth Meyers."
"They'll come and whisper in one of our ears and say, 'OK, I think it's not really working, this is not what our clientele likes.
"And we walk with our tail between our legs."
Wood knocked down rumors he performs under the name DJ Frodo.
"What level of drugs do you have to take to think DJ Frodo is the party you want to be at?" Meyers asked.
"Probably mushrooms," Wood answered.
Doug Elfman can be reached at delfman@reviewjournal.com. He blogs at reviewjournal.com/elfman. On Twitter: @VegasAnonymous.