Cadillac Saab plans car show, charity benefit
January 23, 2009 - 10:00 pm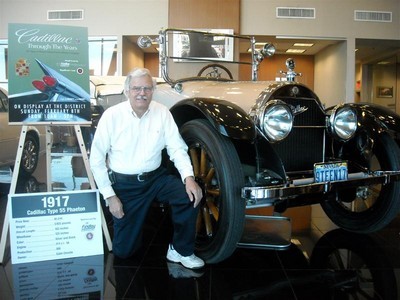 Findlay Cadillac Saab in the Valley Automall is kicking off the new year with two events, a benefit for the Miracle Flights for Kids charity and Cadillac Through the Years, a classic car show.
A Western-themed Big Bar-B-Q Bash to benefit Miracle Flights for Kids will take place tonight from 6 to 9 in the Cadillac Saab showroom at 933 Auto Show Drive. Local personality Nate Tannenbaum will host the event, which will feature live music from Nashville's Mason Dixon Band and a silent auction, highlighted by a 2009 Cadillac CTS. An organ from Keith Jorgensen's Music Center will be the door prize.
Miracle Flight for Kids was founded by Southern Nevadan Ann McGee, whose efforts started in her kitchen before expanding nationwide, providing over 29 million air miles in the past 25 years to sick children who need to travel to cities throughout the country for medical help.
And just as the curtain closes for the charity event, Findlay Cadillac Saab employees will begin planning the fourth annual Cadillac Through the Years, scheduled for Sunday, Feb. 8, from 10 a.m. until 5 p.m. at The District at Green Valley Ranch Resort. The event will feature an estimated 50 Cadillacs ranging from early models to modern vehicles. Proceeds from the event will go to three children's charities: Make a Wish, Miracle Flights for Kids and Positively Kids. On hand to visit with attendees will be Scott O'Neil, the voice of Findlay Cadillac Saab, and KVBC TV-3 news anchor Kendall Tenney, who also serves on the board for Make A Wish.
Findlay Cadillac Saab will complement the classic car event with the introduction of the 2010 Cadillac SRX in an exclusive showing. Michael Cooney, the professional organist for Keith Jorgensen's Music Center will be playing the Lowry organ during breaks.
Colin Christie, president of the Las Vegas Region of the Cadillac LaSalle Club, will participate in the event. Christie, 65, owns a 1917 Cadillac Type 55 Phaeton, a '39 Cadillac LaSalle and a 1903 Model A.
Christie's 1917 model drew major attention while on display at Findlay Cadillac Saab. A convertible, the car has a three speed on the floor, powered by a 318-inch flathead engine.
Every old car has a great story, and it's no different when speaking about the 1917 Phaeton, which cruises at about 50 mph and always draws attention.
"I found it in Flint, Michigan," said the personable Christie, who moved to Southern Nevada about seven years ago after working for General Mills in Minneapolis. "It had been advertised in one of the car magazines. The owner had passed away 20 years earlier and his son had it. The engine needed some work, but the car had been restored 20 years before."
To most any car enthusiast, classic vehicles are like children. Owners baby them and, in some cases, probably even talk to them.
"I try to drive them because they all like to be driven," Christie said. "They complain if you don't drive them. They're almost like kids and they need to be petted, too."
People who own vintage Cadillacs or LaSalles, but aren't members of the Cadillac and LaSalle Club of Las Vegas, can participate in the show if they register at www.lasvegasclc.org.
Findlay Cadillac Saab is part of the Findlay Automotive Group of dealerships founded more than 48 years ago by the late Pete Findlay, whose son, Cliff, now spearheads car dealerships in Nevada, Arizona, Utah and Idaho.
Findlay Cadillac Saab's general manager is John Saksa
Visit the Web site www.findlaycadillac.com for more information.