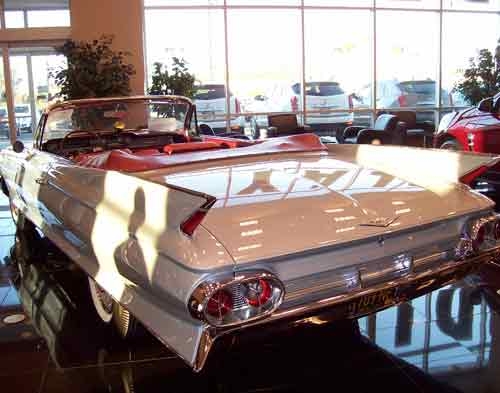 Back in August 1902, Henry Martyn Leland, an inventor, engineer and automotive entrepreneur, successfully persuaded the investors of a failing automobile manufacturing company in Detroit, Mich., not to liquidate the business.
Instead, Leland suggested they couple his knowledge of combustion engines with his belief the automobile was on the verge of transforming the future.
From that meeting, Cadillac and its commitment to uncompromising performance, daring design and groundbreaking technology was born.
To celebrate this iconic American brand and how it has shaped and continues to define the automotive industry, the seventh annual Cadillac Through the Years will be presented by Findlay Cadillac and the Las Vegas Cadillac and LaSalle Club on Sunday from 11 a.m. to 5 p.m. at Town Square Las Vegas, 6605 Las Vegas Blvd. South, between the Las Vegas Beltway and Sunset Boulevard. The show is free and open to the public.
The event will include a parade into Town Square Park, led by nearly 70 classic and vintage Cadillacs, as well as performances by the Pahrump Valley High School marching band and Pahrump Valley Youth Choir. Also slated to perform is 15-year-old LeAyer Dante, who will sing "The Star-Spangled Banner" with local singer and songwriter Stefania Zaretti. Cast members from "The Jersey Boys" also will be on hand, not performing, but available for autographs.
In addition, Findlay Cadillac promises event attendees a first look at the 2013 Cadillac XTS, the marque's most technically advanced model ever sold. The XTS has an elegant new interpretation of the brand's exterior design and a roomy, sumptuous interior.
"Cadillac is an art form like no other," said Colin Christie, Las Vegas Cadillac & LaSalle Club president. "It's a special vehicle for everybody, and we'll have vehicles from every decade represented, but primarily the classics."
Christie's 1917 Type 55 Phaeton may be one of the oldest showgoers will see, but he has been working on a 1903 Cadillac that may make its debut at this year's show.
While at the show, attendees will have the opportunity to vote for their favorite vintage Cadillac and Best in Show.
An art auction, featuring work created by students from the Coral Academy of Sciences, will be auctioned with proceeds going to Positively Kids and the students' school. From the 80 original entries, members of the Las Vegas Cadillac & LaSalle Club will select 20 pieces of which the Top 3 will be introduced from the park's main stage.
The three winning paintings will be exhibited all next week in the Findlay Cadillac showroom.
Visit www.townsquarelasvegas.com for more information or contact Findlay Cadillac, 993 Auto Show Drive, Henderson, calling 558-2600 or by visiting www.findlaycadillac.com.