Caesars Entertainment recharges Las Vegas Strip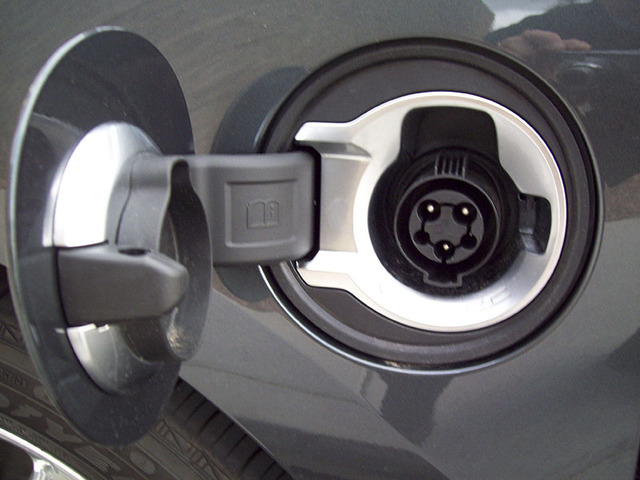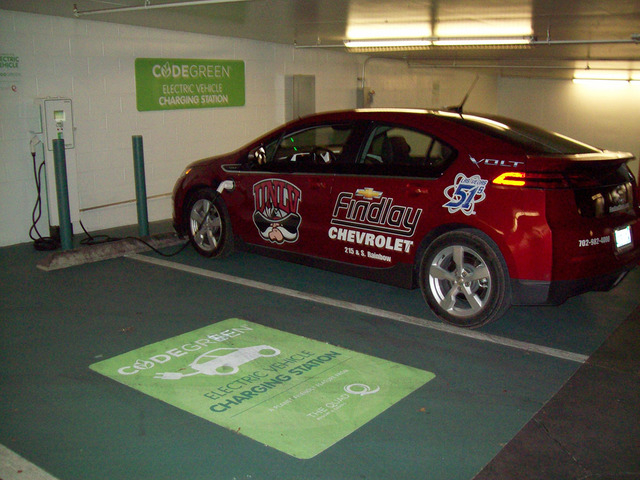 Caesars Entertainment joined with NV Energy to install eight new recharging sites for plug-in electric cars in southern Nevada, with seven locations in Las Vegas and one near the Arizona state line. These sites include valet and self-parking garages at Caesars Palace, Rio All-Suites Hotel, Harrah's Las Vegas, The Quad, Flamingo, Paris and Planet Hollywood on the Las Vegas Strip, as well as Harrah's Laughlin near the Arizona border.
All plug-in electric cars manufactured by the automotive industry have a port or adapter that can accept a standard SAE J1772 connector from these stations. The Caesars Entertainment installations are classified as AC Level 2 and can provide 240 volts of alternating current at a rate of 30 amperes to a vehicle's traction battery pack, recharging it at a rate that is twice as fast as the power available from a traditional 110-volt AC outlet.
Every recharging site at the Caesars Entertainment resorts is equipped with two stations, each with two SAE J1772 plugs, for a total of 32 new plugs available to residents and visitors to southern Nevada. Through a partnership agreement with NV Energy, the electric power is being provided to plug-in electric vehicles at no cost for the next five years.
Caesars Entertainment also has installed multiple EV charging stations at each of its resorts in Northern Nevada, including Harrah's Lake Tahoe, Harvey's Lake Tahoe and Harrah's Reno as part of its Code Green program. The company plans to expand its recharging network within the United States to its resort properties at New Orleans, Philadelphia, Atlantic City and Hammond, Ind.
"We want to make it easy for our guests to continue their green habits while they stay and play at our resorts. Supporting the adoption of electric vehicles is important to Caesars, and we are thrilled to make convenient charging another amenity for our guests," said Eric Dominguez, corporate director of facilities, engineering and sustainable operations at Caesars Entertainment.
Caesars Entertainment received a Climate Leadership Award from the Environmental Protection Agency after reducing greenhouse emissions at its domestic properties by more than 12 percent from 2007 to 2013 while also reducing energy intensity by 20 percent over the same period.
"As a company, we aim to not only reduce our impact on the environment, but lead other companies and inspire our communities to take environmentally friendly action. We look at the EV project as an essential stride toward a future of green transportation," Dominguez said.
For more information about Caesar's Corporate Citizens projects, visit: www.caesars.com/codegreen
An EV charging station actually could be called a "power gate" because most of the electronic circuitry that recharges the battery pack actually is located inside the electric car itself.
The SAE J1772 AC Level 2 station contains a smart relay circuit that couples or uncouples the utility grid power to the electric car. The relay has mechanical contacts that normally are open and block the flow of electricity until after the cable is plugged into the car's connector port. Several electronic signals have to be exchanged and acknowledged between the electric car and the smart relay before the contacts in the relay close and allow power to flow to the battery pack.
This electronic "handshaking" protocol is a safety feature that protects users in case the charging station cable is damaged. Only low-power communication signals initially are available at the SAE J1772 connector until the handshaking exchange between the car and the smart relay are completed.
The installation of an EV charging site by Caesars Entertainment at its Harrah's Laughlin resort makes a good way station for electric cars traveling between the Las Vegas valley and nearby Arizona destinations. Laughlin is about 82 miles south of Henderson, just within the achievable range of a Nissan LEAF, Ford Focus Electric or BMW i3 at this time.
Kingman, Ariz., is another 35 miles beyond Laughlin. From Aug. 14–17, Kingman will be the site of this year's annual Route 66 festival (www.route66fest.com) that celebrates the heritage of the "Mother Road."
Activities will include an electric car rally that will showcase record-setting electric vehicles from the National Electric Drag Racing Association, an affiliate of the National Hot Rod Association.
Kingman also hosts a Tesla Motors Supercharger station that can recharge the large battery pack in the Tesla Motors Model S electric car within just one hour to exceed 200 miles of range. Downtown Las Vegas hosts a Supercharger station with six recharging ports at 8th Avenue and Bridger Street.
For a map of recharging stations for plug-in electric cars within the state of Nevada, visit the website of the Nevada Electric Vehicle Accelerator at: http://nevadaeva.org/evse-locator-map.