Candidates roll through Las Vegas ahead of Tuesday's debate
December 14, 2015 - 1:30 pm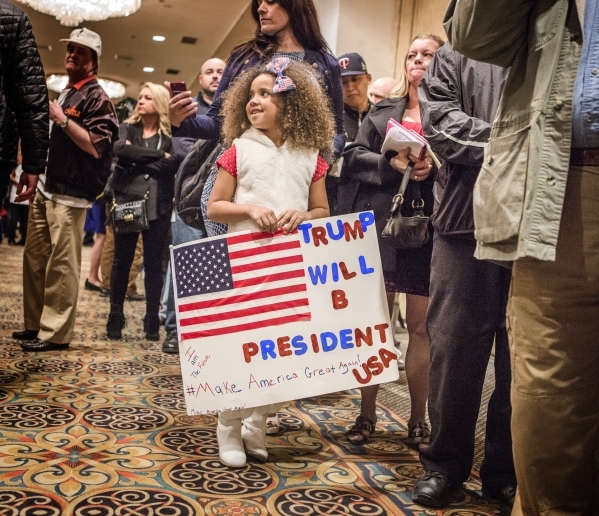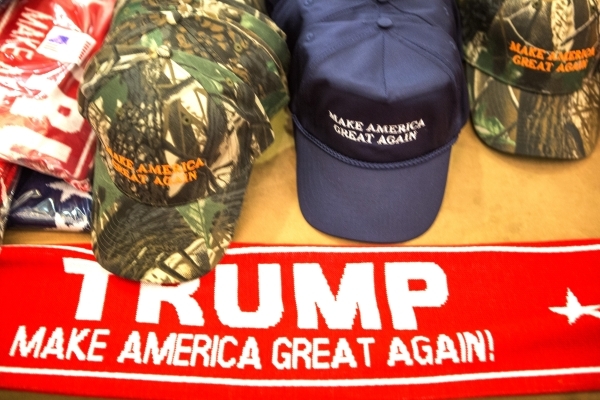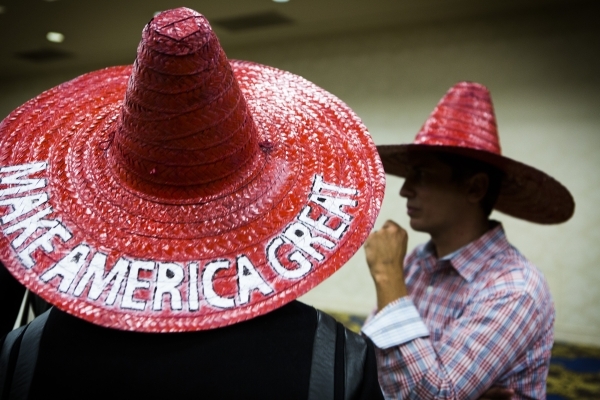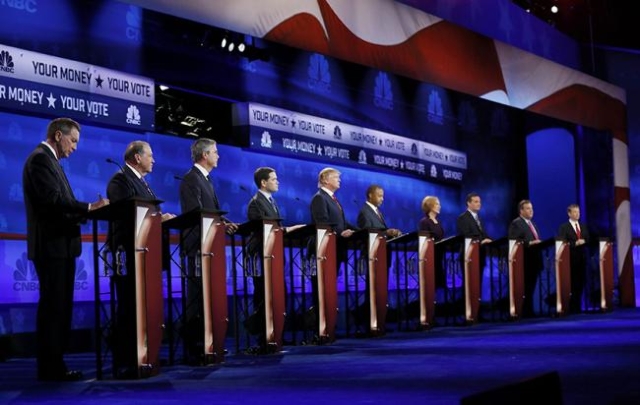 Donald Trump battled hecklers and Marco Rubio gave out his old North Las Vegas address as Republican presidential hopefuls hit the valley like a stampede of elephants Monday.
Ahead of Tuesday night's Republican presidential debate at The Venetian, Trump and Rubio both held rallies, while Jeb Bush toured the Southern Nevada Counter-Terrorism Center and swung by the Review-Journal to chat with the newspaper's editorial board a few hours ahead of Ted Cruz.
Several other candidates appeared — at least by video — at a one-day event called the Nevada National Security Action Summit, where participants railed against Muslims, political correctness and the Obama Administration.
Trump, who is fond of promising big things, offered up more of the same on Monday night. He told supporters that if he faces Hillary Clinton, the 2016 presidential election will be one of the biggest ever in terms of voter turnout.
The rally at the Westgate Las Vegas Resort & Casino drew well over a thousand people, a handful of whom were not happy to see him. The billionaire was interrupted by protesters at least three times during his speech.
But that didn't stop his supporters, who loudly chanted, "Trump, Trump, Trump" to drown out the hecklers as they were escorted out by security.
"I love you, too," he told the protesters the first time they interrupted. "I love you, I do. That's why I'm doing this."
After another disruption a few minutes later, Trump said there should have been more people protesting like that "seven years ago," when President Obama was about to be elected to his first term.
— Yesenia Amaro
Local roots on display
At Rubio's rally at the Las Vegas Renaissance, 17-year-old Brooke Leany was poised to cheer with some of her Arbor View High School classmates. Leany said she was there to support the Florida senator and, apparently, to avoid other activities that might get her "roughed up."
She said her government teacher initially offered extra credit to anyone who got ejected from Donald Trump's rally but then rescinded the offer "because he thought we might get hurt doing that."
Leany wasn't Rubio's youngest supporter. Twelve-year-old Lance Pendleton, a Henderson resident sporting a Rubio '16 campaign button, said he dragged his mother to the rally, mostly because he needed a ride.
"I think he's very good at taking the tough questions and turning them around to his favor," the boy said after pausing to reflect. "And I think he can beat Hillary Clinton."
So does Rita Seely, a 72-year-old Las Vegan who rallied for Mitt Romney in 2012 and worked on Bob Dole's campaign in 1996.
She praised Rubio's effort to dismantle the Affordable Care Act by attaching a rider to last year's spending bill that limits how much the government can spend to protect insurance companies against financial losses.
"I like things all of the candidates say; each person has something to offer. But I believe that of all of them, Senator Rubio is the best-positioned to win the presidency," Seely said.
So, apparently does "Pawn Stars" star Rick Harrison, who appeared before the candidate spoke. Harrison said people don't impress him easily, but Rubio did.
"My agents, everybody, says, 'Don't support a Republican, it'll hurt you financially,'" Harrison said. "At this point, I don't care because the alternative is like, really going to hurt me financially."
When Rubio took the stage to cheers of "Marco! Marco! Marco!," he said he had more family in Las Vegas than he has in Miami.
"So if I win the caucus by 10 or 15 votes, you'll know why," he said.
Rubio recalled living in North Las Vegas, at 3104 E. Lava Ave. His father tended bar at Sam's Town; his mother worked as a housekeeper at Imperial Palace. He said neither job made his parents rich, but they still achieved the American Dream.
"They were happy, they were successful people because they owned a home in a safe and stable neighborhood," he said. "Ultimately they retired with dignity and they left all four of their children better off than themselves."
No one answered the door at Rubio's old address Wednesday night. The three-bedroom, ranch-style home on a corner near Washington Avenue and Pecos Road was guarded by an iron fence and dogs.
— Matthew Crowley and Kimberly De La Cruz
'Patriotism is dead'
The press release for the Nevada National Security Action Summit boasted a bevy of presidential hopefuls, but the turnout was much thinner.
Cruz, Ben Carson and Carly Fiorina made video appearances. Advertised but not in attendance were Rubio, Trump, Bush, Mike Huckabee, Bobby Jindal and George Pataki.
According to the morning's agenda, Rick Santorum was the only presidential candidate slated to show up in person.
U.S. Rep. Joe Heck, R-Nev., made a speech, calling for more military force.
The conference was organized by the Center For Security Policy, a right-leaning think tank Trump used to back up his widely criticized call to ban Muslims from the Unites States. The center is run by Frank Gaffney, who the Southern Poverty Law Center has labeled "one of America's most notorious Islamophobes."
About 120 people attended the summit in a banquet room at the International Peace Education Center, a conference venue in Las Vegas.
Conversation centered around criticism of the Obama administration, fear of refugees and Muslims, and the importance of reaching the young people who will, as Gaffney put it, "fight the next wars."
One audience member said she teaches at a valley community college and she doesn't like what she sees.
"Our students who come from a very diverse, multicultural background, for the most part, don't like America," said the woman, who identified herself as Francine Glick, an adjunct professor in the social sciences department at the College of Southern Nevada. "I can tell you patriotism is dead. Do you think the social media talks about patriotism? No way."
The event was countered by a summit of a different sort: an anti-GOP rally of union leaders and civil rights activists at SEIU 1770's headquarters in southeast Las Vegas.
Presidential Medal of Freedom recipient and civil rights champion Dolores Huerta said "there's a war going on" against women, labor unions and the environment, and it's being waged by the candidates who will take the stage in Las Vegas Tuesday night and their respective party.
Rep. Dina Titus, D-Nev., who opened the event, said economic security is as much of an issue as national security, but it's under threat from Republican plans for immigration reform and opposition to organized labor.
All of the speakers called on GOP candidates to stick to talking about "real" issues and avoid what they called "hate speech."
— Bethany Barnes and Kimberly De La Cruz
Review-Journal writer Henry Brean contributed to this report.