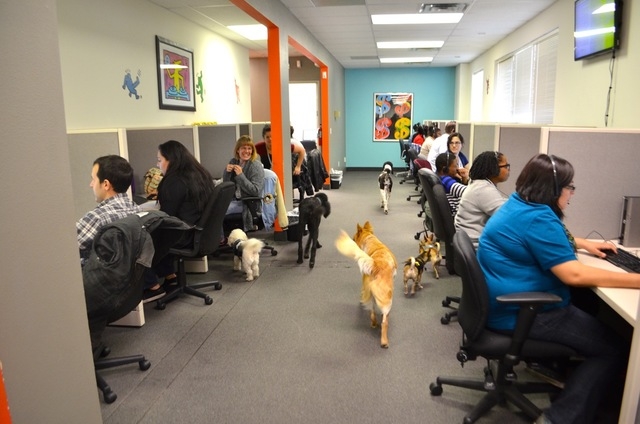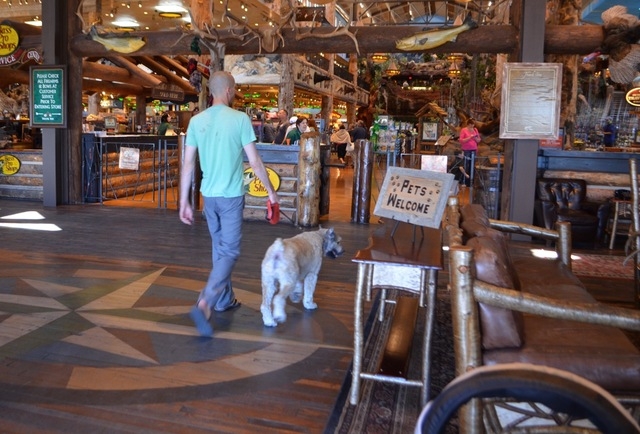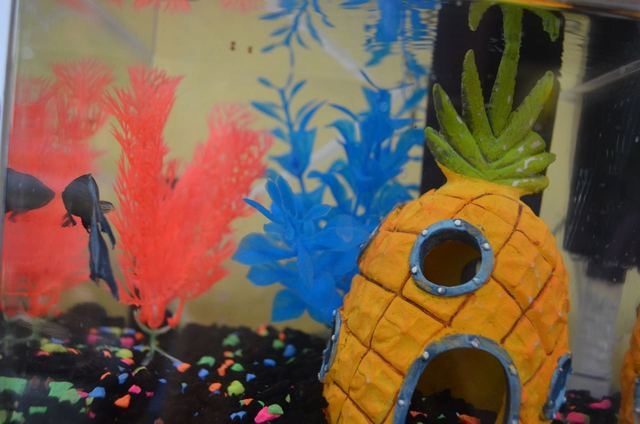 Sick of saying no to Fido's puppy dog eyes as you head out the door? There's no need to leave your pooch home alone if you're headed to one of southwest Las Vegas' pet-friendly workplaces, shopping venues or restaurants.
DOGS AT WORK
The Firm Public Relations & Marketing, 6157 S. Rainbow Blvd., has welcomed a variety of pets to the office.
"This is our 22nd year in business, and we've always had dogs and cats, and I think one time someone brought in a pet iguana," said The Firm president and CEO Solveig Raftery.
She added that one employee owns a horse, but The Firm has to draw the line somewhere.
"We just think it lends to the environment," she said. "People are happy when their dogs or animals are around them. Plus, we're all pet lovers here."
Raftery's dog Hooch, an American fox hound and golden retriever mix, is a regular who makes himself at home.
"We just let him wander around, but we leave his leash on him just in case someone we don't know walks in the door and is afraid of big dogs," Raftery said.
Senior public relations specialist Jesse Scott brings his little lap dog Sammy to the office a few times a month. The family's groomer is nearby, so keeping him in the office on appointment days is convenient.
"He feels right at home," Scott said. "He's not obtrusive, and I can usually get everything done just as normal, and he just sits there and minds his own business."
Occasionally, Sammy will leave his cozy perch in Scott's desk and explore.
"He'll sit up here on my desk and act like he owns the place," Scott said, "so I need to nudge him over to his nook every once in awhile."
The office is home to FiFi, The Firm's fish with his own Twitter handle @fifitheprfish. FiFi has 45 followers so far.
Dogs also have the run of Intelicare Direct's Las Vegas office at 4330 S. Valley View Blvd., Suite 114. The pooch population is high on Fridays, with at least a dozen dogs exploring the customer service call center, but they're welcome every day.
"The more comfortable you make the environment, the better morale you have for your workers," said Intelicare Direct member services manager Kevin Simpson.
Simpson, who brings his dog Bear to the office, said the benefits of having dogs around extend to all, not just the owners. He watched Sasha, a regular, stroll up instinctively to soothe a customer service agent on the phone trying to be polite to a surly caller. The man stroked the dog and got through the call.
"Yes, we have dogs that make a mess every once in awhile, but we clean it up. We get through it. But those moments like that are what it's all about," Simpson said.
The office is kid-friendly, too, with children coming in to hang out after school and on school holidays. Occasionally, Simpson said the fun gets out of hand.
"Sometimes, we'll have the kids here, and then we'll have the dogs, and they're laughing and playing, and then we'll have a customer say, 'Are you at home right now?' "
Simpson said agents are honest with customers. When questions come up, they explain the pet and child policy, and people are understanding.
Some dogs, such as IT manager Paul Haack's Gizmo, come in two or three times a week.
"I just thought it was a huge bonus, the children policy and the dog policy," Haack said.
Others, such as Traci Marco's Chihuahua Marco, are there all the time.
"He's here every day," Marco said. "I got him because I could bring him. I was always thinking about getting a dog. And I found out I could bring him, so I went and adopted him."
Southwest-based information technology company Crescent Solutions initiated a dog-friendly office policy in 2013.
"Our Irvine (California) office has a Foosball table, so we have dogs!" regional director Sonia Petkewich wrote in the company blog. "It is all part of our company culture that makes Crescent a fun, unique company to work for."
DINING WITH DOGS
Just about any place in Las Vegas with outdoor patio seating that isn't enclosed welcomes canine companions. Chains such as the Coffee Bean & Tea Leaf, Starbucks and Chipotle Mexican Grill are only the beginning.
The Coffee Pub, 2800 W. Sahara Ave., Suite 2-A, offers outside ordering, and dogs are always welcome. With seating in the shade or the sun, diners can enjoy soups, salads, sandwiches and more from 7 a.m. to 3 p.m. Mondays through Fridays and from 8 a.m. to 2 p.m. Saturdays and Sundays.
Peridot Sweets, 6475 S. Rainbow Blvd., Suite 100, welcomes pets on its patio from 9:30 a.m. to 7 p.m. Tuesdays through Saturdays and from 10 a.m. to 5 p.m. Sundays. Diners hoping to nibble on fresh macarons, cupcakes and chocolates need to go in to order.
SHOPPING WITH DOGS
Petco, 3577 S. Rainbow Blvd., and PetSmart, 1261 S. Decatur Blvd., are southwest-area pet destinations most are aware of, but there are several other places canines are welcome that may be lesser known.
Home Depot, with southwest locations at 4750 S. Decatur Blvd. and 7015 Arroyo Crossing Parkway, welcomes pets.
Near southwest Las Vegas, Downtown Summerlin is a canine shopping mecca with an outdoor dining arroyo, and Tivoli Village welcomes dogs with patio dining offerings and a even a few pet-friendly stores such as the Paper Source.
For shoppers hoping to stick to the southwest, head to Bass Pro Shops, 8200 Dean Martin Drive. The first two weekends of March, the sporting goods store hosted Dog Days events that included giveaways, free pet photos, puppy treats and pet care seminars. Even though the dog days have passed, dogs are welcome every day.
To reach View contributing reporter Ginger Meurer, email her at gmeurer@viewnews.com or visit her on Twitter: @gingermmm.