Car collectors swoon at Barrett-Jackson offerings
September 30, 2011 - 1:04 am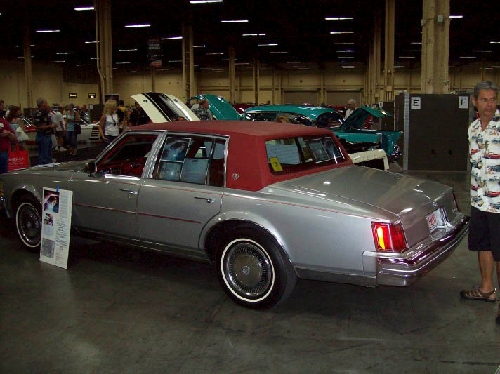 For car guys like Dwayne Fluker and his buddies, all from the Canadian province of Manitoba, the annual pilgrimage to the Barrett-Jackson Collector Car Auction at Mandalay Bay historically ends with one of them buying something.
"Right now I'm just looking," Fluker said, though not convincing enough to sway his friends from egging him to bid on a 1937 Ford Custom Pickup he was eyeing in the preview area of the convention center. "They've all bought here, so now I guess it's my turn."
Held over three days last week at Mandalay Bay's events and convention center, Barrett-Jackson auctioned more than 700 exotics, customs, classics, resto-mods (restoration-modification), hot rods and original collector vehicles. Collectors paid as little as $3,410 for a 1984 "Gold Key Packaged" Cadillac Eldorado to $700,000 for auction President Steve Davis' meticulously restored 1964 Ford Fairlane.
Davis' custom resto-mod was the last vehicle to cross the stage for auction at "no reserve," which meant there was no bottom line price. It was going to sell. With proceeds to benefit the Armed Forces Foundation, the bidding kept climbing until the gavel came down for new owner and noted collector Ron Pratte. Then, just when things couldn't get more exciting, Pratte signaled to Davis he wanted to donate the Fairlane to be sold once again at Barrett-Jackson's Scottsdale, Ariz., auction in January, with the stipulation proceeds again would benefit the Armed Forces Foundation.
"I have the utmost respect for the tireless effort and sacrifice by members of our country's armed forces, particularly during these difficult times," Davis said. "Our men and women in uniform are on the front lines every day, and their families are continually called upon to put others first. That's why we at Barrett-Jackson feel so strongly about this incredible group of people and this amazing charity, and that's why I am willing to give up one of my prized possessions to show how thankful I am."
In between these two extremes were many impressive vehicles, including seven from magician Criss Angel's collection. Admitted collectors with an incredible attention to detail, Angel and his brother, JD, have accumulated a unique range of vehicles that serve as personal transporters as well as vehicles used in Angel's television shows, press conferences and special appearances.
Of the seven vehicles the duo chose for auction, attracting the most attention was Angel's 2006 Houdini-inspired Hummer H2 custom SUT, complete with custom lock, chain brush guard and side step. It sold for $110,000, including the bidder fee.
JD's very rare (only 12,789 were produced) 1957 Pontiac Star Chief convertible brought the same sales price of $110,000.
Park Place Ltd., a consignment and restoration company based in Seattle, brought eight cars to the auction, including a 1964 Rambler America, a 1978 Rolls-Royce Corniche and a frame-off restored 1965 Chevy Impala SS.
"Cars are emotional for people," said Steve Deboer, who, along with Park Place's lot manager Shannon Low, was on hand to answer any questions perspective buyers might have had about one of their cars. "And, you have to gauge the demographics for each auction site and feature cars you know will be popular."
Deboer and Low were placing their best bet on the '65 Impala to be their top seller. After rolling off the auction stage for $66,000, the duo turned around and placed a winning bid of $17,600 on a 1974 VW Karmann Ghia Cabriolet.
Emotions stopped Cindy and Dan Martinelli of Denver, who were instantly drawn to a 1976 Cadillac Seville. While the classic Corvette, Thunderbird and Mustang owners were hunting for another car to bid on, they had to take a few minutes to admire the Caddy that was a gift from Elvis Presley to his dentist. According to documentation included with the car, the silver and maroon Cadillac was purchased by Elvis for himself at Madison Cadillac of Memphis, Tenn., on July 27, 1975. The purchase price of the car was around $11,000. The car remains in its original condition with the original interior and leather top. Elvis drove this car for several months around Memphis before delivering it to his dentist.
"We actually spotted the Mustang next to the Cadillac first and then we had to read all about the Caddy's history," said Dan Martinelli, who said he and his wife were Elvis fans as well.
The fourth annual Las Vegas auction ended Barrett-Jackson's year-long 40th anniversary celebration.
"The Las Vegas stop of our 40th anniversary tour brings the year-long celebration to a close in style," said Craig Jackson, chairman and CEO of Barrett-Jackson. "Mandalay Bay resort and casino provided a special backdrop that is unlike any other auction we do throughout the year. We're thankful to Las Vegas for welcoming Barrett-Jackson as we have become a signature event in the city and feel this year was better than ever."
The next Barrett-Jackson Collector Car Auction takes place in Scottsdale, Ariz., Jan. 16-22. Dates for next year's Las Vegas auction have not been announced. For more information, visit www.barrett-jackson.com.