Carson prefers returning federal land to states — VIDEO
November 23, 2015 - 9:20 pm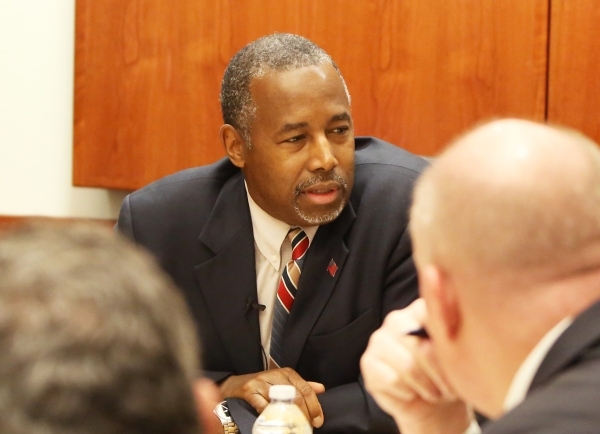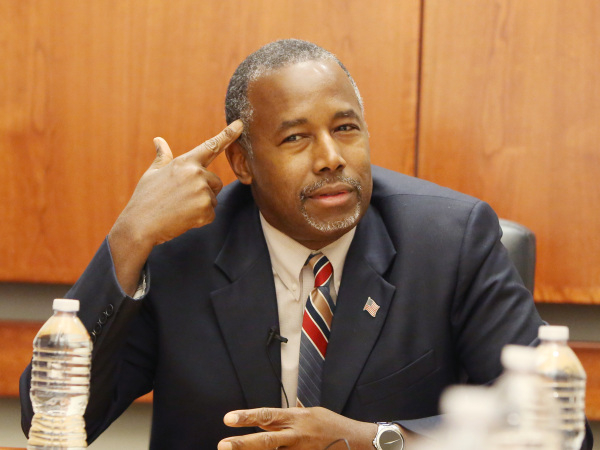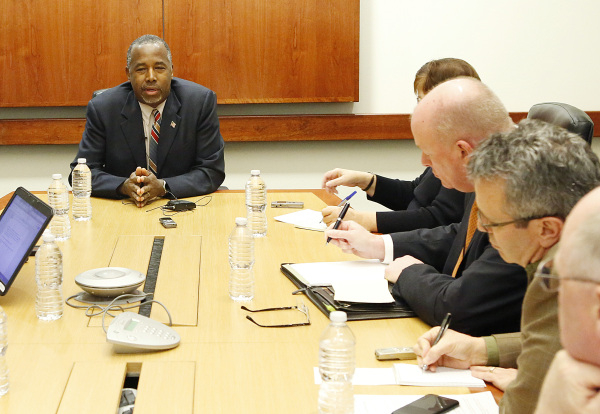 Republican presidential candidate Ben Carson said Monday he would push for returning federal land to states to manage.
Carson made his comments while visiting with the Las Vegas Review-Journal editorial board, and they came after a meeting he had in Pahrump that included a briefing on public lands issues. In Nevada, more than 80 percent of land is federally owned by agencies such as the Bureau of Land Management and U.S. Forest Service.
"I would advocate returning land to the states," Carson said. "It's not like they're irresponsible people who don't care what happens."
Asked about how states would deal with the cost — a key sticking point for a transfer, Carson said the transfer could be gradual instead of all at once.
"I think what I would advocate is that states begin to work with the BLM in terms of what they would like to have and what they feel they can manage," Carson said.
The retired neurosurgeon is near the top of most polls behind billionaire businessman Donald Trump in a crowded Republican field of 14 candidates. He took questions on a variety of topics during the one-hour meeting, including dealing with the threat of terrorism, the budget and Internet gaming.
Asked about how he would deal with Islamic State in the wake of the Paris attacks, Carson said he'd take a variety of measures.
Carson said he would choke off the money supply that terrorists can access, including from oil, and provide more resources, include special operations personnel, air support and people who can give advice and support to Iraqis.
The U.S. also needs to ramp up its efforts to fight the propaganda that terrorists put on social media to recruit people, Carson said.
"They've done a spectacular job of reaching out to disenfranchised people not only in the Middle East but all over the world, and creating what looks like a very nice situation for people who otherwise feel hopeless," Carson said. "We need to fight them. We need to put out our own story."
"We also need to fight them in cyberspace," Carson said. "We have good hackers. We have people who can interfere with their ability to propagate this material."
The U.S. also needs to work with imams and Muslim clerics to help "differentiate the good Muslims from the bad Muslims."
"If they can't do it, how can they expect us to do it?" Carson said.
On health care, Carson said the system needs to put the decision-making in the hands of patients and their doctors and provide individuals access to health savings accounts that start at birth.
On the issue of Internet gaming, Carson said it "should be left up to the states."
He didn't offer an opinion on a federal bill — backed by billionaire casino owner Sheldon Adelson — that would restore the Federal Wire Act to its pre-2011 interpretation when it prohibited Internet gaming.
"The fewer things that we can have the federal government involved in, the better off we are," Carson said. "Any gaming issue should be a state issue."
Carson said he met Adelson, chairman of Las Vegas Sands Corp., "for about 5 or 10 minutes," but they didn't discuss Internet gaming.
Carson also spoke Monday at a fundraiser and banquet for First Choice Pregnancy Services, a Las Vegas organization that offers services and referrals to pregnant women that are alternatives to abortion.
Carson, who opposes abortion, said society should be focused on more than preventing abortions and also care for mothers and children after birth.
"It's not just about saving that baby from abortion," Carson said. "It's about continuing to care for that baby."
Contact Ben Botkin at bbotkin@reviewjournal.com or 702-387-2904. Find him on Twitter: @BenBotkin1