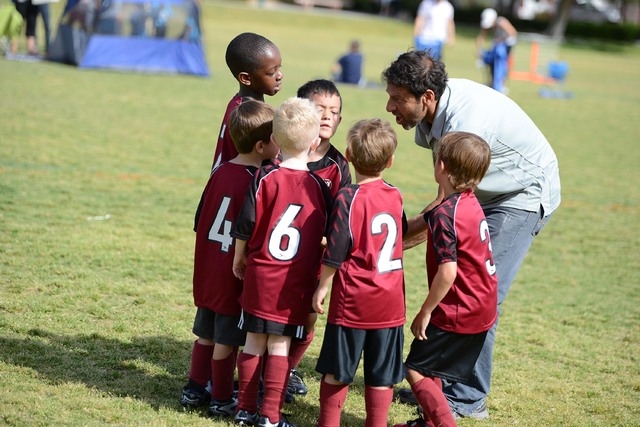 With Father's Day around the corner, View looked to those who give their time to make childhood a little more fun for their offspring: dads who volunteer as coaches for the American Youth Soccer Organization.
At The Crossing Park, 1111 Crestdale Lane, children of all ages converged to play the game on a Saturday. Wives spoke about their husbands and why they deserved to be honored this Father's Day.
Nancy Puche's husband, Carlos, is a dental technician and coaches for the Blue Sonics. She said she was looking for a special person to be her spouse.
"I wanted someone to be caring, someone who would be with my (child), because when I was growing up, my father was working all the time," she said. "So, hands-on, someone very hands-on."
They have one son, Mikael, 7, who is asthmatic and had a tough time in his early life.
"In the night, if he has coughing issues, he (Carlos) gets up with me, and if we have to go to the hospital, he goes with me," Nancy said. "I'm never alone."
Carlos, a soccer player earlier in life, used his love of sports to interact with his daughters from a previous marriage when they were young, too.
"He's the best person I've ever met, the whole package," Nancy said. "… He's a great father, a great partner."
Ruben Benavidez, a salesperson for a merchandising firm, is another coach. He and his wife, Katie, have four children, ranging in age from 6 to 28. Isabella, the youngest, was on the Jolly Ranchers team. Their daughter Madison, 14, has Down syndrome.
Ruben said being a father was inspiring and rewarding.
"The best part is when I get home; they always run up and hug me, (with) big smiles," he said. "And I always look forward to the weekends … I just like hanging out with them."
Last season, Ruben offered to help out when he registered Isabella for the team. They made him a coach immediately, a title he repeated this season.
"He enjoys the time with Bella," Katie said. "It's a special time for them. … His big point is that it's about having fun, at this age especially."
On a scale of one to 10, she said she would give him a 10, because his involvement has gone beyond soccer.
"Our 14-year-old has Down syndrome, so we have a real juggling fest with all of that and, like, he just got back last night at 10 from Madison's choir festival in San Diego … got back at 10, and now he's here," she said.
Lauren and Musbah Eldik have two children, ages 2 and 6. Musbah is a stay-at-home dad, a decision they made as a couple.
Lauren said he is caring, fun and a good teacher who has instilled good morals into their children. She said he tended to put a lot of emphasis on the fun part.
"I'm the disciplinarian," she said, laughing. "When the 'mean mom' comes home, no more playing. He doesn't reprimand the children. He tells them to run when Mommy's trying to put them in timeout. He's my third kid, for sure."
As for Musbah, he said, with fatherhood, there's no room for selfishness.
"I always thought life is just a journey that you live and leave, and life goes on, but I never thought that what keeps it going is our children," he said.
Being from Lebanon, Musbah grew up in a soccer-minded environment.
"It's a huge part of their culture," Lauren said. "This is our son David's first season, and we wouldn't miss it for anything."
Marlo Griffiths is married to Eric, a finance controller. They have been together for nearly eight years and have twin girls, Morgan and Brianna, 6, who play soccer on the Purple Hurricanes team. She said he's involved in their lives.
"He goes to their school programs, and he takes them to school and picks them up once a week, helps them with their homework and loves to go swimming with them," she said.
Marlo said a good father is there for his children and pays attention to them, "especially fathers with little girls. I think that's important so that they get that attention and get that love from their father."
The news of parenthood was a surprise for them. But the real surprise was when they learned they were having twins. That moment in the doctor's office had Eric repeating "No way" over and over in his excitement.
"I think that's why he's so involved, because when you have two infant babies, you both have to be up in the middle of the night, one feeding one, the other feeding the other," Marlo said. "It's not just me getting up. When they were little and running around, there has to be two parents, one chases after one, one chasing after the other. So, it does take two parents, especially when they're little."
For her Father's Day card, Marlo said her message to Eric would be, "Thank you for always being there and going the extra mile."
Contact Summerlin Area View reporter Jan Hogan at jhogan@viewnews.com or 702-387-2949.