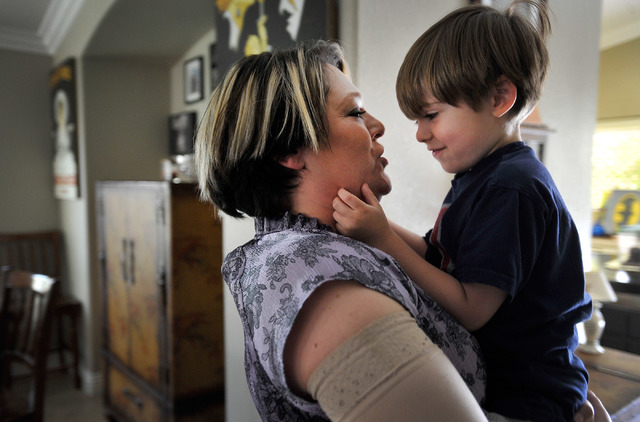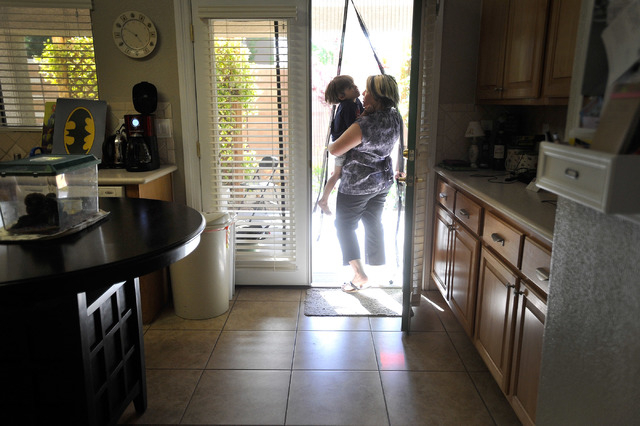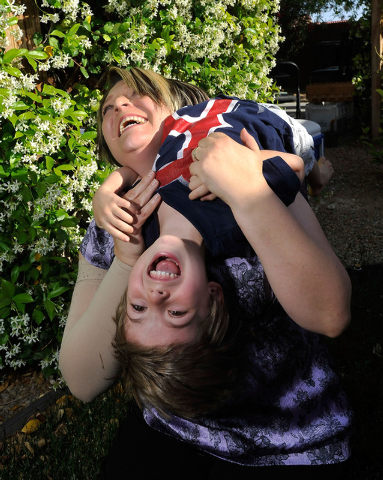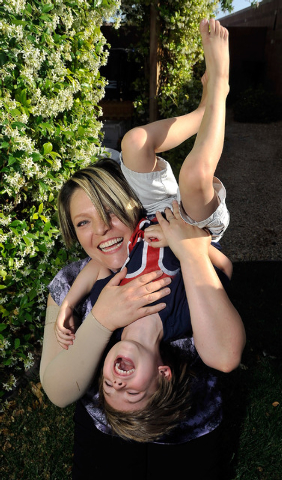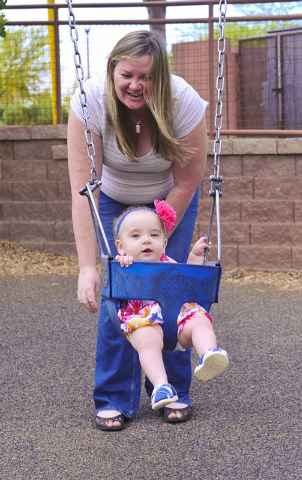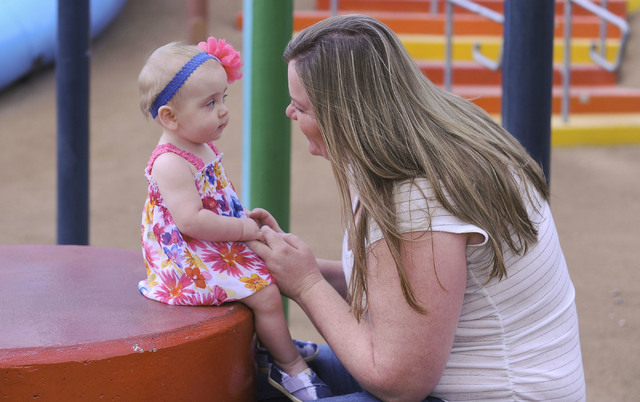 Kristina Newcomb Moore remembers the moment she found out she was pregnant with her first daughter. It was November 2012, and she was so excited she said she started jumping up and down in the living room.
Everything in her pregnancy was normal until July 4, 2013, when she started having abdominal pain.
The Centennial Hills resident said she went to MountainView Hospital, where she was registered to deliver. Hospital staff members ran tests and concluded she had a urinary tract infection. She was sent home, but her symptoms began to worsen.
After vomiting for hours, she went back to the hospital the next day.
"By this point, my whole stomach felt like it was on fire," Moore said. "They said I had urinary tract infection again and sent me home with some medication. A nurse told me that this was all part of pregnancy and that I had to stick it out."
She was sent home again where she developed a 104-degree fever.
After researching her symptoms online, Moore concluded she had appendicitis, a condition in which your appendix becomes inflamed and fills with pus, according to mayoclinic.org.
In the early morning of July 6, 2013, while her husband was working the night shift, she drove with her mother to the emergency room of Centennial Hills Hospital. Despite being registered at another hospital, they admitted her and confirmed that she had appendicitis.
A few hours later, Moore underwent an emergency cesarean section and appendectomy at 35 weeks pregnant.
"It turned out my whole entire stomach was filled with pus," Moore said. "The doctor said if I would've stayed home for another few hours I would have died."
Despite being born five weeks premature, her daughter, Hailey, turned out healthy, according to Moore.
She said she was thankful she followed her instincts.
"I was furious that she basically had to self-diagnosis herself and kept being sent home from the other hospital, but I was extremely glad that she was smart enough to trust herself," said her husband, Bryan Moore. "If it wasn't for her instincts, she would've ended up dead along with my daughter. She's a great mom."
Similar to Moore, Jaylene Low's journey to becoming a mother started normally.
The Aliante resident found out she was pregnant in January 2008.
"I had the best pregnancy in the world," Low said. "I didn't have any of the classic pregnancy symptoms. I felt that pregnancy truly agreed with my body."
She delivered a healthy boy, Logan, in September 2008.
A year later, Low noticed an odd lump in her breast. Because she was breastfeeding at the time, she figured it was a clogged milk duct.
She had dealt with this type of trouble before, so she tried massaging it, but nothing worked.
She sought out her lactation specialist, who informed her that it was not a clogged milk duct and urged her to see a doctor. After undergoing a mammogram and a biopsy, Low found out she had stage 2 breast cancer.
"I don't think I heard anything after the nurse said the word cancer," Low said. "I was already scared. She said those words, and that was it for me."
Tests results concluded that Low had invasive ductal carcinoma, which is when abnormal cancer cells that began forming in the milk ducts have spread beyond the ducts into other parts of the breast tissue, according to nationalbreastcancer.org.
After seeking a failed alternative treatment and a genetics test that came back positive, Low concluded that she had to have a bilateral mastectomy.
"It was surreal," Low said. "It seemed so barbaric to slice off body parts. I understood the need, but I lost my mind at the hospital. I was so emotional, and there was no guarantee that this would work."
After the surgery in March 2010, Low underwent chemotherapy, reconstructive surgery and was cancer-free for almost two years.
She had to have a hysterectomy in December 2011 because she developed precancerous cells in her vulva.
Then, in July 2012, she had a recurrence, which led to the removal of lymph nodes, more chemotherapy and radiation.
"The best advice I give people is to look at their situation, take what they're told and move forward," said Paul Michael, oncologist at Comprehensive Cancer Centers of Nevada. "Don't dwell on the impossibility of it and feel like a victim."
Low has been cancer-free for more than a year.
Although she cannot have any more children, she is thankful to be there for her now-5-year-old son.
"It was hard balancing treatment while taking care of my son," Low said. "But my son means everything to me. He made me 100 percent stronger and more motivated to get through my treatment. Seeing his smiling face every day while I was sick was gold. He's worth saving my life for."
Contact North View reporter Sandy Lopez at slopez@viewnews.com or 702-383-4686. Find her on Twitter: @JournalismSandy.