Centennial Hills artist uses what others discard to craft her creations
February 26, 2013 - 12:00 am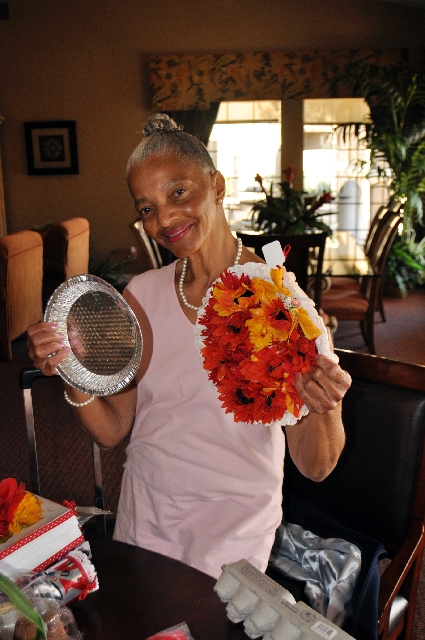 Dorothy Turner, better known as "Dottie Do," has a mission. She wants to change how the country thinks about trash and recycling.
For as long as she can remember, the Centennial Hills resident has taken what most people would throw out — empty soda cans, plastic rotisserie chicken holders and egg cartons — and transformed them into household items and crafts.
"My belief in life is anything could usually be made into something more," she said.
She may be only one woman with a talent of giving items a second life, but she is determined to share her message whichever way she can. She has reached out to elected officials, she wrote a song about living a green lifestyle, she posted a video on YouTube, she is setting up an account on Etsy, an online crafts site, and she wants to make her way to Washington.
In 2008, Dottie Do gave President Barack Obama a place mat made out of his campaign posters, a highlight among her creations.
She has made wall hangings from plastic, including a serving tray crafted from a floor tile and a potpourri holder made from an empty water bottle.
"I try to come up with something unique and different," she said. "When I do something, I try to make everything I do unique."
She holds on to what many people would toss in the trash and gets creative.
"Recycling is more than just a jar or can . It's much more, and so many people take it for granted," she said.
She turned an egg carton into a cotton ball holder and a rotisserie chicken box into a jewelry holder. "Everything you have and toss can be used for something else," she said.
She has tried to pass along the tradition to her four children and three grandchildren . Even if they are not crafty, she said they save their recycled items for her to use.
Talia Turner, Dottie Do's daughter, said she may not be crafty like her mother but her creativity comes from her. Turner, who works in construction, said she got strange looks from co-workers when she showed up in a tank top that her mother decorated for her.
"My mom put flowers and glitter on my wife-beater, so there were some looks at the construction site," she said.
"She breathes it . It's great," Turner said about her mother. "It's what makes Dottie Do do."
She said she remembers her mother teaching her to crochet, but it ended in frustration. Turner said she would like to see her mother teaching classes to pass on her creativity and her passion for recycling.
"Can I make it? Absolutely not . That's my mom's thing," Turner said.
Dottie Do's son Kari Turner said his home is decorated with crafts from his mother — tooth brush holders, soap dishes, pot holders and towels.
Dottie Do lost her Summerlin home to foreclosure and she said her crafts help keep her spirits high.
"Just because we don't have money doesn't mean we can't live in a nice fashion, because there's so many things you can create yourself," she said. "No matter where I am, I can make it look beautiful. We try to be positive."
She met with a district staff member of U.S. Rep. Steven Horsford in early February to discuss connecting her with the community to share her crafting talents.
Horsford spokesman Tim Hogan said the community liaison discussed how Dottie Do could teach at senior centers.
"We make sure people who have similar interests get connected," Hogan said and suggested that Dottie Do may even help make Horsford's district office in North Las Vegas more green.