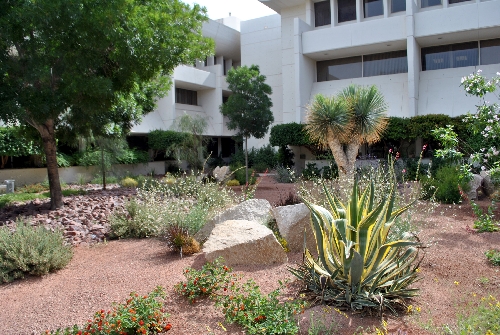 Think you can't have an aesthetically pleasing yard without using a ton of water? Think again.
Winners of the 13th annual Southern Nevada Water Authority Landscape Awards competition have torn out thirsty grass and plants in favor of desert-loving yards. The water authority recognized 12 winners in five categories. A panel of judges selected the winning landscapes based on their overall beauty, efficient water use, plant selection and design. Some winners were in the northwest part of town.
Karen Luksich's front yard won first place for a design by a homeowner. Her fascination with gardening began early.
"When I was 8, I sent away for zinnia seeds advertising on the back of Parade magazine," she said.
She went on to become a Master Gardener who once worked for the Southern Nevada Water District, making her ineligible to enter her front yard, xeriscaped in 2000. No longer employed there, she entered the contest this year. She said she wanted to give an "edge of the desert" feel, so she landscaped it to make it greener near the patio and progressively wilder near the street. Flagstone, a trellis, 16-inch-tall seating and lighting set it all off.
"It's my pride and joy," Luksich said.
Christopher and Kim Waller had a blank slate with which to work when they moved into their home near El Capitan Way and Brent Lane. They combined their talents to choose all the plants and do all the labor.
"She's more the green thumb, I'm more the prickly thumb," Christopher Waller said.
The result is a front and backyard that's 90 percent drought-tolerant plants and attracts butterflies, hummingbirds, bees and birds — even a kangaroo rat.
Waller called the effort "therapeutic … and not expensive as one might imagine."
The Schilling Horticulture Group saw five wins in the contest, including for Decatur Pines Senior Apartments, 6741 N. Decatur Blvd. Norm Schilling, owner/operator of the Schilling Horticulture Group, has been designing landscapes for more than 20 years. He credited his staff and designer Cornia Van Gorkum for much of the work.
He said a design should incorporate both function and beauty.
"You should consider how it'll look from different viewpoints, including the view from the inside," Schilling said.
Waller took second place in the landscape design by a homeowner category.
The Kowalski/Wishnev residence took second place in the residential landscape design by a professional category. The couple used the Schilling Horticulture Group.
In general, taller foliage should be up against the building, with shorter ones leading the eye up to it, Schilling said.
"It should pull your eye in, much the way a good painting does," he said.
Southern Nevada Water Authority conservation manager Doug Bennett said the designs will inspire others to follow suit and put in water-efficient landscapes.
"A stewardship ethic can't be effectively cultivated with numbers and statistics," said Bennett. "These awards take the issue of landscaping to a tangible, human level. When people who've done these projects talk passionately about the reasons and rewards, it motivates others."
When properly irrigated, water-efficient landscapes can use up to 75 percent less water than turf. Since 1999, thousands of residents and businesses have upgraded to water-smart designs, converting more than 152 million square feet of lawns to water-efficient landscaping and collectively saving more than 50 billion gallons of water.
For more information, visit snwa.com or call 862-3400.
Contact Summerlin and Summerlin South View reporter Jan Hogan at jhogan@viewnews.com or 387-2949.