Centennial Hills teen leaves legacy of creativity, kindness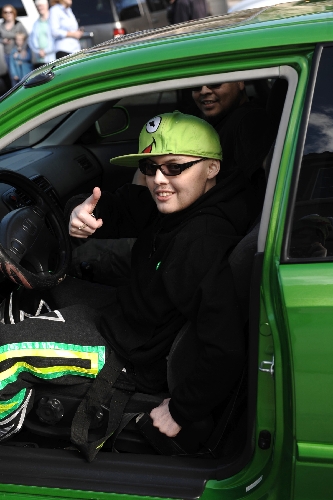 Frankie Henriquez joked that she always waited for her son Robert Monterroso to exercise some rebellion.
On his worst day, she said, he was a calm, sensitive and big-hearted son and brother, keen on fostering his creativity.
It's the music, light shows, dance footage, fashion designs and poetry he created before his March 22 death that Henriquez said comfort her in his absence.
"I just found 200 poems in his room that I had no idea he had," Henriquez said.
Monterroso died after a year long battle with acute lymphoblastic leukemia.
His 368-day struggle involved two rounds of chemotherapy and a bone marrow transplant, but his health didn't interrupt his creative or social pursuits.
Monterroso moved to Las Vegas to be with his mother for his senior year of high school, and it didn't take him long to build a social network, Henriquez said. His impact in such a short time was felt at his recent memorial service.
"He was very popular . Everyone knew who he was," she said. "Everyone loved him. He wasn't even from here, and there was a line out the door."
Monterroso caught attention with his personality and penchant for wearing bright colors and reflective stripes on his "phat pants." He danced a style called "hard-style shuffle," produced music tracks and performed light shows with custom-lighted gloves.
Monterroso's car fit his flashy tastes, too, thanks to a gift from the Kids Wish Network, a Florida-based nonprofit group that grants wishes to children suffering  from life-threatening conditions.
With help from Sams's Auto Body  & Paint Shop, 3601 Meade Ave., Monterroso's red 1999 Honda Civic was revamped into a "hot green machine" last fall.
It took about a month of adding a custom paint job, a carbon fiber wrap, a spoiler, window tint and new wheels and rims.
Monterroso received the keys to his car outside his Centennial Hills home in December, and he spoke then about his gift.
"I always wanted a car that looked like a street racer," Monterroso said. "It's more than I thought it would be.
"At first, I didn't feel like I did anything to deserve any reward. I just thought about it and I was just like, 'You know, this is horrible, and nobody should have to go through this.' "
Monterroso was excited to personally thank the people who granted his wish .
He was never cleared by doctors or his mom to take his new car on a ride longer than around the block.
"That's my only regret . I'm kicking myself in the butt," Henriquez said.
The family plans to keep the car, but Henriquez said she's unsure whether her daughter or other son will get the keys.
The family hosted a memorial party with food, a disc jockey and a light show for family and friends.
Henriquez plans to compile her son's writing samples and poems into a book that she may sell. She said the main theme of the poems was love. Monterroso was engaged to his high school sweetheart Ariel, his mom said.
"Until his last breath, he was always graceful and loving and peaceful," she said.
Henriquez said she and her children find comfort in reflecting on his legacy and living by his example. "We're just trying to make him proud," she said. "It was an honor to have him for 19 years."
Contact Centennial and Paradise View reporter Maggie Lillis at mlillis@viewnews.com or 477-3839.