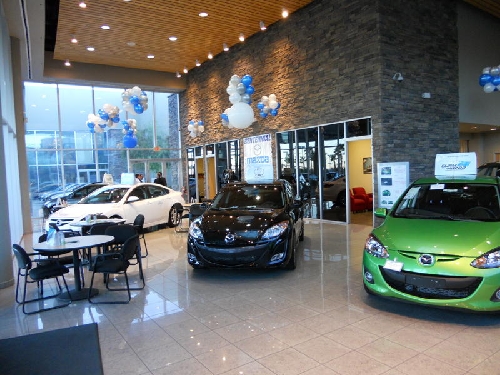 Centennial Mazda, the latest addition to the Super Store Auto Group, is one of the most successful Mazda dealerships in the West.
Situated at 6525 Centennial Center Blvd. in the northwest valley, Centennial Mazda has become the No. 1 Mazda dealership in District II of the West Coast.
The district includes dealerships in the states of Nevada, California and Arizona.
Top-producing models at the dealership include the 2011 Mazda CX-7 and the 2011 Mazda3. Mazda has a total of nine models including the introductory year 2011 Mazda2, which is now available.
"We hit the ground running and we have an extremely dedicated staff," said Stephanie Morrison, the dealership's Internet sales director and business development manager. "We opened July 17 and most of the employees who started with us are still here."
Among the top members of the sales staff are Sheri Baird and Henry Andino.
"We are working for the customer," said Andino, a native of Miami who has been in the car business for five years. "The car is a great quality car for the money. Every imaginable vocation can be found in our list of buyers."
Baird, a six-year veteran of the car business who grew up in Las Vegas, added that the store's success has been the result of an effort to provide the best-possible customer service.
"We are like a family here," said Baird, who has lived in Las Vegas since 1985. "We work together and the synergy is evident in our results. We love our jobs and the vehicles we sell, and our customers can see that."
Baird said there is a special thrill that comes with selling a car.
"There is an incredible feeling knowing that you have helped someone make one of the biggest purchases in their life," Baird said. "It's nice to know that people trust us with their automobile purchase. We take care of our customers even after the sale."
Yet another key element for Centennial Mazda is the service department headed by Bill Buckley, a 31-year veteran of the service side of the car business. The Mazda service department has generated rave reviews.
Additionally, the dealership is top-rated in training standards, and the Customer Service Index — considered the key to any dealership — has been excellent.
Centennial Mazda is headed by General Manager Jan Sheinfeld.
Super Store Auto Group includes a total of five dealership in Southern Nevada and more than 26 dealerships nationwide.
For more information, call 784-1104 or visit www.centennialmazda.com.