Centennial Neighborhood News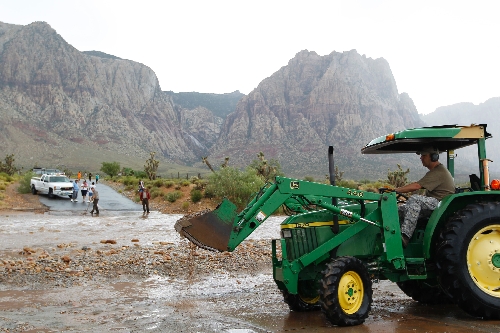 EVENT TO RAISE MONEY FOR high school student who has cancer
Kassidy's Yard/Bake sale is scheduled for 8 a.m. to 3 p.m. Friday and Saturday at Centennial High School, 10200 Centennial Parkway.
The event is to raise money for Kassidy Merritt, who has cancer. She is a softball player and a classical violinist who will be a junior at Centennial High School this fall. Her brain tumor is inoperable. The family hopes DNA therapy at the Burzynski Clinic in Houston will help, but insurance will not cover it.
The family was the topic of a recent Las Vegas Review-Journal column by Ron Kantowski. For more information, visit kassidysroadtorecovery.blogspot.com.
Lecture to discuss coping
with osteoporosis
A free health and wellness lecture about coping with osteoporosis is planned for 4 p.m. Aug. 9 at the Centennial Hills Library, 6711 N. Buffalo Drive. For more information, call 507-6100.
timberlake's golf tournament
OFFERS CHANCE TO PLAY
The Justin Timberlake Shriners Hospitals for Children Open is set to host the inaugural Las Vegas Pro-Am Challenge, giving three local golfers the opportunity to participate in the 2011 Justin Timberlake Shriners Hospitals for Children Open Championship Pro Am.
Entry spots are still available in the citywide tournament.
Area golf clubs will host qualifying events at their facilities through Aug. 15. The winning teams from the qualifiers will be invited to play in the Pro Am Challenge Tournament, set for Sept. 6 at TPC Summerlin, 1700 Village Center Drive.
The winning threesome of the Pro-Am Challenge will receive an invitation to play in the MGM Resorts International Championship Pro-Am, slated for Sept. 28 at the Justin Timberlake Shriners Hospitals for Children Open alongside PGA Tour players.
Pro-Am Challenge participants also will receive two tickets for a single-day pass to the Justin Timberlake Shriners Hospitals for Children Open, planned for Sept. 25-Oct. 2 at TPC Summerlin.
More information can be found at jtshrinersopen.com/las-vegas-pro-am-challenge.
BABY ITEMS NEEDED FOR MILITARY FAMILIES
Cannery Casino Resorts is teaming up with Operation Showers of Appreciation to host a large baby shower for local military moms.
Military wives and enlistees often come to Southern Nevada as part of a relocation, and they're away from family and friends. Others are pregnant while their spouses may be serving overseas.
Drop off new baby items, clothing and diapers at the valet area at any Cannery Casino Resorts property, including the Rampart Casino at the Resort at Summerlin, 221 N. Rampart Blvd. Donations will be accepted through Saturday. About 100 expectant or recent mothers will be presented with the gifts during a shower planned for July 30 at the Eastside Cannery, 5255 Boulder Highway.
For more information, call 507-5900.
Rebate boosted to $50 through August for refrigerator recycling program
NV Energy has increased the rebate offered through its refrigerator recycling program to $50 during July and August.
In addition to the rebate, NV Energy will pick up a second refrigerator or freezer for free and then recycle 95 percent of the unit.
Old refrigerators and freezers use up to four times more electricity than newer energy-efficient models. Customers can save up to $140 a year on utility bills by eliminating a second refrigerator or freezer, NV Energy officials said.
The rebate is scheduled to return to its original amount of $30 in September.
To learn about program qualifications and to schedule a pickup, visit the NV Energy website at nvenergy.com/refrigerator or call 877-289-8260.
Units must be in working order and be at least 10 cubic feet in size. Participants must own the refrigerator or freezer, and the offer is limited to two units per address.
Nonprofit groups to mingle
at networking event
A free networking program for those associated with nonprofit organizations is planned for 11:45 a.m. Wednesday at the Clark County Library, 1401 E. Flamingo Road.
The event, Munch and Mingle for Nonprofits, is set to be hosted by the Southern Nevada Non-Profit Information Center via the Las Vegas-Clark County Library District.
For those unable to attend, another program is planned for 11:45 a.m. Aug. 17. For more information, call 507-3459.
24-Hour Radiothon to benefit
The Caring Place
The 24-Hour Radiothon, set to begin at 10 a.m. Friday, will be broadcast from the Palms, 4321 W. Flamingo Road, for 24 hours.
The event will benefit The Caring Place, a local nonprofit organization dedicated to easing the journey of those affected by cancer.
Local and national sports and entertainment celebrities, along with ESPN Radio 1100/98.9, have confirmed their participation.
ESPN Radio listeners and others from around the country will have the opportunity to bid for a one-hour co-hosting spot with one or more of the participating celebrities, with most opening bids beginning at $100. Online bids can be placed at wearelv.com, with all proceeds benefiting The Caring Place.
A cocktail reception for the Sportsperson of the Year Award is set to take place from 6:30 to 8:30 p.m., providing guests with an opportunity to mingle with celebrities and sports figures. Tickets to the event are $75 per person or $600 for a table of 10 and can be purchased by calling 871-7333.
Problem gambling council relocates
The Nevada Council on Problem Gambling has a new home in town.
The council is now at 5552 S. Fort Apache Road, Suite 100.
The group's mission is to generate awareness, promote education and advocate for quality treatment of problem gambling in the state.
For more information on the council, visit nevadacouncil.org. For confidential assistance, call the Problem Gamblers Help Line at 800-522-4700.