Centennial Neighborhood News, May 8-14, 2014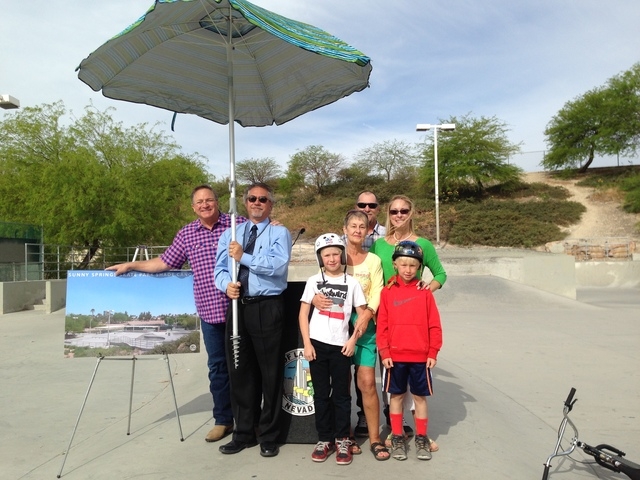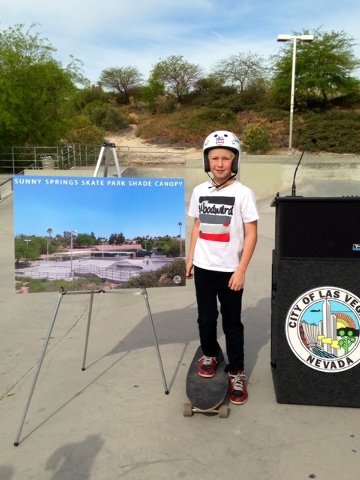 SHADE STRUCTURE IN THE WORKS AT SUNNY SPRINGS SKATE PARK
A new shade structure is scheduled to be constructed at Sunny Springs Skate Park, 7620 Golden Talon Ave. The installation is set to be complete by late spring. The total project is estimated at $80,000, with costs to be paid from the Ward 6 Residential Construction Tax fund.
Dalton Taylor, 10, a student at Rhodes Elementary School, requested the project in an email to City Councilman Steve Ross last May.
LAS VEGAS CITY COUNCIL APPROVES LEASE WITH HORSES4HEROES
The Las Vegas City Council voted to approve a concession lease with Horses4Heroes, paving the way for the local nonprofit organization to create a Community Equestrian Center at Floyd Lamb Park at Tule Springs, 9200 Tule Springs Road. The center will be open from 9 a.m. to 7 p.m. Monday through Saturday and Sunday by appointment, throughout the year, weather permitting. Daily activities are set to include HorsePlay at 9:30, 10:30 and 11:30 a.m., a mommy and me class for toddlers and preschoolers (ages 18 months to 6 years), beginning and intermediate lessons and after-school programs for elementary, middle school and high school students from 2:30 to 6 p.m.. Birthday parties, field trips, corporate retreats and leadership workshops can be scheduled by appointment.
For more information, visit horses4heroes.org or call 702-885-1943.
CIMARRON ROSE COMMUNITY CENTER OPENS REGISTRATION FOR SUMMER CAMP
Summer Kids Kamp is scheduled from 7 a.m. to 6 p.m. Mondays through Fridays starting June 9 at the Cimarron Rose Community Center, 5591 N. Cimarron Road. Online and walk-in registration is open. Online registration requires an active account in RecTrac at recreation.lasvegasnevada.gov.
The cost is $100 per child for the week. Call 702-229-1607.
REGISTRATION OPENS FOR RIMFIRE LEAGUE AT SHOOTING COMPLEX
Registration is open for the Clark County Shooting Complex's Rimfire league, set to be hosted at 6:30 p.m. Thursdays through May 29 at 11357 N. Decatur Blvd.
The .22-caliber Rimfire league is set up as a handicap league, which allows shooters to have a target spot based on their individual average.
Those interested in participating may sign up as five-person teams or as individuals who would be added to a team. Anyone interested should sign up with Betty-Jane Kuhlendahl at 702-455-2002.
For more information, visit clarkcountynv.gov/shootingcomplex, or call 702-455-2000.
CONSTRUCTION TO RESUME ON MEDICAL CAMPUS IN NORTHWEST VALLEY
Construction is scheduled to resume on Centennial Hills Center, 6100 N. Durango Drive, a 24.36-acre mixed-use development offering medical and professional office condominiums for sale or lease. The project consists of 18 buildings encompassing 290,269 square feet of medical and professional office and retail buildings in the northwest valley. The partially completed project, on which construction was shuttered in 2008 due to the economic recession, is back on track for phase one completion by summer.
KIWANIS CLUB WELCOMES NEW MEMBERS
The Kiwanis Club of North Las Vegas, a chapter of the international service organization, is scheduled to meet at 6:15 p.m. Wednesdays at T.G.I. Friday's at the Aliante, 7300 Aliante Parkway.
Club community projects have included canned food drives, car shows, kites in the park events and charity fundraisers.
The fourth meeting of the month is limited to members only. For more information, visit nlvkiwanis.com or call 702-399-7373.
NORTH LAS VEGAS ROTARY CLUB TO MEET
The North Las Vegas Rotary Club of Las Vegas meets at 7:15 a.m. Fridays at the Los Prados Golf and Country Club, 5150 Los Prados Circle.
The weekly breakfast meetings include guest speakers, networking, education workshops and service projects.
For more information, visit nlvrc.org/newsite.
PLANETARIUM HOSTING EDUCATIONAL PROGRAMS
The Planetarium at the College of Southern Nevada hosts educational programs and stargazing at various times Fridays and Saturdays at 3200 E. Cheyenne Ave. Tickets are $4 for children and seniors and $6 for adults. For more information, including times, visit csn.edu.
ASTRONOMICAL SOCIETY HOLDS OUTREACH EVENTS
The Las Vegas Astronomical Society holds events every month for those interested in learning about astronomy. The society meets at 7:30 p.m. the first Thursday of each month at the College of Southern Nevada Planetarium, 3200 E. Cheyenne Ave., usually with a speaker or program on an astronomical topic.
For more information on the group, visit lvastronomy.com.
ALIANTE LIBRARY WRITERS CLUB TO MEET MONTHLY
The Aliante Library Writers Club is set to meet monthly from 5:30 to 7:30 p.m. on select Tuesdays and Wednesdays at the Aliante Library, 2400 w. Deer Springs Road. The group gathers for networking, readings and learning about writing. For more information, call 702-839-2980, visit nlvld.org or email Glory Wade at glorywadewriter@gmail.com.
CENTENNIAL HILLS LIBRARY HOSTS STORY TIME FOR KIDS
The Centennial Hills Library plans to host story time for babies from birth to 18 months at 10:30 a.m. and 1:30 p.m. most Thursdays and story time for children ages 3-5 from 10:30 a.m. to 1:30 p.m. most Wednesdays at 6711 N. Buffalo Drive. Organizers plan to offer songs, nursery rhymes and language-enrichment activities with an adult. For more information, call the library at 702-507-6100 or visit lvccld.org.
MASTER GARDENERS TO HOST KIDS GARDENING CLASSES
The University of Nevada Cooperative Extension's Junior Master Gardener program plans to offer hands-on gardening activities from 9 a.m. to noon every other Saturday at the Clark County Center for Urban Food Production, 4600 Horse Road.
Children ages 7-12 are invited to attend. The eight-session-per-semester class fee is $50. Students must register to participate.
For more information, contact Karyn Johnson at 702-257-5523 or johnsonk@unce.unr.edu.
WILDLIFE REFUGE GROUP HOSTS MONTHLY MEETINGS
Friends of the Desert National Wildlife Refuge Complex meets at 6:30 p.m. on the first Tuesday of the month at the University of Nevada Cooperative Extension offices, 8050 Paradise Road.
The group provides volunteers and other support to the National Wildlife Refuge, 30 miles northwest of Floyd Lamb Park at Tule Springs.
For more information, visit the group's Facebook page or call Harry Konwin at 702-515-5494.
SENIOR GRIEF SUPPORT GROUP MEETS BIMONTHLY
A grief support group for seniors is set to meet the second and fourth Fridays of the month at 9 a.m. at the Centennial Hills Active Adult Center, 6601 N. Buffalo Drive. For more information, call 702-229-1702.
AUDUBON SOCIETY HOSTS BIRD WALKS
The Red Rock Audubon Society hosts bird walks at Floyd Lamb Park at Tule Springs, 9200 Tule Springs Road, starting at 8 a.m. on the third Saturday of every month. Walks last about two hours and are geared toward beginners and casual walkers. Attendees meet in the last parking lot in the group picnic area. For more information, visit redrockaudubon.org.
CENTENNIAL HILLS ACTIVE ADULT CENTER TO HOST KNITTING GROUP
The Centennial Hills Active Adult Center plans to host a low-cost knitting group for adults 50 or older at 9 a.m. Wednesdays at 6601 N. Buffalo Drive. The group is free to those with a $2 annual adult center membership. For more information, call the center at 702-229-1702.
BELLY DANCE CLASSES PLANNED AT ACTIVE ADULT CENTER
Join members of the Centennial Hills Active Adult Center for belly dance classes set for 10:30 to 11:30 a.m. Mondays and Fridays at 6601 N. Buffalo Drive. Class members, led by instructor Jeanne Baer, have performed during luncheons at the Lieburn Senior Center and at a Chinese New Year celebration in Sun City Anthem. For more information, call the center at 702-229-1702.
FREE TRAPPERS SET TO MEET IN SPRING MOUNTAINS
Spring Mountain Free Trappers meet for a black powder shoot the first weekend of each month at CC Spring and Lovell Canyon roads in the Spring Mountains southwest of Las Vegas. Locations vary depending on weather, so call Daniel Trousdale at 702-645-2658 before attending. For more information, visit smft.org.