Center focuses on spurring creativity in kids and teens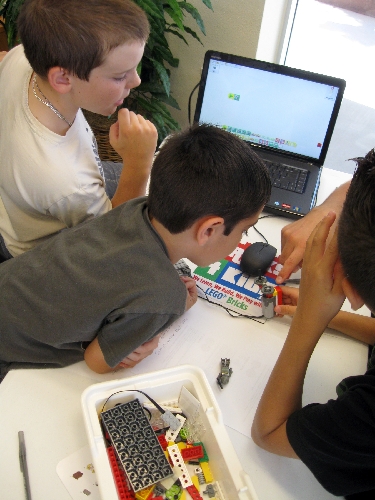 A one-time after-school special program now has a brick-and-mortar building for budding engineers to stack on their skill sets.
Bricks 4 Kidz Creativity Center, 7910 W. Tropical Parkway, Suite 150, opened in May to host classes, field trips, camps and birthday parties for Lego-savvy kids 18 months to high school age.
Bricks 4 Kidz is a international franchise about 50 strong that was started by a Florida teacher in 2008. The Centennial Hills location is the first in Southern Nevada, said Erin Coburn, director.
"It just blossomed," she said.
All events and programs are based around mostly Lego- or Duplo-brand products that foster creativity and build self-confidence. There are weekly themes, such as pirates, movie making and space adventure, and programs are broken into categories, depending on age and ability.
Bricks 4 Kidz started in September as an enrichment program in 25 public and private Las Vegas schools. Demand for a permanent location was high, Coburn said.
"It gives us the opportunity to program seven days a week," she said. "When you only have an hour after school, it limits."
The 1,600-square-foot facility has zones for free play, activities and a sitting area for parents to socialize. The back portion is equipped for group events, and party packages are available. A Kidz Night Out feature is in the works for parents to drop off their children between 6 and 9 p.m. Saturdays for play and entertainment.
Coburn hires a staff of former or current teachers and members of the community with engineering or robotics experience.
Sean Conway is a UNLV student who excelled in robotics programs at Cimarron-Memorial High School, 2301 N. Tenaya Way. He now assists with programs and camps.
"We give them all the tools they need to create," he said. "This gives them something they can have fun with and still learn without knowing they're learning."
Bricks 4 Kidz has equipment and programming for special needs children, too.
Northwest resident Sally Minster discovered Bricks 4 Kidz through her son's elementary school. Benny, 11, is mildly autistic and has enjoyed Legos his whole life, Minster said.
Minster said Benny struggled to interact and would be unaffected by most circumstances before he became involved with Bricks 4 Kidz.
"Most autistic people don't complain or say, 'I'm bored.' Especially with Benny . He's not a big complainer," she said. "This is something he will complain about if he can't go."
Benny is a regular at Bricks 4 Kidz camps and may start the more advanced level of classes this year.
"It's an investment in him," Minster said, "or I'm feeding an addiction. I don't know which yet."
Rates vary per program. Discounts for siblings and children of local teachers are available.
For more information, including hours and rates, call 998-4400 or visit bricks4kidz.com/nevada-lasvegas .
Contact Centennial and Paradise View reporter Maggie Lillis at mlillis@viewnews.com or 477-3839.