Chapman Chrysler Jeep's finance department thrives
January 23, 2009 - 10:00 pm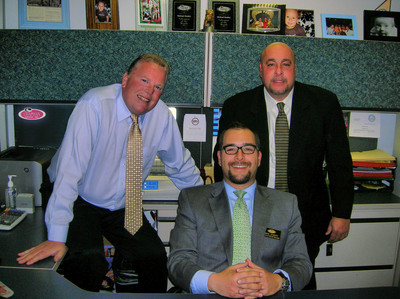 At a time when many local auto dealerships are struggling to obtain suitable finance terms for their customers, Mike Guidry and the finance team at Chapman Chrysler Jeep have turned these challenges into opportunities for Chapman customers.
"Unlike many dealers that rode the wave of loose lender practices, we have chosen to strengthen our relationship with the diligent lenders that will be here long term," said Guidry, a seven-year employee of Chapman's management team. "By partnering with banks that have solid lending practices, our customers will continue to benefit from the very close relationships we've cultivated."
One distinct advantage that Chapman Chrysler Jeep utilizes in its finance department is Chapman Automotive Group Acceptance LLC. Of all the franchised dealers in the Las Vegas/Henderson area, there are few, if any, dealers that have the advantage of their own finance company.
"Sometimes a customer doesn't fit any big bank's computer scoring system but deserves to drive a nice car," said Guidry. "Having our own bank allows real people to assess a customer's abilities and get them the loan they need."
Chapman's relationship with Chrysler Financial has also been a core focus of the dealership. Chapman Chrysler Jeep is celebrating Chrysler Financial's recent infusion of $1.5 billion and offer of zero percent financing on 11 models, including the famed Jeep Wrangler and award-winning Chrysler 300. The promotion has generated a lot of excitement.
"Our customers are putting all of the negative press on the economy behind them and taking advantage of the best programs ever available," said Guidry. "The icing on the cake for consumers is that Chrysler is not just rewarding perfect credit customers with this program; it is being extended to a much wider base of customers than ever before."
Also working to Chapman's advantage is the longevity of the employees in the finance department. Whereas many finance departments have high employee turnover, Chapman finance managers Dan Seaver and Joe Rodriguez have been going strong for more than four years. Their expertise allows them to approve more customers than perhaps other local finance managers who may not be trained in the tricks of the trade.
The competitive advantage that the Chapman team has created translates into an increase of Chrysler and Jeep sales and more favorable terms for their customers.
Chapman customer Tony DiSano is just one of many customers that has experienced the benefit of buying from Chapman. Before being referred to Chapman by a friend, DiSano was about to throw in the towel on getting financed for a new vehicle. Now, he also refers his family and friends to experience the Chapman difference.
"Every dealership I went to wanted a 50 percent down payment and a monthly payment that just didn't fit my budget," said DiSano. "Chapman truly knows how to treat a customer and get them the loan they need. I will never buy a car anywhere else. These guys are the pros."
Chapman Chrysler Jeep sells and services the complete line of Chrysler and Jeep vehicles. Located in the Valley Automall, Chapman Chrysler Jeep can be reached at 1-888-207-1687 or online at www.chap manchryslerjeep.com.
In addition to Chapman Chrysler Jeep, Chapman Dodge sells and services new and used vehicles and is located on Boulder Highway just south of Sahara Avenue. Chapman Dodge can be reached at 1-800-NewDodge and online at www.lasvegasdodge.com.