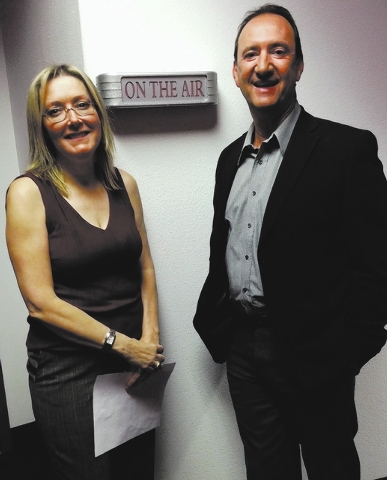 As a vested community partner, Chapman Dodge Chrysler Jeep Ram recognizes the importance of supporting nonprofit organizations that do great things for others. That's why the dealership and General Manager Don Hamrick rallied behind Nevada Public Radio for its Corporate Challenge fundraising campaign.
Nevada Public Radio hosts the Corporate Challenge biannually to raise funds to stay in operation. Founded in 1975, Nevada Public Radio is an independent, nonprofit corporation. Its flagship station, KNPR, signed on the air March 24, 1980, as Nevada's first National Public Radio-affiliated station.
"Chapman Dodge Chrysler Jeep Ram is great at providing people with great automobiles," Hamrick said. "We are lucky enough at Chapman to be able to support such community organizations like KNPR, which provides commercial-free, up-to-the-minute news and programming to its listeners. President and General Manager Flo Rogers and her team do a great job."
On Oct. 17, Hamrick joined the radio hosts and encouraged listeners to donate what they could. With each donation, no matter the amount, Hamrick promised Chapman Dodge Chrysler Jeep Ram would put in $100. By the end of the one-hour segment, $3,000 was raised through the contribution from the auto dealership and the 15 pledges received.
Hamrick is a member with Nevada Public Radio and has been for more than 10 years.
To learn more about KNPR or to make a donation, visit www.knpr.org.
Chapman Dodge Chrysler Jeep Ram sells and services vehicles at 3175 E. Sahara Ave. at Mojave Road. The dealership can be reached at 702-457-1061 or by visiting www.vegasdcj.com.
Chapman Chrysler Jeep sells and services the complete line of Chrysler and Jeep vehicles from its location at Valley Automall in Henderson. It can be reached at 888-207-1687 or online at www.chapman chryslerjeep.com.
Chapman Value Center sells and services from its location on Boulder Highway just south of Sahara Avenue. The dealership can be reached at 888-299-0170 and at www.chapmanvalue center.com.
Chapman Warm Springs sells and services vehicles selectively chosen from all of Chapman's 26 Southwest locations. Call 702-432-2022 or visit www.chapman warmsprings.com.
All dealerships are open from 8 a.m. to 9 p.m. Monday through Saturday. Parts and service are open from 7 a.m. to 6 p.m. Monday through Friday and 8 a.m. to 2 p.m. Saturday.