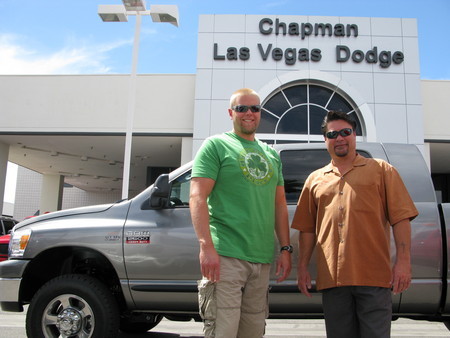 Since July 23, thousands of people across the country started flocking to their local car dealerships to take advantage of the government sponsored "Cash for Clunkers" program, officially named the Cash Allowance Rebate System.
The program offers consumers who trade in their old gas-guzzlers for a new fuel-efficient vehicle up to $4,500. Making the special savings available to all, Chapman Chrysler Jeep and Chapman Dodge are offering customers up to $4,500 off a new vehicle, even without a clunker trade-in. Also, for trade-ins that are qualifying clunkers, Chapman is doubling the offer for a total savings of up to $9,000. Between the two Chapman dealerships, more than 100 people drove home as owners of a new car after the CARS program kicked off.
"In addition to getting new vehicles with better gas mileage, our customers are driving home Dodges, Chryslers and Jeeps that are also much safer with ABS, traction control, stability control, third generation air bags and more," said Don Hamrick, Chapman Dodge general manager. "They cost significantly less to operate and maintain. This program is achieving its goal of getting old, unsafe, inefficient clunkers off our roads and replacing them with safer, more efficient and less polluting new cars."
Chapman has extended the savings to anyone looking for a new vehicle and doubled the savings for clunker trade-ins to allow more people to buy safer, more fuel-efficient vehicles. It is one government stimulus program that is visibly working and customers love it.
Chapman Dodge customer Brian Ottesen was driving a 1996 Chevy Suburban that averaged 8 miles per gallon and was costing him around $1,000 in repairs each month. The CARS program and Dodge's additional discounts made it possible for him to afford a Dodge 2500 Ram, with a total savings of $7,000. He's now saving money on repair costs and, with the Ram's 20-mpg fuel efficiency, he is saving a bundle on gas.
"If it wasn't for that program and Chapman's extra discount, I would still be in that truck," Ottesen said. "The guys at Dodge were really helpful, friendly and walked me through the process with no pressure. In fact, I'm going Harley-Davidson riding with their general sales manager Gary Brewer."
"Many drivers want a fuel-efficient, new vehicle," Nick Banker, Chapman Chrysler Jeep general manager, said. "Offering additional savings to those customers with a trade-in clunker makes it even more possible for them to get their old cars off the road and to get into a more fuel-efficient vehicle."
Longtime Chapman Chrysler Jeep customer Bruce Huyghue took advantage of the CARS program and Chapman's additional discounts last weekend when he traded in his 2001 Jeep Cherokee for a 2009 Jeep Patriot and saved about $9,000. Bruce upgraded from a 12-mpg vehicle to an 18-mpg SUV.
"With my old car I was looking at some serious repair costs and this program and Chapman's offer was a way to walk away from all that and just get a new car," Bruce said. "I've purchased four cars from Chapman over the years and I keep coming back to them for their exceptional customer service and discounts."
Consumers can learn more about the CARS program at www.cars.gov or by calling the U.S. Department of Transportation's information hotline at 866-CAR-7891. The staff at Chapman Dodge and Chapman Chrysler Jeep are available to provide estimates on the value of trade-in vehicles and answer individual questions about the program.
Chapman Dodge sells and services new and used vehicles and is located at 3175 E. Sahara Ave. on the corner of East Sahara Avenue at Mojave Road. Chapman Dodge can be reached at 800-NewDodge and www.LasVegasDodge.com.
In addition to Chapman Dodge, Chapman Chrysler Jeep sells and services the complete line of Chrysler and Jeep vehicles. Located in the Valley Automall, Chapman Chrysler Jeep can be reached at 888-207-1687 or online at www.ChapmanChryslerJeep.com.