ChiAm hopes to expand to 30 locations across Vegas
November 12, 2015 - 1:50 pm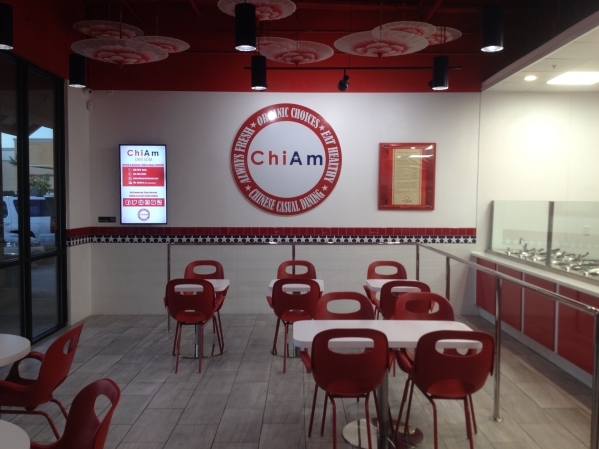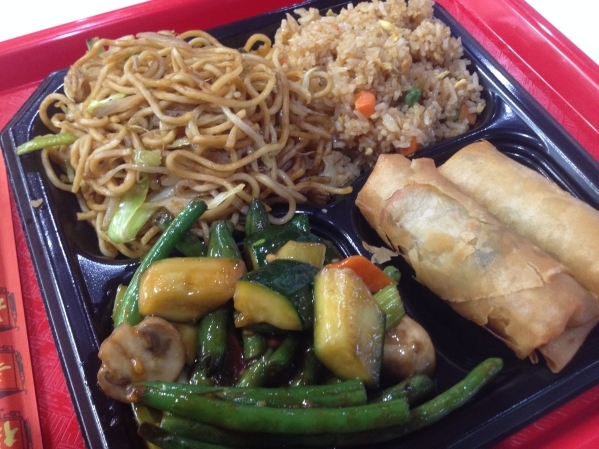 Move over Panda Express — there's a new American-Chinese chain that just opened its first location at 6010 W. Craig Road, No. 150, with plans to dominate the Las Vegas Valley with as many as 30 locations.
ChiAm is a fast-casual restaurant specializing in dim sum that prides itself on its variety of organic and fresh choices.
It promises to serve food without any monosodium glutamate (a flavor enhancer) because the company does "not purchase products from suppliers who add MSG."
"We are so excited to bring a new concept for Chinese dining to Las Vegas," said Christopher Sugden, president of ChiAm Restaurants, in a recent press release. "We look forward to becoming a household name for the best food and dim sum in Las Vegas and beyond. While the first is extremely special, this is only the beginning. … We look forward to opening 30 additional ChiAm locations in the near future to serve this community."
The menu features mix-and-match dim sum at $1.28 each, including Siu Mai Pork, Siu Mai Shrimp, Siu Mae Chicken and Siu Mae Beef.
The Chef Platter is $13.88 for organic entrees or $10.88 for traditional entrees.
To start, customers choose Long Life Noodles, Queen Steamed Rice or King Fried Rice.
Organic entrees include the Harmony Mixed Vegetables (the only vegan option on the menu), with mushroom, celery, broccoli, bok choy, green onions, sliced carrots and gingers harmonized with ChiAm's crystal sauce, and the Pacific stir-fried shrimp, sauteed in a crystal sauce with onions and green and red bell peppers.
There's also the Dynasty Mongolian Beef with marinated flank steak stir-fried with red bell peppers, sliced green and white onions and ChiAm's special Mongolian sauce and a kick of spice.
Traditional entrees include Florida Orange Chicken, Dragon Kung Pao Chicken and Tiger Walnut Shrimp made with crispy battered shrimp stirred in ChiAm's special creamy Tiger sauce and topped with walnuts.
Appetizers include Kung Fu Chicken Wings and the vegetable spring roll, featuring carrots, cabbage, green beans, mushrooms, onions and vermicelli noodles, rolled in Chinese wonton wrappers and fried for a crispy bite.
Unfortunately, on a recent visit, the vegetable rolls were dipped in too much oil, and each bite was soaked with grease.
The appetizers can be mixed and matched for $2.38 for two pieces.
The Pacific Shrimp Ball ($1.98) comes with seasoned shrimp mixture battered and fried to a golden brown.
Soups are also included and feature the Hot & Sour Soup ($1.88), prepared with bamboo shoots, toasted sesame oil, vinegar, egg, white pepper, button mushrooms and small slices of tofu, and the Chicken Corn Soup ($1.88), prepared with cream corn, shredded chicken and corn flour.
A special soda machine features more than 60 flavors of soft drinks for $1.88 for a medium cup or $2.18 for a large cup.
In addition, the restaurant sells coffee, hot tea and espresso for $1.68 and lattes, cappuccinos and hot chocolates for $2.88.
Perhaps what distinguishes it most from other Chinese-American restaurants is its breakfast options, served until 10:30 a.m.
The ChiAm Emperor Breakfast ($6.88) is served with scrambled eggs, bacon, sausage and coffee.
Croissants, bagels, muffins and cheese Danishes are also sold for $2.68. Muffins include blueberry crumb cake, banana nut and chocolate chip.
ChiAm is open from 7 a.m. to 9 p.m. daily. Call 702-489-9900 or visit chiamrestaurant.com.
ChiAm
6010 W. Craig Road, No. 150
Open 7 a.m. to 9 p.m. daily; breakfast until 10 a.m. daily
702-489-9900
chiamrestaurant.com