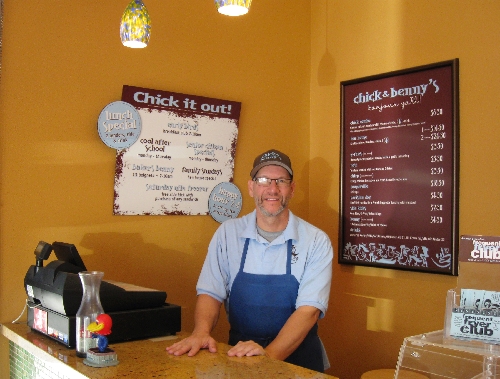 It's a little bit of Texas and a little bit of Paris all rolled into one.
At least that's the concept Mark Goldenberg was going for when he opened Chick & Benny's restaurant.
"People walk in and ask, 'Which one is Chick and which one is Benny?' " Goldenberg said. "It's neither."
Chick & Benny's, 1659 W. Warm Springs Road, instead is the abbreviation of two foods, chicken and beignets, and combines influence from Texas-style Southern cooking and Parisian-style food.
"Everything is big in Texas," Goldenberg said. "Big portions. Big quality."
The eatery is owned by Goldenberg and his brother, Michael.
To draw people into the establishment, the two created a story, written on the website and on the wall next to the menu, that talks about the twins being separated at birth and miraculously finding each other in Paris at a quiche convention.
"People come in and ask if that is real," Goldenberg said. "Yes and no."
Mark and Michael Goldenberg are twins but not separated at birth.
"After college, he moved to Texas and I stayed in the Midwest," Goldenberg said. "Basically, we didn't talk for 30 years."
When they reconnected, Goldenberg was interested in opening his own establishment but preferred to open it in Henderson, where he has lived for years with his family, rather than move to Texas, where Michael lives.
The two brainstormed and came up with the Henderson establishment.
The story served more as a marketing tool and gives people something to read when they come in.
"We thought the idea of reuniting in Paris was cutesy," Goldenberg said. "I have never been to Paris. I haven't even been to Paris, Texas. My brother has been several times."
Goldenberg, who has owned other food franchises, said he had always wanted to open his own business.
"I liked food and wanted to do something where I was serving people," Goldenberg said. "I like being in the food business because I like making stuff on a constant basis. Just about everyone likes chicken."
Even though he hasn't been to Paris, Goldenberg said he is familiar with beignets, a Parisian pastry that is deep-fried dough similar to a doughnut.
Putting those two foods together, Chick & Benny's has been around since February 2011.
"Business has been slow but sure," Mark said. "You can Yelp about it, Facebook it or Twitter it all you want. It is only when you have a friend taste it and tell you about it will people believe it is the best chicken."
Trying to play on words, the chicken at Chick & Benny's isn't called fried but "goldened."
"Because our last name is Goldenberg," Goldenberg said. "People hear fried and think heavily and oily. It's not. We don't double-batter the chicken. Companies that do that hide the taste of the chicken."
Other than its chicken and beignets, the menu also boasts signature items such as coleslaw and beer-battered onion rings.
Wanting to appeal to the healthier side of his customers, Goldenberg hopes to expand the menu to feature salads and shrimp and salmon dishes.
While crafting the menu, Goldenberg tried to make his place community-oriented.
"We want to emphasize family specials," Goldenberg said. "We want to be there to support the community."
The restaurant, which is across from Green Valley High School, offers student discounts, senior discounts and specials throughout the week.
For more information, visit chickandbennys.com.
Contact Henderson/Anthem View reporter Michael Lyle at mlyle@viewnews.com or 387-5201.