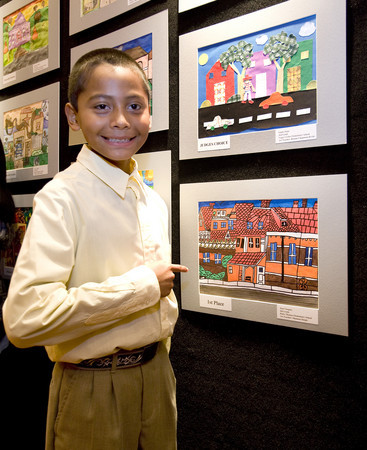 On Dec. 2, more than 700 people including students, teachers, family members, partners and sponsors attended the reception and awards program for the 14th annual Where I Live School Arts Competition held in the Titian Ballroom at The Venetian.
The 128 winning pieces of original art entered were displayed before and during the program. From the 128 pieces, judge's choice, first, second and third place were selected along with nine honorable mentions and eight runners-up. The 21 winners and their teachers were invited on stage to receive their awards and gift coupons, and the winning entries are featured in the 2010 Where I Live calendar, which is distributed by the Nevada Housing Division.
As a community partnership program of the Nevada State Housing Division, students from kindergarten to fifth grade created drawings of where they live and where they would like to live. More than 3,600 entries from 45 participating elementary schools were submitted. Emily Pinto, attending third grade at Vegas Verdes Elementary School, won judge's choice with her interpretation of the street where she lives. She used patterns, a map and textures to show her neighborhood from a different perspective. Judge's choice is featured on the cover of the calendar.
Pinto entered the contest because, "We did this art project at our school and I really wanted to do it. I am very proud of winning (judge's choice). I want to be an artist." Her teacher is Rosene Chapman-Byrde.
Jose Vasquez, a Ruby Thomas Elementary School fourth-grader, won first place with his piece depicting apartments located on a busy street. Vasquez said he felt good about winning first place.
"I entered the contest because I like winning prizes and I like to draw. I want to be a art teacher when I grow up," he said. His teacher is Sharon Daigle.
Annetoinette Figueroa attends fifth grade at Jo Mackey Elementary School. She won second place for her drawing of a house make of candy and cookies.
"I like candy and I was hungry," she said. Figueroa entered the contest last year. "I like drawing. I feel happy, I guess, about winning second place," she said. Her teacher is Sharon McClinton.
Zaniaha Buckner, a fourth-grader at Sunrise Acres Elementary School, won third place. She remembered the heavy snowfall in Las Vegas in 2008, so she drew her home in the snow with a snowman.
"I was trying to challenge myself. I was trying to show an hilarious (scene) where this snowman jumped out in front."
Buckner is working on becoming an artist. Her teacher is Gail Trower-Coll.
The six judges select works based on originality, imagination, skill, use of color and space as well as understanding the abilities of a child from kindergarten to fifth grade. The judges this year were Thalia Dondero, Vija Hamilton, Carmel Hopkins, Gloria Savko, Candy Schneider and Debbie Hall.
The division's staff approached Chas Horsey, administrator of the Nevada Housing Division, with the idea for the art contest 14 years ago. Horsey approved it and the competition has become an annual event.
"I am absolutely amazed. Every year this show gets bigger and better. The kids are so enthusiastic and the quality of the artwork seems to improve every year," Horsey said. "This is one of the best things we have ever done."
Partners for this year's program include: the Sands Foundation (host for the reception and program), Clark County School District School-Community Partnership Program and the Las Vegas Review-Journal Real Estate section.
Sponsors include Pardee Homes, Bank of America — Home Loans Division, Blick Art Materials, Clark County Community Resources Management Division and Nevada State Bank.
Former Sen. Richard Bryan was the keynote speaker for the evening. "I am particularly surprised to see the turnout," he said.
Bryan spoke about how impressed he was with the art on display and it was important for students to participate in art projects because, "There is some job skills, creatively, originality, problem solving, all of which are qualities that arts engendered and those are wonderful skills. Whether any of these young people go on to have a professional career in art, it is still a very worthwhile event."
Jean Norton, public information officer for the Nevada Housing Division, has coordinated the arts contest since its beginning.
Bridget Bilbray Phillips, director of the Clark County School District School-Community Partnership Program, was the liaison between the teachers and housing division for the contest. The Clark County School District is the 10th largest in the nation with more than 200 elementary schools.