Church offers support network to northern communities
February 26, 2015 - 1:00 am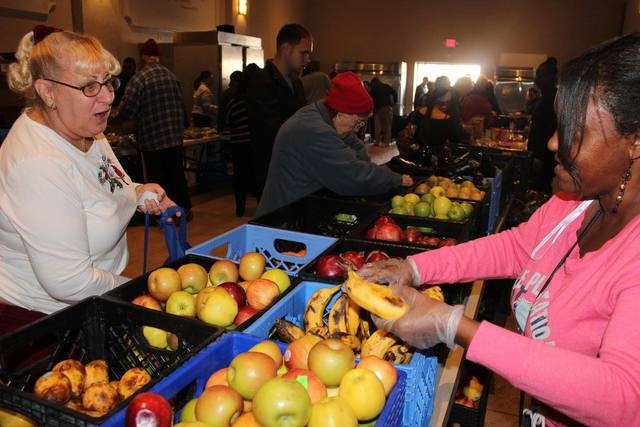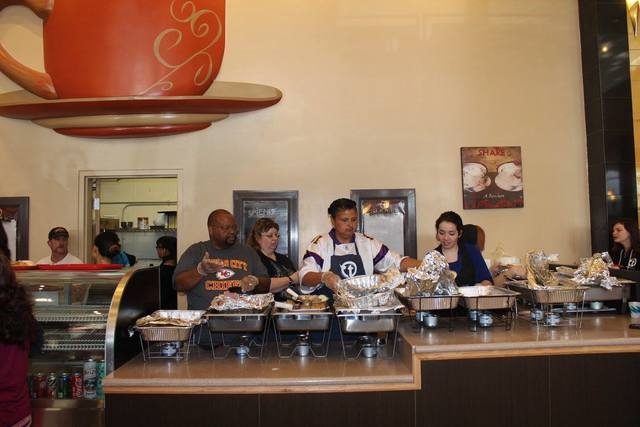 Las Vegas resident Talette Dietrick lived a comfortable middle-class life until a car accident and medical bills sent her and her family over the edge.
After being laid off from her job as an assistant manager with a housing program, a medical issue from the accident forced Dietrick into early retirement, which morphed her two-bedroom apartment into a cramped home with her husband, their daughter, their son-in-law and three children.
One evening, Dietrick attended Truth Christian Ministries International worship center, also known as TCMI, where she learned of a food pantry program.
"I was offered toilet paper," Dietrick said. "At first, I was hesitant to take it because of my pride, but as pastor Boyd says, 'This is not a handout but a hand up.' "
Pastor Gayle Boyd started the food pantry a few years ago after she learned about church members who were struggling to stay financially stable.
"People in our church were hurting and losing their jobs," Boyd said. "We started by providing food to our members, and we've grown to feed hundreds of families every Saturday. Most of the people who come are those who are caught between choosing to pay for food or medicine."
From 9 to 10:30 a.m. Saturdays, the church is scheduled to host a food pantry for anyone in the community. When fresh fruit and vegetables are available from the nonprofits Three Square food bank and Feeding America, the center hosts a free farmers market.
The center provides food and other essentials to about 365 children, 650 adults and 90 seniors each month, according to its website, tcmii.com/food-pantry.
Now that Dietrick is back on her feet, she helps the center by setting up a table at the food pantry to connect people with resources, such as assistance with rent, dental care, food stamps, cellphones or medicine.
A free breakfast is also provided in the morning, and the center welcomes clothing donations and volunteers.
The church moved into the former Rancho Santa Fe movie theater at 5101 N. Rainbow Blvd. four years ago. The nondenominational church has since expanded to offer a variety of workshops and services inside its 62,000-square-foot space.
Friday evenings, the church hosts a youth group, which focuses on character building and provides scholarships; a support group for parents of children with special needs; and a mom's mingle with free child care.
"During mom's mingle, we plan a variety of activities," said Chanelle Ates, creative director at the church. "We have mommy makeovers, play dates and share recipes. We basically get together to discuss the challenges of motherhood and to provide support."
Addiction support groups for men and women are set on Mondays and Fridays, and J.O.Y. group, designed for seniors, is planned at 6 p.m. Saturdays and includes activities, food and more.
GED tutoring and ESL classes are also scheduled at 10 a.m. Saturdays. To sign up for classes, email info@tcmii.com.
Boyd said she plans to offer school tutoring in the near future.
Recently, the church added a low-cost fitness program with a personal trainer who provides nutrition guidelines and a fitness routine with personalized instruction
The cost of the program is $80 for three months.
Grief Share, a support group for people who've had someone close to them die, is set at 9:30 a.m. Mondays, and marriage rebuilding workshops are slated for 7 p.m. Fridays.
Over the summer, the church plans to host a back-to-school resource fair, a health fair and a Mexican food festival. Boyd also hopes to build a gymnasium in the future.
"People don't have to be members of our church to attend any of the events," Boyd said. "They simply need to show up, and we'll welcome them with open arms. Our goal is to create a ripple effect and continue to build up our community."
For more information, visit tcmii.com or call 702-396-3189.
Contact North View reporter Sandy Lopez at slopez@viewnews.com or 702-383-4686. Find her on Twitter: @JournalismSandy.