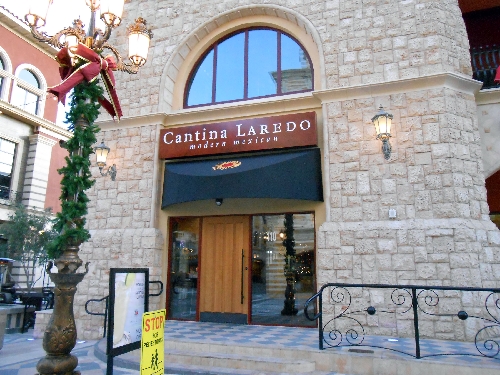 Just in time for holiday season, Tivoli Village, 302 S. Rampart Blvd., has added more tenants to its lineup.
La Casa Cigars & Lounge, a Michigan-based company, offers a diverse choice of cigars from around the world. The 3,200-square-foot space has hundreds of types from $5 to $40.
Eddie Dibes, general manager, said it was good for meeting business contacts and that the proximity to Summerlin fits its target market.
"It's a passion for cigars," Dibes said of their popularity. "You don't inhale the cigar, but it relaxes people who have had a stressful day."
The shop offers entertainment Thursdays, Fridays and Saturdays. Expect La Casa Cigars to mix it up with jazz, Latin, flamenco and sometimes Frank Sinatra and the oldies.
The music starts at 7 p.m. and lasts "until the party stops. Sometimes we stay until 1 a.m. Sometimes we stay until 2," Dibes said.
The new tenant mix also includes two restaurants.
One is Cantina Laredo, the first Nevada location for the Texas-based company, which serves modern Mexican dishes.
The location is filled with blond woods, stone accents and a casual atmosphere. The dining areas are separated with a wall of glass shelving, and the 6,231-square-foot interior seats 325 diners, with some booth seating. The patio features potted trees, gas heaters and seats more than 200.
Cathy Lozano and her friend, Kimberly Longley, stopped in to have dinner Nov. 29. Lozano had tried the eatery once before and liked the enchiladas so much, she ordered them again.
"The food is very authentic to me, and it's tasty. … The cool thing is, about the servers, is they told us that they'd tried everything," Lozano said. "That's really nice, because I hate going to a restaurant and have them say, 'I haven't tried it, but I hear …' So that's really great."
Longley said she was surprised by the quality of the food.
"You might think it's going to be just mediocre, but it's more like what you'd expect from somewhere more upscale," she said, adding she liked how the guacamole was made tableside.
Price points run about $12 for lunch and $16 for dinner.
Hours are from 11 a.m. to 10 p.m. Sunday through Thursday and 11 a.m. to 11 p.m. Friday and Saturday. Happy hours are from 4 to 7 p.m. and 9 to 10 p.m. Monday through Thursday. For more information, call 702-202-4511.
Just down the cobblestone street is a spot being tailored for a second eatery.
On New Year's Eve, chef Angelo Sosa plans to introduce Poppy Den, which was described as a "neighborhood Asian-gastropub."
Sosa was on Bravo's reality show "Top Chef" for season No. 7, as well as "Top Chef All Stars." Following that, he launched Social Eatz in New York City, which was awarded best burger in the nation by eater.com's readers' choice poll. In January 2012, the chef opened Añejo Tequileria y Restaurante in Hell's Kitchen, putting his spin on Mexican cuisine for New Yorkers' taste buds.
"For months now, we've been searching for the right setting to collaborate with chef Sosa, and we're now thrilled to acquire the Petra location," said Bill Feather, partner in the venture and former president of Planet Hollywood, referring to the former location of the Petra Green Taverna, which closed.
Poppy Den's menu will reflect the chef's extensive travel through Asia and his classical training at the Culinary Institute of America with healthful dishes. The restaurant's decor will be that of a rustic, country setting. The patio dining portion is referred to as the "poppy garden."
Shaggy Chic is an eco-friendly pet salon and offers grooming products for dogs. In addition to its line of salon and spa products, it offers all-natural dog treats and jerky, plus a line of Guilty Pleasures dog toys.
Shaggy Chic's owner, Kelly Petersen, a Las Vegas philanthropist, businesswoman and education advocate, is also an unabashed dog lover. She created, designed and is overseeing the manufacture of the product line, drawing from her experience as the owner of award-winning show dogs. Her products are manufactured in the U.S. and are of human grade and human-tested.
Petersen's whimsical side can be seen in the company's Sit. Speak. Sneak. Guilty Pleasures dog toys. The toys include Stinky Sock, whose inspiration came from socks worn for days by her three sons. The scent was replicated by a chemist.
The dog grooming salon can also play matchmaker. It partners with ethical breeders throughout the U.S. to help would-be pet parents find their ideal furry family member. For more information, call 702-684-6616 or visit shaggychic.com.
Tivoli now plays host to Acura of Las Vegas, which offers classic, exotic and specialty vehicles for sale. Acura's space features vehicles in a racing-inspired showroom, where the merits of its brand can be explained and appointments can be set for test drives and purchases at its nearby dealership.
A couple of major retailers also have added their presence to Tivoli.
Brighton Collectibles offers accessories from head to toe with purses, wallets and detailed pieces for cosmopolitan living.
Ethan Allen has joined Tivoli with its styles for the home. Established in 1932, the company prides itself on unique home furnishings with an international network extending across 11 countries.
Tivoli Village is being developed by EHB Companies and IDB Group USA. For more information, visit tivolivillagelv.com.
Contact Summerlin/Summerlin South View reporter Jan Hogan at jhogan@viewnews.com or 702-387-2949.
New at Tivoli Village
La Casa Cigars & Lounge
Cantina Laredo
Poppy Den (set to open New Year's Eve)
Shaggy Chic
Acura of Las Vegas
Brighton Collectibles
Ethan Allen
For more information, visit tivolivillagelv.com.