City installs easy-to-use parking meters
September 26, 2013 - 9:27 am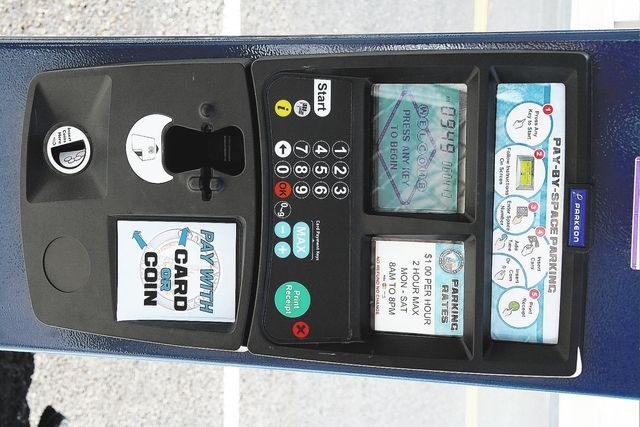 The city of Las Vegas has installed nearly all of the expected 233 new multibay parking meters downtown, taking the place of 1,216 single-space meters. A few are waiting for construction and road work to be completed before installation. In addition, approximately 125 single-space meters were permanently removed as part of the changeover, increasing free parking spaces available downtown. Now, the "meter forest" that formerly cluttered downtown sidewalks is gone.
The multibay meters are easier to use than the outdated coin-only meters they replaced. The new meters accept credit and debit cards, as well as coins, and the printed and on-screen instructions make them easy to use
The new meters are 100 percent solar-powered. Users are able to print receipts and add time to the meter. In addition, these more technologically advanced meters are able to be upgraded and will eventually allow residents and visitors to use ParkMe — a mobile device app that shows where on-street parking is available in real time — and pay for parking using cellphones.
The new meters were supplied by Parkeon, a company that provides parking management devices in more than 3,000 cities and 50 countries. Funding for the $1.45 million contract comes from the city's Parking Enterprise Fund, which is a self-sustaining fund separate from the city's general funds. Parkeon was chosen through a competitive bid process.
Upgrading parking technology is the second phase of a long-term parking plan that is being undertaken by the city with these goals:
n Provide excellent customer service;
n Make parking easy to use;
n Improve financial performance;
n Support existing businesses by tailoring parking options for customers, employees and residents;
n Support new development by examining shared parking options; and
n Create flexibility for special events.
Last year, the city created a "one-stop shop" for parking services under the Economic and Urban Development Department to make it easier for customers to navigate the system. Previously, the functions of parking related to enforcement, finance and Streets and Sanitation were spread throughout the organization.
The new one-stop shop parking services office is at 500 S. Main St., inside the City Hall garage. Hours are Monday through Thursday from 7:30 a.m. to 5:30 p.m. and Friday and Saturday from 9 a.m. to 5 p.m. The office can be contacted by phone at 702-229-4700 or by visiting the city's website at www.lasvegasnevada.govparking.
The new parking office allows citizens to pay parking citations, file appeals, obtain parking permits and handle any parking-related issues in the city quickly and efficiently. In the past, citizens with parking issues had to park and then cross Main Street and enter City Hall to handle parking-related issues. The new parking services center focuses on cutting down on wasted time for customers.