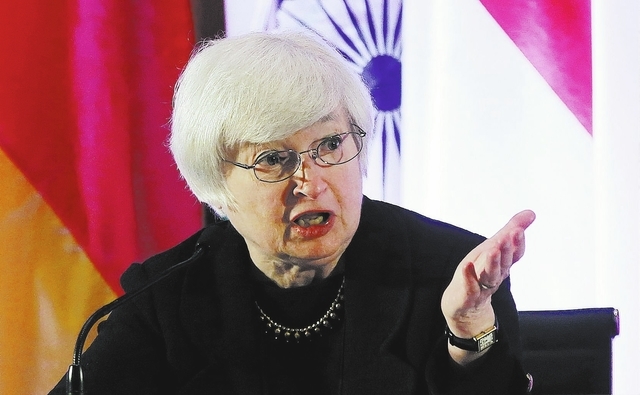 President Barack Obama's nomination of Janet Yellen to head the Federal Reserve appears headed toward a relatively easy confirmation, said a veteran bank executive who worked with the former business professor for almost four years.
"I think the country is very fortunate to have her as chairman," City National Bank Chairman and CEO Russell Goldsmith said. "She without a doubt is the most qualified … experienced incoming chairman having been on the board of governors and chair of the council on economic advisers."
Goldsmith worked with Yellen on the Federal Reserve Board's 12-member Federal Advisory Council, representing the 12th District of the Federal Reserve. The 12th District, which is based in San Francisco, includes Nevada.
"I think it's particularly good for Nevada" that she's been nominated, Goldsmith said. "She has spent time in Las Vegas and has an understanding of the Nevada economy."
The 67-year-old Yellen became president of the Federal Reserve Bank in San Francisco in June 2004 after teaching at the University of California, Berkeley. In 2010, she was nominated and easily approved to be Fed vice chairwoman.
Goldsmith said there were several reasons Yellen will succeed as Fed chairwoman, including her experience, her intellect, her knowledge.
"But also she's a world class economist with a real world understanding of monetary policy," he said.s
The Federal Reserve will celebrate its 100th birthday in December. Since the financial crisis began in 2008, the Fed has been front and center navigating the economy through its ups and downs and nursing the financial system back to health.
After five years of quantitative easing, the economy has stabilized and moderate growth has returned. Nevertheless, local observers might wonder what Las Vegas should expect from Yellen.
"If you look at her voting record on the Federal Open Market Committee and public statements, you are going to see someone who is very in sync with the very successful policies that the Federal Reserve has pursued under Ben Bernanke," Goldsmith said.
Goldsmith, who has also served on Wynn Resorts Ltd.'s board, said the financial markets have taken Yellen's nomination in stride.
"She has also been a very strong supporter of more communication as has Bernanke, so I think you'll see that continue as well," he said.
Boyd Gaming Corp. President and CEO Keith Smith declined to comment on Yellen's nomination. Smith is now chairman of the Federal Reserve Bank of San Francisco's Los Angeles branch board of directors.
Smith served as a director of the branch before his three-year term as chairman began on Jan. 1, 2012.
The Federal Reserve's Los Angeles office provides economic input to the bank's San Francisco-based board of directors. Smith offers perspective on the gaming industry and the Las Vegas economy.
As Fed vice chairwoman, Yellen has kept a busy schedule, flying to meetings of regulators and central bankers in London, Paris, Mexico City, Tokyo, Shanghai and Basel, Switzerland.
In a June 2 speech in Shanghai, Yellen said regulators need to continue international collaboration by completing the Basel III international bank-capital standards program, resolving "thorny cross-border obstacles" that could hamper regulators from winding down a failing bank that's operating in many countries.
Yellen has also called for increased scrutiny of so-called shadow banks. Shadow banks are institutions such as hedge funds that enable the creation of credit outside the regulated banking system.
"We need to increase transparency of shadow banking markets so that authorities can monitor for signs of excessive leverage and unstable maturity transformation outside regulated banks," Yellen said.
Contact reporter Chris Sieroty at csieroty@reviewjournal.com or 702-477-3893. Follow @sierotyfeatures on Twitter.