CJ's Italian Ice & Custard specializes in East Coast-style treats
February 26, 2013 - 12:00 am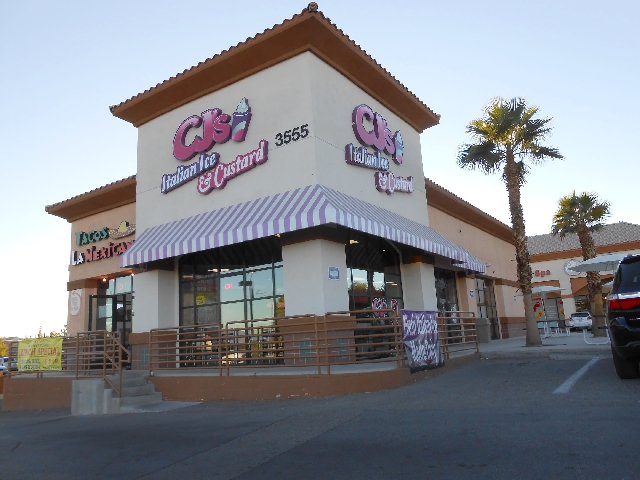 CJ's Italian Ice & Custard, 3555 S. Durango Drive, is trying to introduce Las Vegans to an East Coast favorite –– frozen custard –– as well as Italian ice.
"I've had people come in (thinking that) we sell Italian food just because the sign says 'Italian Ice,' " shop owner Jon Goldberg said. "It's just a matter of educating the public. And custard, they think, is like what's put inside a doughnut."
The taste is similar to ice cream, although served at a slightly warmer temperature. It uses eggs and milk instead of cream. Flavors include root beer, piña colada, black raspberry, mango and white chocolate. If candy is your thing, the roughly two dozen mix-ins include Andes thin mints, Kit Kat, Snickers and Whoppers.
Custard and Italian ice can be combined in layers. The shop also has root beer floats, sundaes, milkshakes and soft pretzels. The Italian ice products are gluten-free.
The freezer section of the counter holds deep bins from which portions are scooped. Labels stuck to the glass tell which flavors are available.
When flavors change, the shop alerts would-be patrons by placing the labels side by side, taking a photo and posting it on Facebook.
Goldberg owns the shop with his wife, Nancy, a social worker, and his father, Perry, who lives in the Midwest. Both are silent partners.
Goldberg said his father, who owns a recycling business and scrap yard, told him to focus on customer service.
"You're building a community with your customers," Goldberg said. "They're not just another number. That's what I really strive for. It's all about building relationships."
Part of customer service includes making the waffles for its cones and bowls by hand. Some are dipped in chocolate and some are also rolled in crushed nuts. Goldberg said the time it takes to make the waffle cones is worth the effort.
"I think people appreciate it more when you put the time and effort into making it fresh, and you can design it yourself," he said.
Tim Buckley found CJ's Italian Ice & Custard by driving past and estimated he's been there 30 times since it opened last summer.
"I'm from New York, so I like the chocolate and I like the mango, but I mix it up," he said. "It's nice for me because they don't really sell Italian ice in Las Vegas."
Goldberg graduated from The Ohio State University with a degree in sports education and science. He worked in sales and was a professional poker player. An Aliante resident, he had his choice of vacant spaces for the shop but liked the proximity to Summerlin and the high-traffic corridor in Spring Valley. CJ's is across from Desert Breeze Park, so Goldberg said he gets a lot of sports teams.
The back walls are devoted to budding artists. Youngsters are encouraged to mark them up with graffiti.
"When they come in with their parents, as soon as they've ordered, the kids grab the markers," he said. "Their custard can be melting, but they don't care. They keep drawing. Sometimes the parents get into it."
When the walls fill up with art, Goldberg's crew takes photos and posts them on Facebook.
CJ's is open daily from noon to 10 p.m. For more information, call 702-240-1880 or visit cjsice.com.
Contact Summerlin/Summerlin South View reporter Jan Hogan at jhogan@viewnews.com or 702-387-2949.