CLARK COUNTY COMMISSION DISTRICT G
October 16, 2010 - 11:00 pm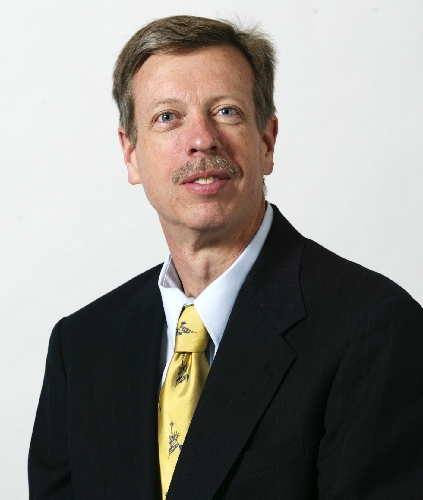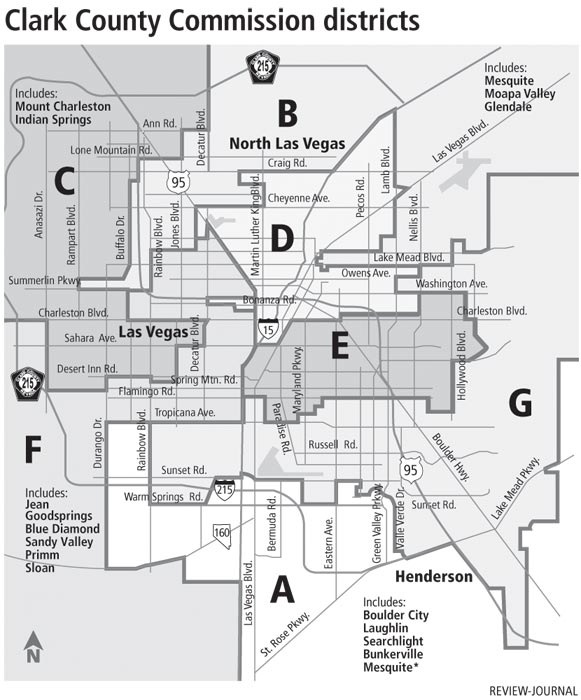 Unlike the other two Clark County Commission races, no incumbent is running for the District G seat, leaving it open to new contenders.
Democrat Mary Beth Scow, Republican Douglas Bell and Libertarian Tim Hagan are vying for the seat that Democratic incumbent Rory Reid is vacating in his bid for governor. Independent American Party's Del Hadarly quit, though his name will appear on the ballot.
District G is solidly blue, with 47 percent of voters registered as Democrats, 32 percent as Republicans and 22 percent other.
Scow served 12 years on the Clark County School Board before term limits prevented her from running again. She said being on a board that oversees the nation's fifth-largest school district prepared her for the commission's demands.
"I believe my experience will translate very well," Scow said.
The county's largest public employee union and the police union have endorsed her. Still, Scow said she would press for trimming employee compensation, saying the labor contracts can no longer be sustained in the deepening budget crisis.
She said the county and unions should be collaborative, not combative. A couple unions resist concessions but most realize they must give up some compensation in tough times, she said.
"We're all going to have to work together to help the community survive," Scow said.
The county should consolidate some internal functions, such as human resources, she said. It also should consider merging agencies such as animal control with those in cities to create more cost-effective regional services, she said.
The county also must do a better job of marketing the Las Vegas area as a great place to do business because of relatively low taxes, and as a nice place to retire with affordable housing, Scow said, adding that these efforts would create jobs.
Scow also said she thinks more should be done to rid neighborhoods of empty houses in the wake of the foreclosure crisis.
"There's a huge concern about the blight," Scow said.
Bell said his 30 years working for the county, including as a housing official, give him deep knowledge of how government works. He also said it's time for diversity on the all-Democrat commission.
"There are no Republicans on the board," Bell said. "That's the status quo keeping things the way they are."
He said he plans to be aggressive in cutting costs to balance the budget as revenues shrink. That's especially important because the state, which has an estimated $3 billion shortfall, is expected to raid county coffers and make it responsible for state-funded programs such as social services, Bell said.
Bell said he wants to avoid county layoffs because those would diminish services to taxpayers. But that means snipping employees' pay and benefits and standing firm against the unions, he said, noting that none have endorsed him.
"People making the tough decisions must look the unions in the eye and say, 'This is the way it is,' " Bell said. "This is the new reality."
He wants to replace the Public Employees Retirement System with something closer to a 401(k) plan, which would be phased in. The county also should take a closer look at longevity pay and sick leave, he said.
Bell acknowledges that as a longtime county employee he enjoyed the benefits he now seeks to cut, but he said change is inevitable because "the current benefits are not sustainable."
Hagan has served for several years as treasurer for the state and county Libertarian Party organizations. He said he jumped into the race to give voters a chance to pick someone who would shrink government.
"I'm not a career politician like some of my opponents," Hagan said.
His top priority would be decreasing regulations, red tape and taxes that burden small businesses. He also would eliminate county programs, such as recreational ones, that compete with private enterprises, he said.
Hagan said he thinks labor contracts should be re-negotiated to make them less top-heavy. That's especially true for union firefighters, he said.
"Firefighters — I respect the work they do, but the contract opens up for a lot of abuse, which we've seen," Hagan said.
Contact reporter Scott Wyland at swyland@reviewjournal.com or 702-455-4519.
2010 GENERAL ELECTION VOTER GUIDE
CLARK COUNTY COMMISSION DUTIES
Seven Clark County commissioners are elected to four-year terms as policymakers for unincorporated areas of the county. They approve the county's budget. The County Commission serves as the board of directors for the Las Vegas Valley Water District and the boards for University Medical Center, Clark County Liquor and Gaming Licensing, the Clark County Water Reclamation District, the Big Bend Water District, the Kyle Canyon Water District and the Mount Charleston Fire Protection District. Commissioners will be paid $80,008 per year in 2011, plus, after four years of service, longevity pay of 2 percent for each year they have served.