Clinton says US should offer varied job training opportunities to young people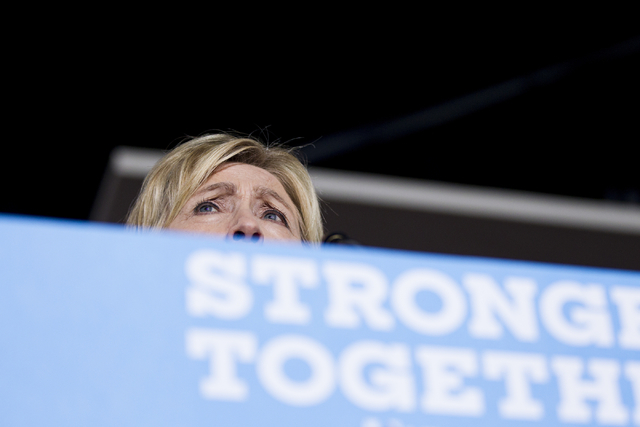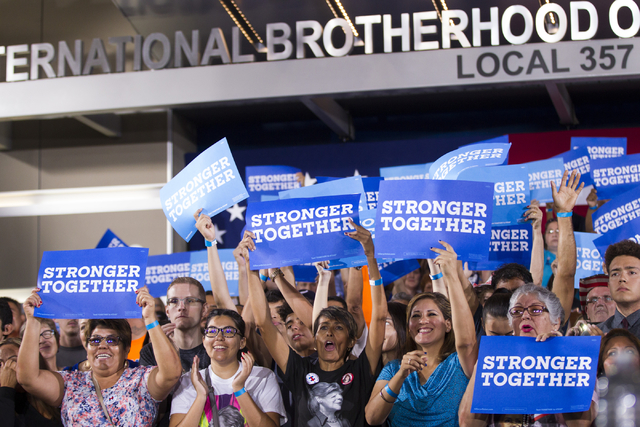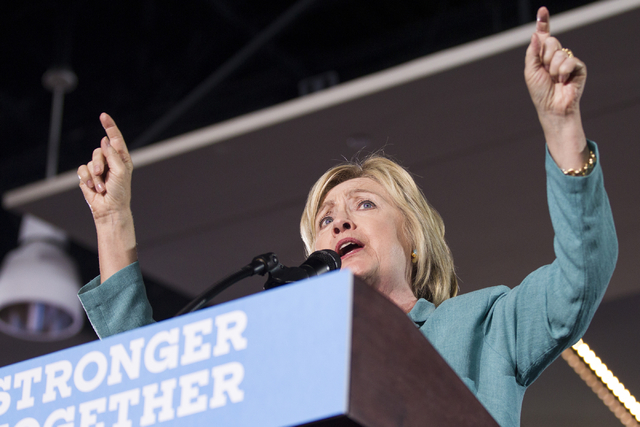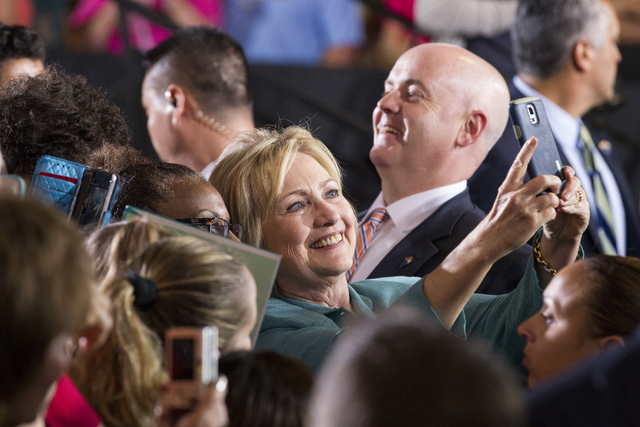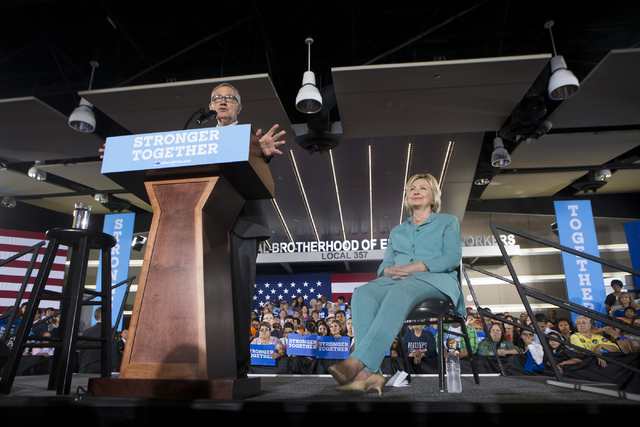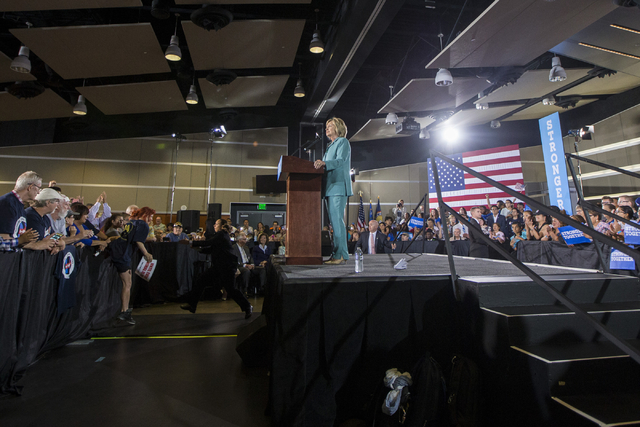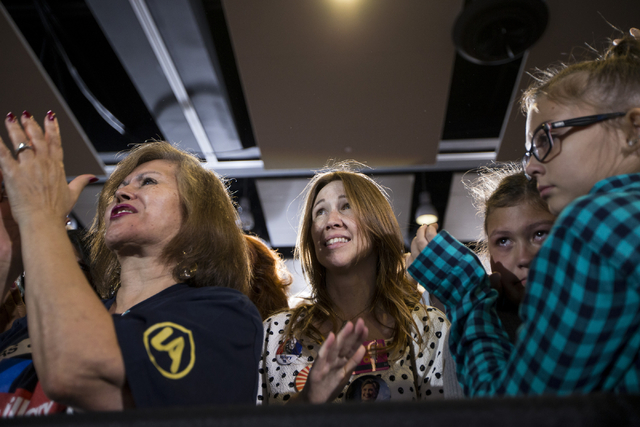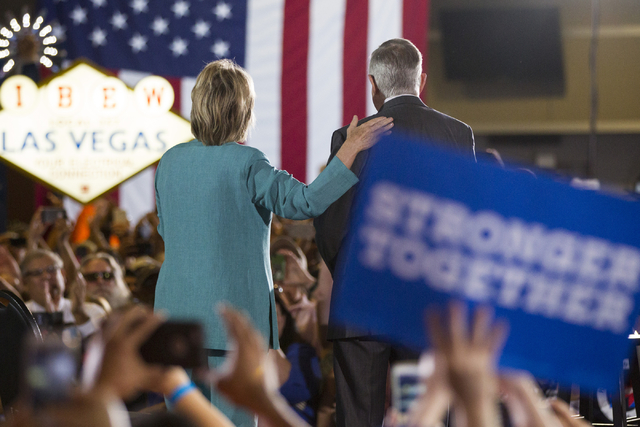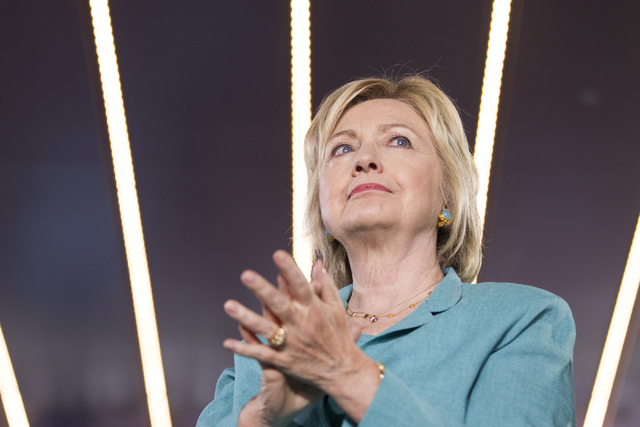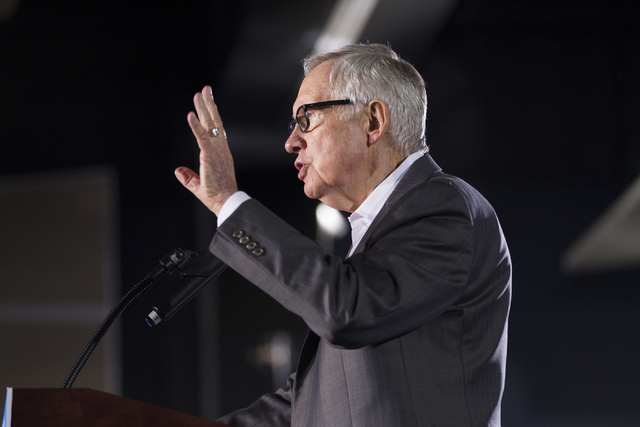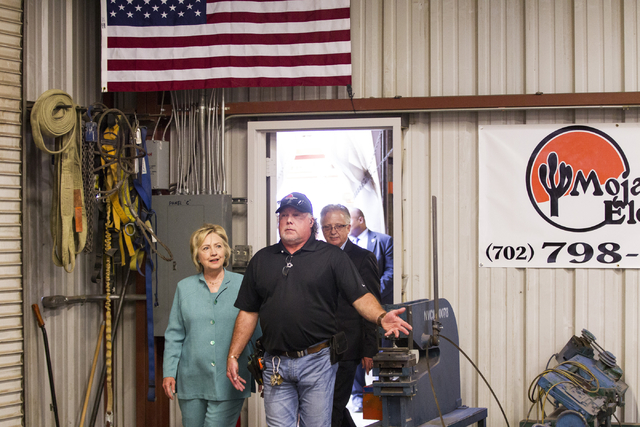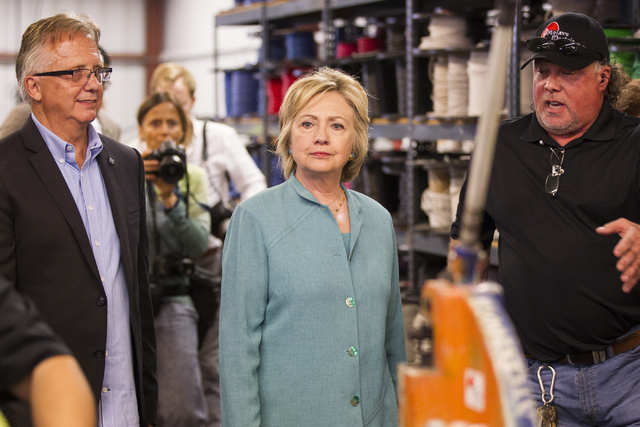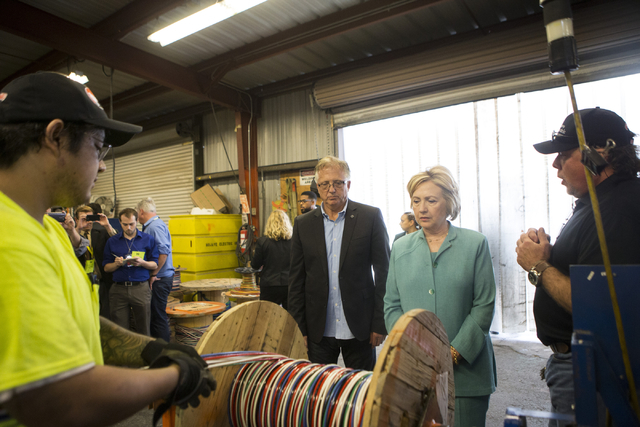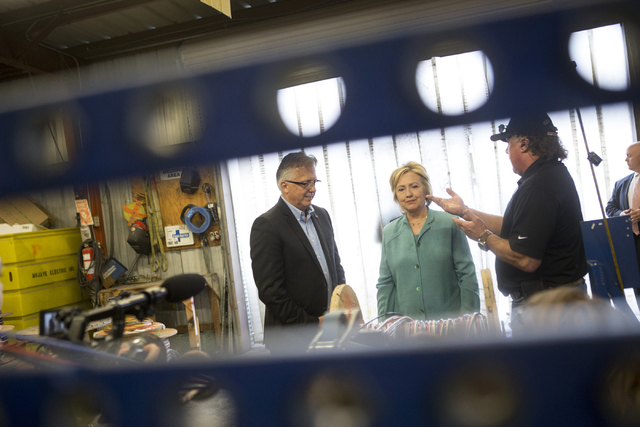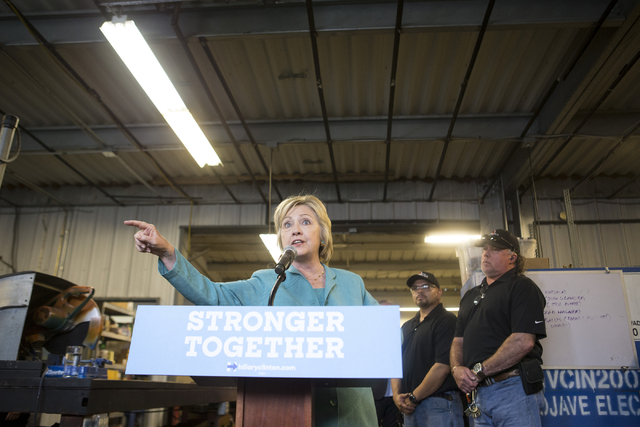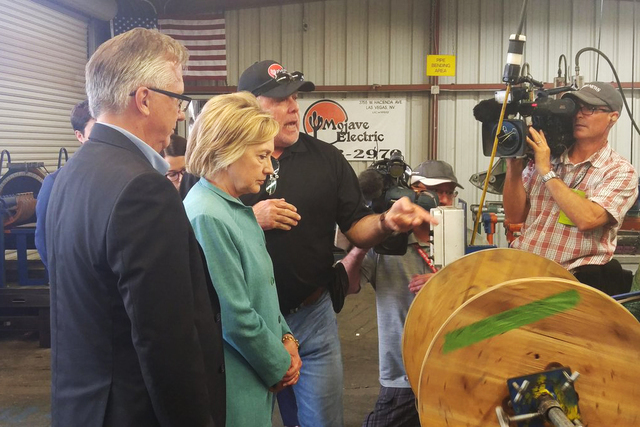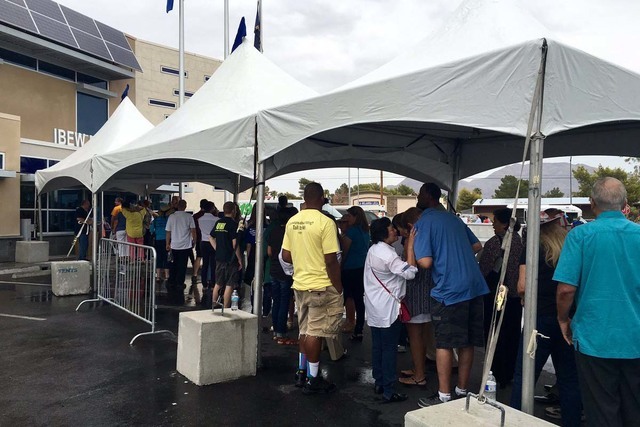 The nation needs to grow the middle class with training opportunities besides four-year college degrees, Democratic presidential nominee Hillary Clinton told a Las Vegas crowd Thursday.
Her speech at a rally with about 1,400 people at the IBEW Local 357 Hall touched on familiar themes she has highlighted before: providing job training opportunities and infrastructure investments to create opportunities for people to enter the middle class.
It came one week after she received the party's nomination in Philadelphia.
Clinton said young people need access to both an affordable college education and technical training opportunities for good jobs, including union apprenticeship programs.
"We need to invest in our young people and give them different paths besides four-year college to get ahead," she said.
Now facing GOP nominee Donald Trump, Clinton contrasted her policy goals, including $1,500 tax credits for businesses that hire an apprentice, with the real estate mogul's business record.
The mention of Trump's name drew boos.
"He talks a lot about how he's going to grow the economy and yet he doesn't make things in America," Clinton said.
Trump, Clinton said, "is not qualified to be president and he is temperamentally unfit to be commander in chief."
Clinton criticized Trump over reports that his company has stiffed contractors on bills, including a local Nevada drapery company that said it was owed nearly $400,000 for unpaid work at Trump International in Las Vegas. That dispute and others were reported in the Wall Street Journal earlier this year.
Trump has said that he withholds parts of payments if work is finished late or not done to his satisfaction.
Clinton also praised U.S. Senate Minority Leader Harry Reid, D-Nev., who is retiring, and encouraged supporters to vote for Catherine Cortez Masto, the Democratic candidate running for the open seat against U.S. Rep. Joe Heck, R-Nev.
"He always tells it as he sees it," Clinton said of Reid. "He's not a man of many words but when he uses them, he's very clear about what he's trying to accomplish."
Reid introduced Clinton, saying she also needs a Democratic majority in the Senate to get the needed support for her infrastructure and job growth plans.
BUSINESS TOUR
Clinton toured Mojave Electric's training facility before her speech.
Mojave Electric, an electrical contracting company, was founded in 1977 by Dennis Nelson, a Republican who supports Clinton. IBEW partners with Mojave Electric for its paid apprenticeship program, which has several thousand union trainees each year preparing for careers as electricians.
Clinton's tour was guided by Jackson Renner, a supervisor at Mojave Electric; and Donald Campbell, executive director of the Southern Nevada Chapter of the National Electrical Contractors Association, another partner in the apprenticeship program.
In remarks after touring, Clinton said the apprenticeship program is an example of how a business can help people succeed and enter the middle class.
"This company is truly living proof that businesses can succeed in America by investing in people, not shortchanging them," Clinton said. "And that's what I want to see across our country."
She said a four-year college degree should not be the only path to the middle class, noting that by 2020, more than half of all job openings in the U.S. will not require a four-year degree. The apprenticeship program, which pays trainees and offers benefits, is one example of an alternate route.
Clinton compared that to Trump, who has been on the receiving end of lawsuits filed by former students of his Trump University, alleging they were defrauded after enrolling to learn about real estate deal-making.
"It's fair to say that my Republican opponent has a very different vision for education," she said. "All you have to do is look at Trump University — his so-called university — where he really tricked vulnerable Americans, veterans, widows of veterans, people who were trying to get ahead and bought into his sales job. They maxed out their credit card, a lot of them emptied their life savings, all for empty promises."
She continued: "It's heartbreaking and that's why so many of them are suing Trump for fraud."
RALLY SUPPORTERS, PROTESTERS
The parking lots surrounding the hall filled quickly. Susan Merbs of Las Vegas, said she waited about an hour.
"It doesn't matter," she said. "She's our girl. We're here for the long haul."
About a dozen protesters also made an appearance.
"I want people to know the election is rigged on both sides this year," said Richard McCaslin of Pahrump.
Other protesters held signs that said "Crooked Hillary" and chanted "No more Clintons at the White House door!"
Near the beginning of Clinton's speech, animal rights protesters tried to jump on the stage, and Secret Service personnel surrounded Clinton. Clinton paused briefly, but continued talking.
"How awesome," said supporter Donata Parsons. "She didn't leave the stage when those guys went to protest."
Trump's running mate, Indiana Gov. Mike Pence, visited Reno and Carson City on Monday.
Contact Ben Botkin at bbotkin@reviewjournal.com or 702-387-2904. Find @BenBotkin on Twitter. Contact Natalie Bruzda at nbruzda@reviewjournal.com or 702-477-3897. Find @NatalieBruzda on Twitter.
RELATED
Hillary Clinton wins Democratic nomination for president
Hillary Clinton, Tim Kaine debut as Democratic ticket in Florida
Sanders supporters protest after Hillary Clinton clinches nomination — PHOTOS