Clinton tells cheering union members that Trump is 'urgent threat to our rights' — VIDEO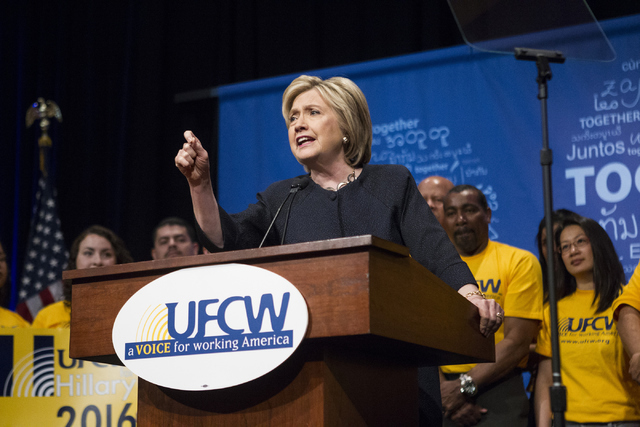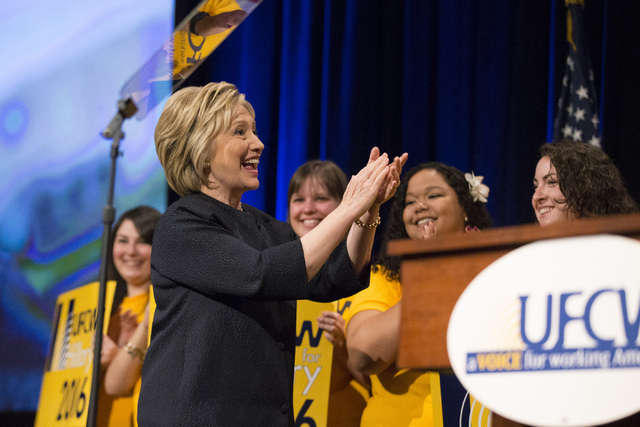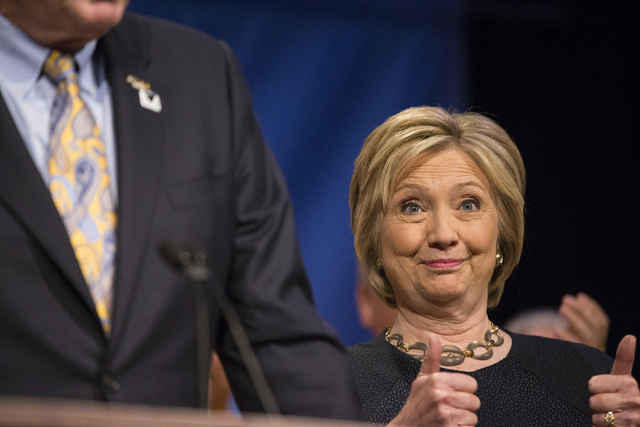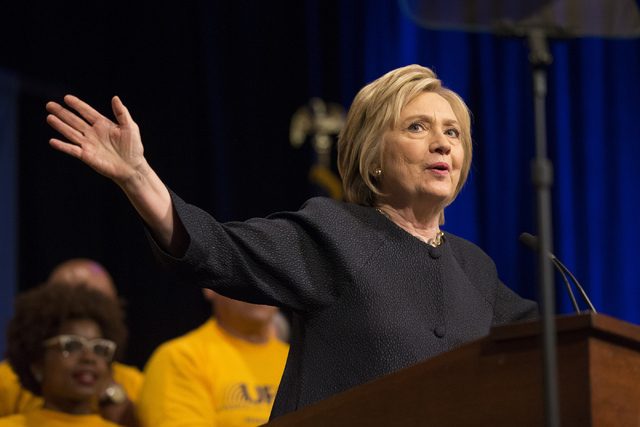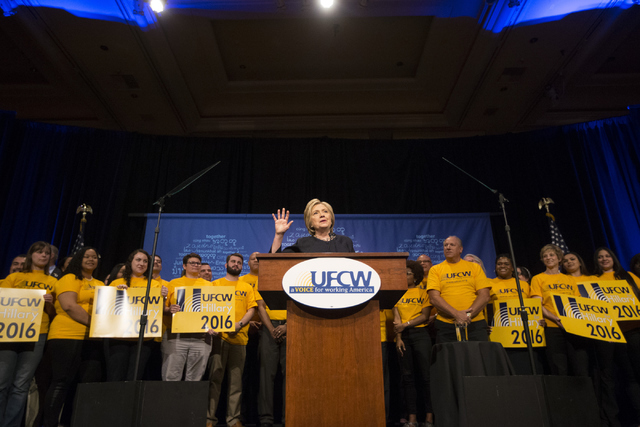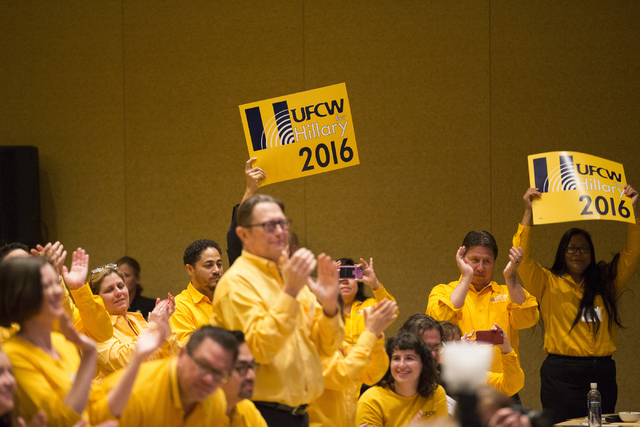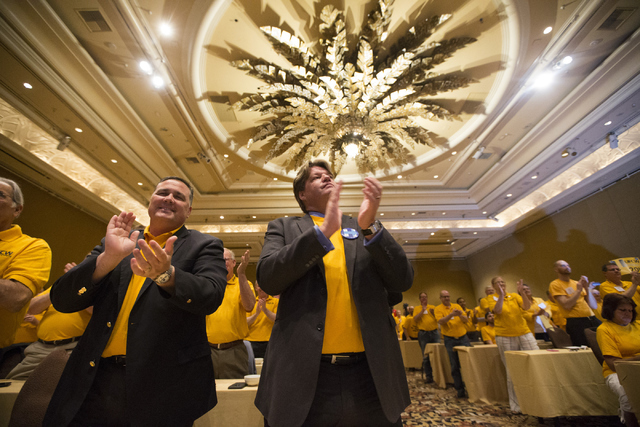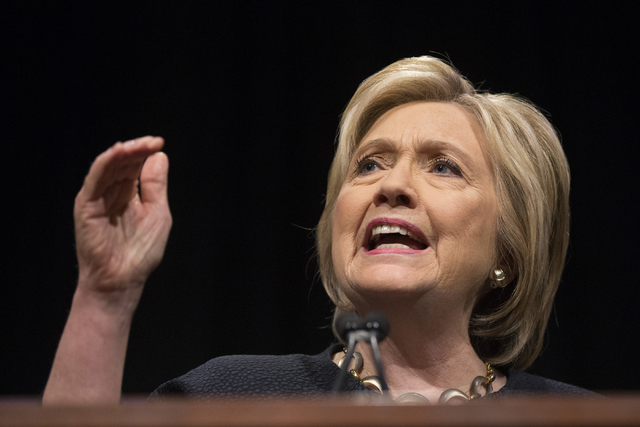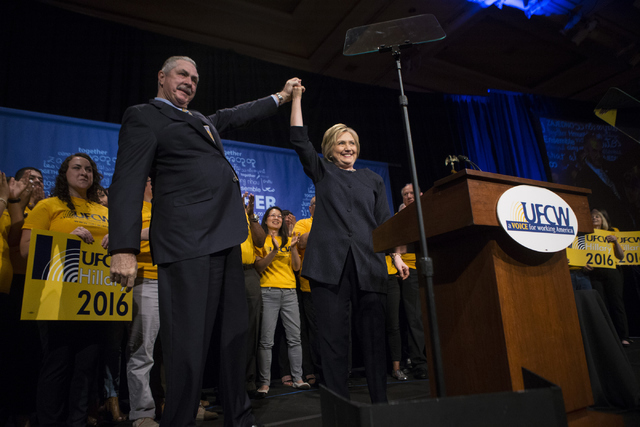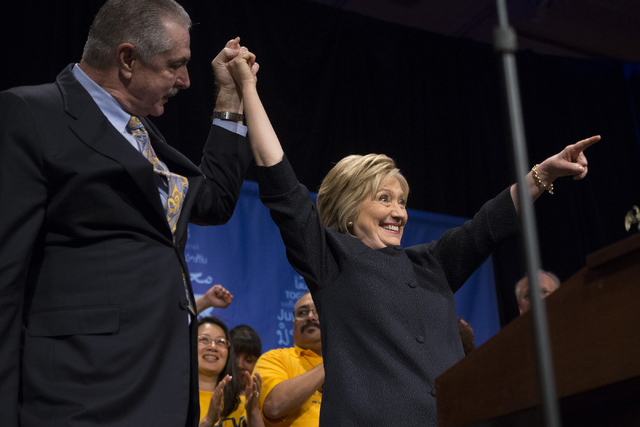 Democratic presidential candidate Hillary Clinton spoke in Las Vegas on Thursday, mounting a fierce attack against Donald Trump and calling the GOP candidate and billionaire businessman an "urgent threat to our rights."
Clinton's speech was delivered at the United Food & Commercial Workers International Union conference at The Mirage. Her visit came as Trump amassed enough delegates to clinch the GOP presidential nomination.
"I've heard over and over again there has never been more at stake for working families in America than there is right now," Clinton told the group of several hundred cheering union members.
The union represents 1.3 million people who work industries such as grocery stores, retail shops and food processing across the nation. The organization endorsed Clinton in January 2016.
UFCW people get their groove on while waiting for Hillary Clinton.#RJnow pic.twitter.com/1LXlMJ1gjB

— Ben Botkin (@BenBotkin1) May 26, 2016
Clinton also visited with workers at the conference. She focused her attacks squarely on Trump, only briefly mentioning Democratic opponent Bernie Sanders.
"Donald Trump is an urgent threat to our rights and to our country," she said.
Specifically, Clinton blasted Trump for signing a contract with a "union-busting" firm and discouraging efforts to unionize at Trump International in Las Vegas. She complimented those workers for organizing, which they have done through the Culinary Union.
Hillary Clinton takes the stage.#RJnow pic.twitter.com/erPAbKNIt5

— Ben Botkin (@BenBotkin1) May 26, 2016
"I was proud to join those workers on the picket line last fall," Clinton said, adding that the right to organize and have collective bargaining must be protected.
She lamented the struggles of working families to balance responsibilities at home and work, saying improvements are needed on multiple fronts. Those include a federal minimum wage increase, paid family leave, and equal pay for equal work.
"When a woman is paid unfairly, it doesn't just shortchange her," Clinton said. "It shortchanges her whole family. It's just wrong."
Clinton poked fun at Trump for saying that she's "playing the woman card." If fighting for workers and equal rights is "playing the woman card, then deal me in," she said.
The crowd roared in approval.
Clinton also criticized Trump for 2007 comments he made about benefiting financially when markets go down. Clinton said the U.S., and Nevada in particular, suffered greatly in the housing crisis.
"Now we know what a good result is to Donald Trump," Clinton said. "He gets his and you get hurt."
Clinton was introduced on stage by UFCW International President Marc Perrone, a longtime friend of Clinton's dating back decades to her days in Arkansas.
Like unions that organize, Clinton said, all Americans must stand together if they want to defeat Trump.
"The only thing standing between Donald Trump and the Oval Office is all of us," Clinton said.
Clinton said she plans to introduce legislation for comprehensive immigration reform in her first 100 days of office. She criticized Trump's call to deport some 11 million undocumented residents in the U.S.
Mark Manna, a UFCW area director from Buffalo, N.Y., said supporting Clinton is an easy choice. As a New York state resident, he said, he saw her work as a U.S. senator. Clinton is the only choice for a working American who wants to make a good living, he said, comparing her to Trump.
"He's all about the bottom line," said Manna, 51. "He's the poster child for corporate America."
Clinton's visit comes as calls for Sanders, an independent senator from Vermont, to drop out of the race have intensified as Trump has cemented his path to the Republican nomination.
Clinton said she's thankful for the efforts that Sanders and his supporters have made to bring attention to issues such as campaign finance reform, adding there is "much more that unites us than divides us."
Her visit came weeks after a chaotic Nevada State Democratic Party convention earlier this month. Sanders supporters loudly complained about the procedures used to determine delegate counts heading into the national convention in Philadelphia in July, yelling profanities before party leadership ended the event. Sanders supporters from Nevada and other states flooded social media and state party chair's cell phone with threatening messages and texts.
Party leaders have defended their handling of the convention, saying they followed the rules and Clinton's campaign turned out more of its share of delegates than Sanders' campaign.
Contact Ben Botkin at bbotkin@reviewjournal.com or 702-387-2904. Find @BenBotkin1 on Twitter.
RELATED
GOP files lawsuits for access to Hillary Clinton emails
Audit shows Hillary Clinton violated State Department policy with private email server