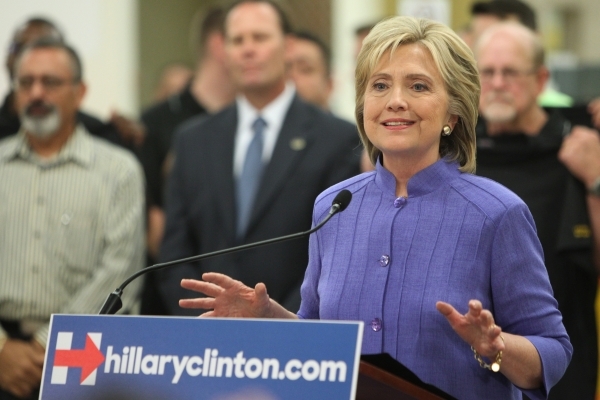 CLINTON, Iowa — Hillary Clinton will use a town hall in Iowa on Sunday to pitch a tax credit for up to $6,000 in expenses that fall on families "paying for, coordinating, or providing care for aging or disabled family members," according to a campaign aide.
The tax credit is be aimed at helping families off set the costs that come with caregiving, according to a fact sheet on the proposal, and the 2016 candidate will also propose spending more on the issue than President Barack Obama has committed.
"She will call for the creation of a new tax credit for middle-class families who care for ailing parents and grandparents," the aide said about Clinton's event in Clinton, Iowa. "The credit would help family members offset up to $6,000 in caregiving costs for their elderly family members."
A fact sheet provided to reporters said, "As president, Clinton will go beyond President Obama's Caregiver Respite budget request — investing $100 million in the initiative over 10 years."
The federal government spent $2 million on the Lifespan Respite Care program in 2015, and Obama asked for $5 million for the program in 2016. Clinton's proposal would increase that spending to $10 million a year.
Clinton has mentioned a growing "caregiver crisis" at a number of events across the country, arguing that with Baby Boomers growing older, it will be important for the government to be more proactive in addressing caregiving issues. She regularly tells the story of Keith F. Thompson, a New Hampshire supporter who takes his mother to work with him because she has Alzheimer's and he can't afford a caregiver.
"I'm fighting for the man I met whose mother has Alzheimer's. He cannot afford a full-time caretaker. So you know what he does? He's a teacher. He takes his mother to work with him," she said at the Iowa Jefferson-Jackson dinner in October.
According to the aide, Clinton's plans will "call for providing caregivers with added Social Security benefits, and reforming work-family policies to support paid and unpaid caregivers."
Clinton met with home care workers at an emotional event in August, where a number of the women participating in the Los Angeles round table cried about their jobs and their pay.
"We are the only people that they see. We are there miracle workers," Lizabeth Bonilla, a home care worker from Las Vegas, told Clinton about her job. "When I leave and they give you a smile, that is all I need. I am OK with that."
Clinton told Bonilla, "You are the kind of person we want taking care of people. Somebody who is really doing it because of your heart. You shouldn't find yourself in the position you are in after working for so hard, so long."
Clinton's proposal is the latest part of an effort by her campaign to focus on tax breaks for the middle class. Clinton pitched a tax cut aimed at curbing high health care costs on Friday in Tennessee.
Tax cuts will be the focus of her next few events, according to aides. The reason for the focus is both policy and politics: Clinton mentioning tax cuts allows her to hit Vermont Bernie Sanders, her closest Democratic opponent, for backing proposals that would raise taxes on middle income earners.