Clinton, Trump come out swinging in Las Vegas debate
October 20, 2016 - 12:21 am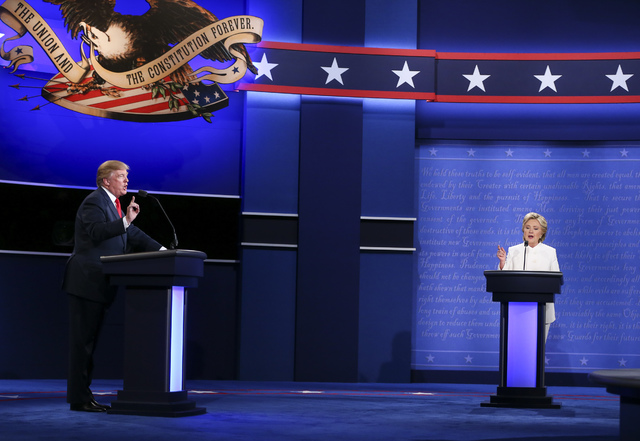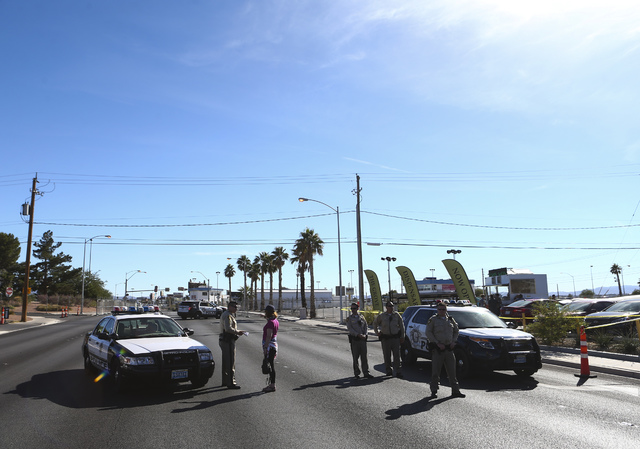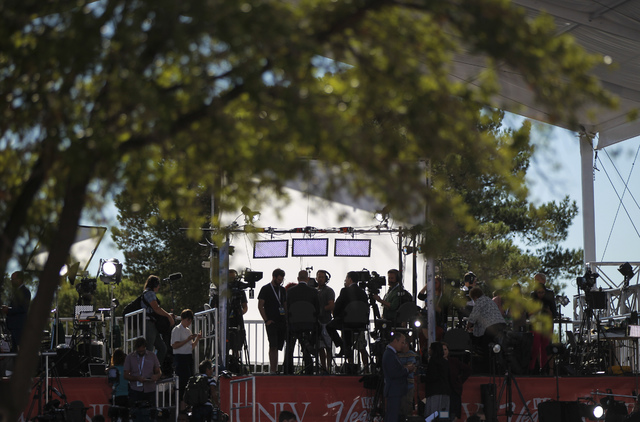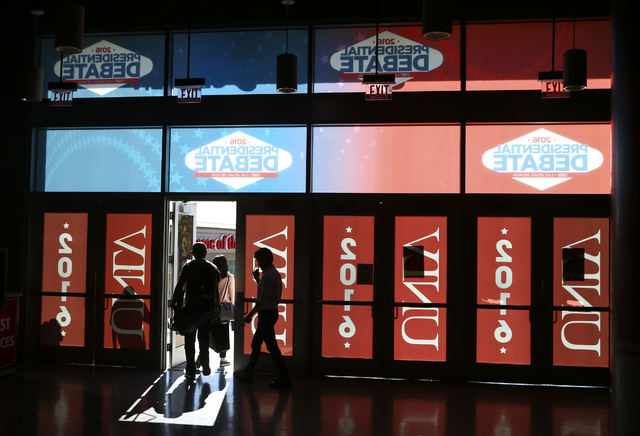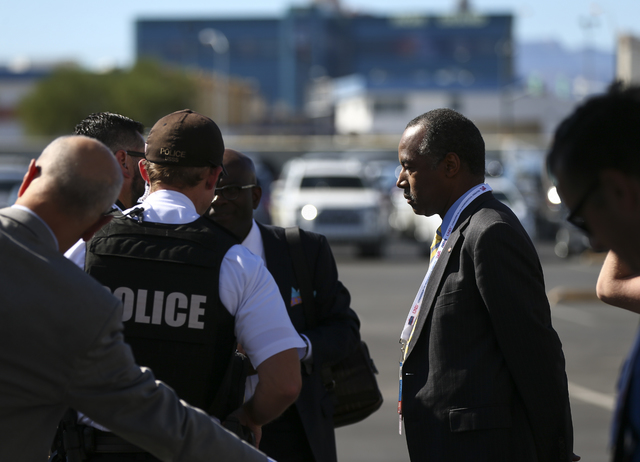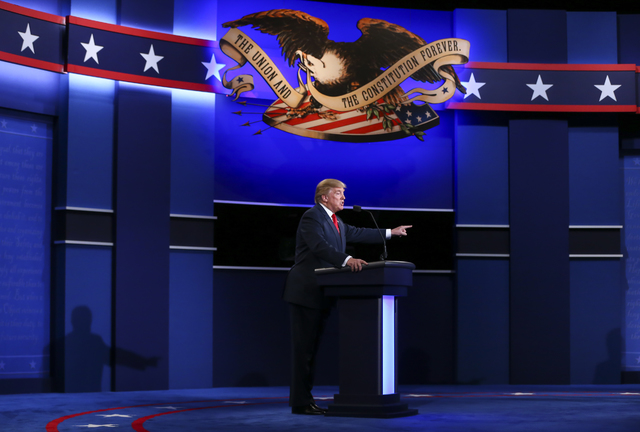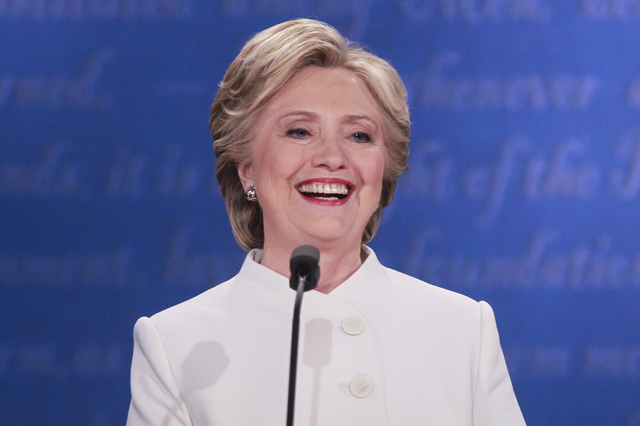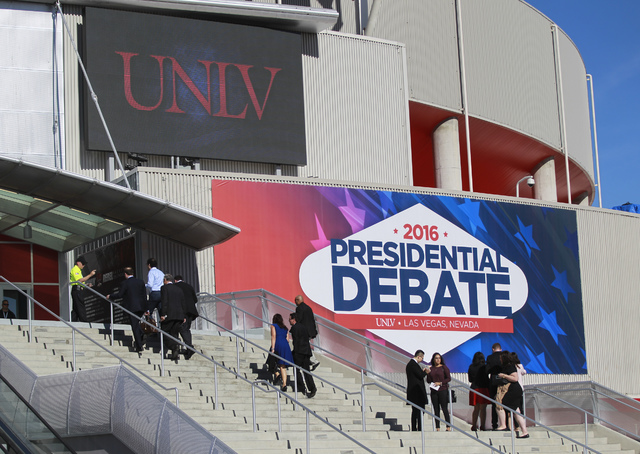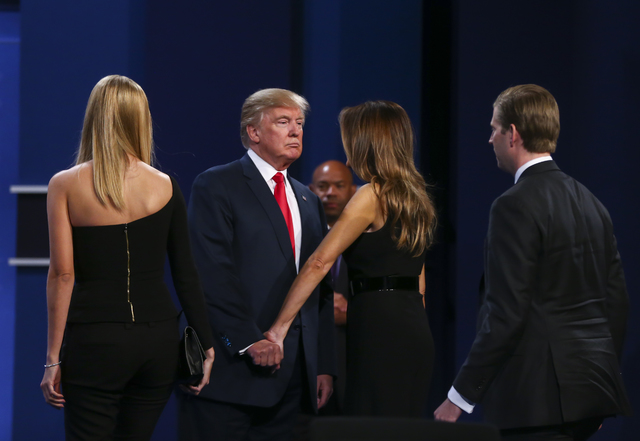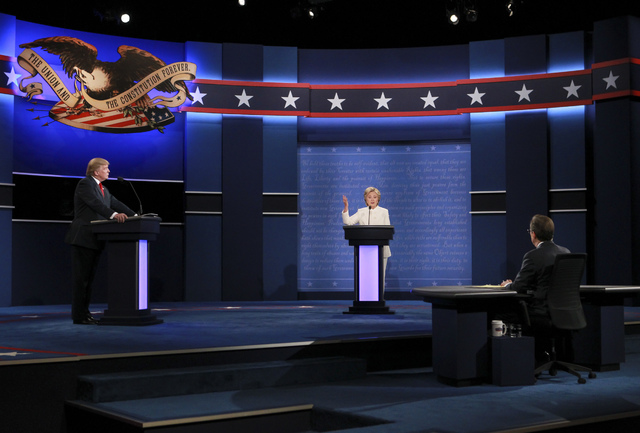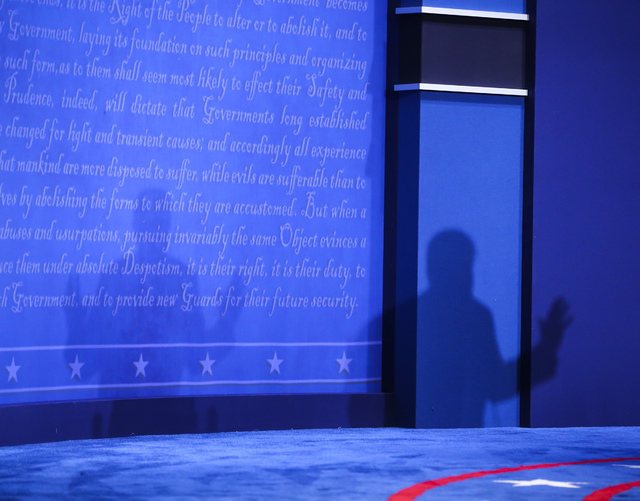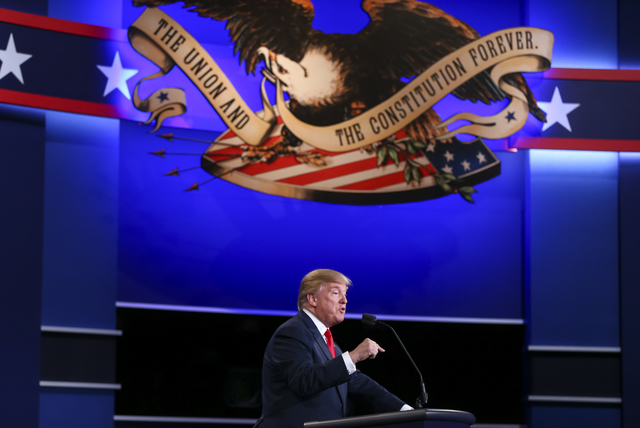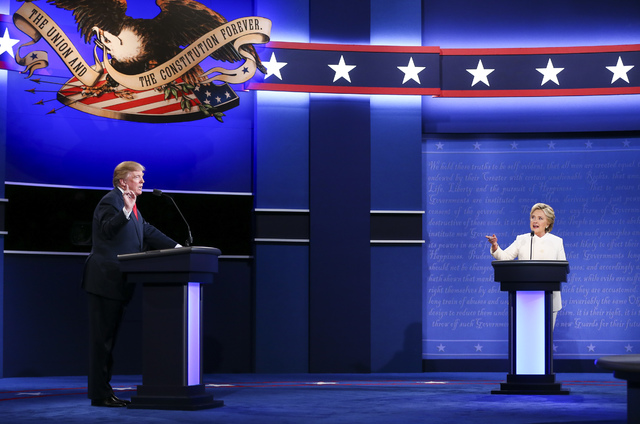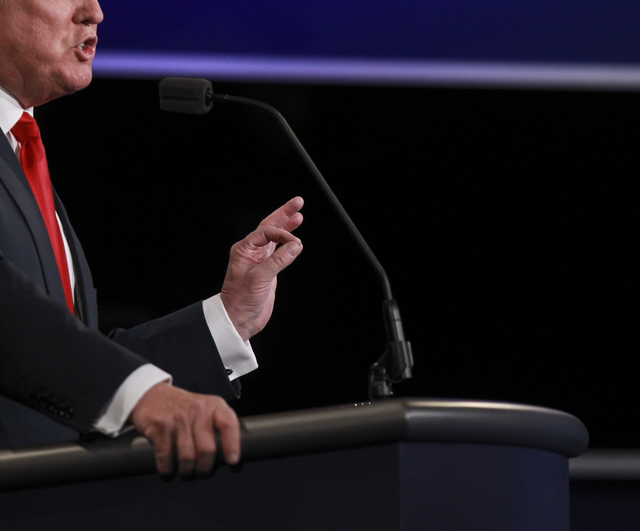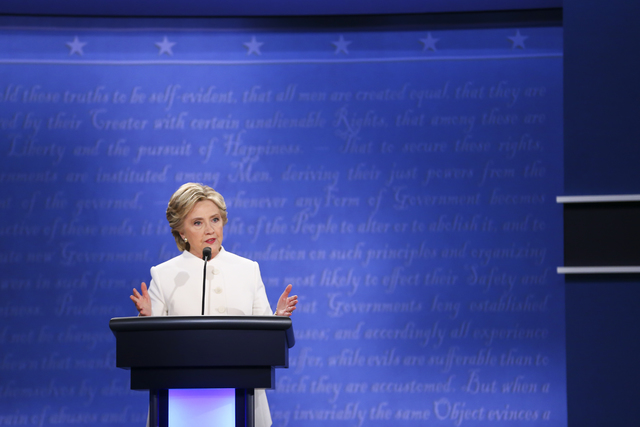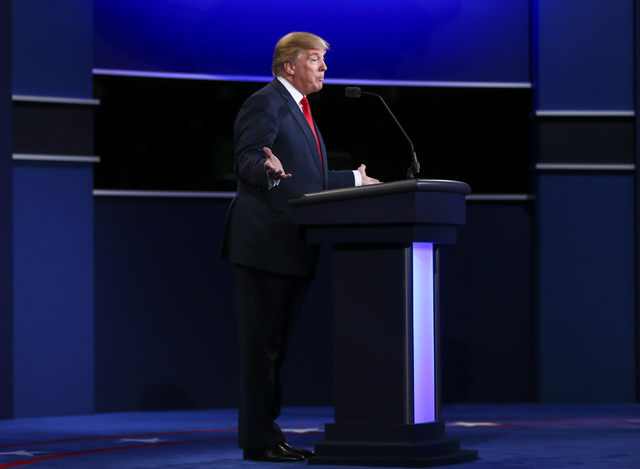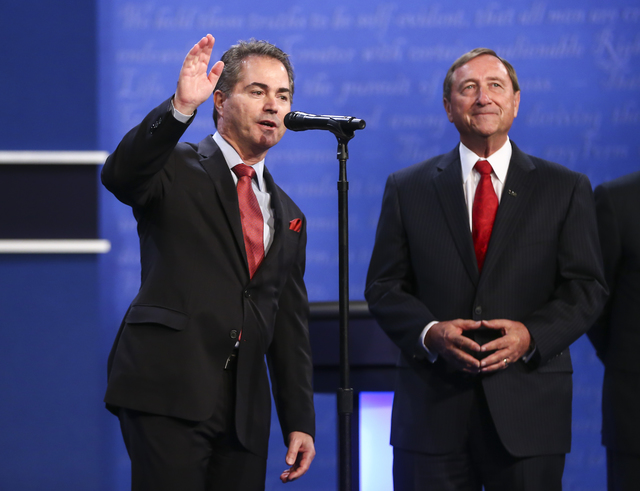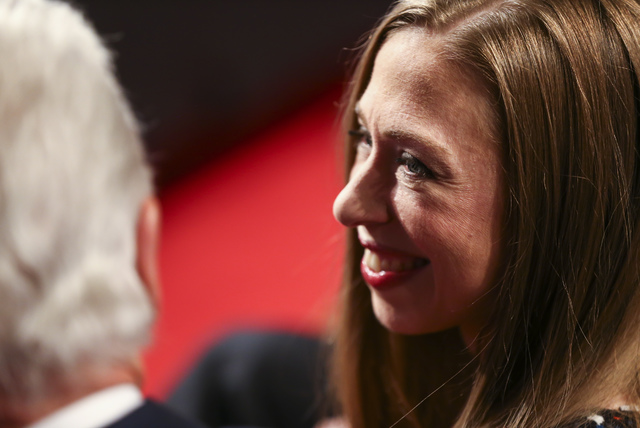 It was billed as the biggest prizefight in Las Vegas history, and Hillary Clinton and Donald Trump found plenty to fight about during their third and final debate Wednesday at UNLV.
For 90 minutes under the lights at the Thomas & Mack Center, the two presidential hopefuls sparred on immigration and economics, guns and abortion, Russian hackers and the future of Syria and the U.S. Supreme Court.
And like much of the campaign so far, the fight turned ugly.
After a slow, almost subdued start focused largely on policy, Clinton labeled Trump a "puppet" for Russian leader Vladimir Putin and Trump called Clinton a liar and criminal who should have been prosecuted, not allowed to run for president.
Later, as Clinton took a shot at her opponent during an answer about entitlement programs, Trump remarked, "Such a nasty woman."
But the most talked about moment came when moderator and Fox News anchor Chris Wallace asked Trump, in light of all his recent talk of a "rigged" election, if he would accept the outcome of the Nov. 8 vote.
Trump was noncommittal. "I'll look at it at the time," he said, adding later, "I'll keep you in suspense."
Clinton, the first female presidential nominee of a major political party, called Trump's response "horrifying."
She said anytime Trump thinks something isn't going his way, he says it's rigged against him, including a past Emmy Awards nomination for his "Apprentice" reality show.
"I should have gotten it," Trump quipped.
"It's funny, but it's also troubling," Clinton said.
SUPREME DISAGREEMENTS
The stark differences between the two major party nominees came out on Wallace's first question regarding nominees to the Supreme Court, which led to sharp disagreements on gun control and abortion rights.
Clinton said she would like to see a court that will uphold marriage equality and legalized abortion and strike down the Citizens United ruling that protects as free speech independent political spending by nonprofit corporations.
"I feel strongly that the Supreme Court needs to stand on the side of the American people not on the side of the powerful corporations and the wealthy," she said.
Trump said he would appoint justices who are "pro-life" and will protect the Second Amendment, which is "under siege."
"They will interpret the Constitution the way the founders wanted it interpreted, and I believe that's very, very important," Trump said.
Clinton said she supports the right to bear arms but wants "reasonable" reforms to keep guns out of the wrong hands, while Trump said he was proud of his endorsement from the National Rifle Association and argued that stricter laws haven't halted gun violence in Chicago.
Trump continued to take a hard-line approach on immigration, saying drugs are "pouring" into the country through the southern border.
"We have to have strong borders. We have to keep the drugs out of our country," he said. "We have some bad hombres here, and we're going to get them out."
Clinton said her plan is for secure borders alongside comprehensive immigration reform, including a path to citizenship, which she promised to introduce during the first 100 days of her presidency.
"I don't want to rip families apart," she said. "I don't want to see the deportation force Donald has talked about in action in our country."
COLD WARRIORS
The two also sparred over relations with Russia and the recent WikiLeaks release of stolen computer data that has revealed details about the inner workings of the Clinton campaign.
Clinton accused Putin of meddling in the election to help Trump because he "would rather have a puppet."
Asked by Wallace if he condemns such interference by Putin and the Russians, Trump eventually said: "Of course I condemn" any foreign power that might be hacking U.S. computers.
"This is not my best friend," Trump said of the Russian leader. "Putin has outsmarted her and Obama at every step of the way."
The billionaire real estate mogul once again found himself answering questions about his treatment of women.
In response to a direct question about a recent string of allegations, Trump suggested that Clinton's "crooked" and "sleazy" campaign was behind the women who have come forward with claims he made unwanted physical advances toward them.
"Those stories are all totally false, and I didn't even apologize to my wife who is sitting right here because I didn't do anything," he said. "I think they either want fame or her campaign did it."
"Nobody has more respect for women than I do," Trump said.
Clinton criticized Trump's response to the allegations, which has involved dismissing his accusers based on their looks.
"Donald thinks belittling women makes him bigger," she said. "He goes after their dignity, their self-worth, and I don't think there's a woman anywhere who doesn't know what that feels like."
NOTHING TO SHAKE ON
The Trump International hotel in Las Vegas got a brief mention in the debate as the candidates discussed the role of trade with other nations.
Trump said bad trade policies have sent manufacturing and jobs out of the country.
Clinton's response: "Donald has bought Chinese steel and aluminum. In fact, the Trump hotel here was made with Chinese steel."
There was no time set aside for closing statements, but Wallace gave each one minute to make their case for why they should be elected president.
Clinton said she's reaching out to everyone to grow the economy, make it fair and make it work for everyone.
Trump pledged to rebuild the nation, take care of veterans and respect police. He said the country cannot take four more years of President Barack Obama, which he said would be the case if Clinton is elected.
The two candidates did not shake hands after the debate.
Wednesday's back-and-forth has been described as the largest national event ever staged by a city known for extravaganzas.
It marked the first time Las Vegas hosted a presidential debate between the two major-party candidates. It attracted thousands of reporters from around the world and was expected to draw tens of millions of television viewers.
The debate also represented a final word of sorts in what has already been one of the bizarre and acrimonious elections in U.S. history.
Early voting has already begun in some states. In Nevada, where both Clinton and Trump have campaigned heavily for the state's six electoral votes, ballots will be cast starting Saturday.
Review-Journal writer Colton Lochhead contributed to this report. Contact Ben Botkin at bbotkin@reviewjournal.com or 702-387-2904. Follow @BenBotkin on Twitter. Contact Henry Brean at hbrean@reviewjournal.com or 702-383-0350. Follow @RefriedBrean on Twitter. Contact Jamie Munks at jmunks@reviewjournal.com or 702-383-0354. Follow @JamieMunksRJ on Twitter.