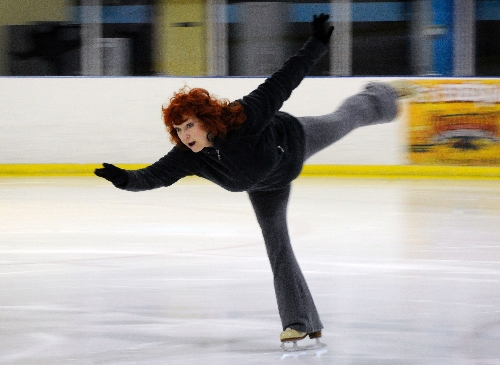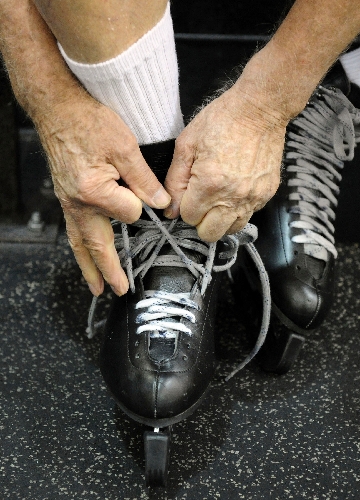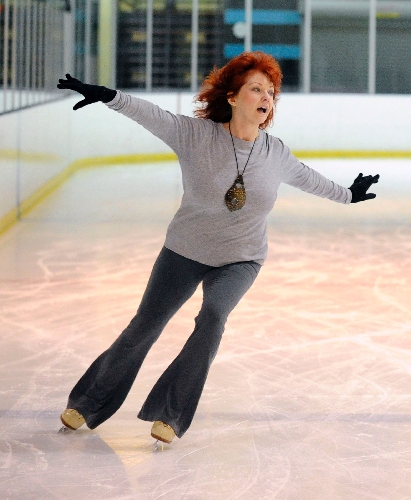 Dare you to take a lap around SoBe Ice Arena for each hour of experience the regulars of Coffee Cup Skate have collectively amassed in their time on blades.
There is no skating over the fact you'd probably grow tired of seeing the interior of the Fiesta Rancho's 17,000-square-foot National Hockey League-sized arena.
The crowd of regulars for the 45-or-older open skate includes former Ice Capades stars, hockey enthusiasts and lifelong ice skaters eager to keep their knack for the pastime sharp.
Friendships have formed after years of sharing the ice from 12:45-2:15 p.m. Monday and Wednesday at the rink at 2400 N. Rancho Drive. The open skate is $5, and the arena provides coffee and cookies.
"It's fun. It's all about camaraderie," ice arena manager Rob Pallin said. "They share the same thing in skating."
The Coffee Cup Skate started about five years ago at the senior skaters' request. They wanted their own time on the ice, away from the "young guns blowing by them," Pallin said.
Now they just whiz past one another, but the music streaming through the speakers is more soothing.
When Nancy Leake takes to the ice for Coffee Cup Skate, she glides around and enjoys the quiet, she said. When the 66-year-old ups the ante for a spin or jump, glimmers of her 50-year career on two skates shine.
Leake split her skating years between the Ice Capades and an adagio act, wherein she perfected spins and throws with a male partner. The duo moved to Nevada together in 1994. An accident stopped their career together, but Leake kept skating.
She travels weekly to Coffee Cup Skate from her home in Pahrump. She practices solo routines and said she plans to form and choreograph a senior ladies' skate review.
Something about the 55-degree rink still gets her going, she said.
"You get the atmosphere and the cold air in your lungs, and it picks you up," Leake said. "It's something ice skaters understand."
Although Leake represents the professional sect of Coffee Cup Skate regulars, the novice skaters have their place, too.
"I come for the coffee," 82-year-old skater Bob Perry joked.
The North Las Vegan grew up in New Jersey, where he'd flock to nature's ice rink.
"I'm not a real skater," he said. "I'm a sandlot skater. As long as I had a frozen pond, I'd skate."
Coffee Cup Skate is part of his weekly routine. His wife gambles in the nearby casino; he skates — backward.
"I can't skate forward," he said. "I'm stronger backward, and your feet are always on the ground."
Perry dons a helmet while he skates, "just in case" his unorthodox habits fail him, he said. On a recent October open skate, he also sported shorts.
"I skate for the exercise," he said. "This is pretty great."
Summerlin resident John Bialecki, 72, also comes for the exercise, but said he stays for the camaraderie.
"There is nobody here I'd call a grouch, except maybe for me," he joked.
Bialecki chooses hockey skates and a jersey for his weekly exercise. He also keeps to a schedule — 10 laps around, rest, warm up and repeat.
"It's a routine, and it's good exercise," he said. "Plus, I'm cheap. I like to get my money's worth."
For more information on Coffee Cup Skate, visit fiestarancholasvegas.com or call 638-3785.
Contact Centennial and North Las Vegas View reporter Maggie Lillis at mlillis@viewnews.com or 477-3839.
Coffee Cup Skate
Coffee Cup Skate, an open skate for anyone 45 or older, is scheduled from 12:45-2:15 p.m. Mondays and Wednesdays at the rink at the Fiesta Rancho, 2400 N. Rancho Drive. Admission is $5, and the arena provides coffee and cookies. For more information, visit fiestarancholasvegas.com or call 638-3785.