Collection of a lifetime: Longtime antique hobbyist plans auctions Jan. 18-19 at southwest valley business
January 10, 2014 - 2:36 pm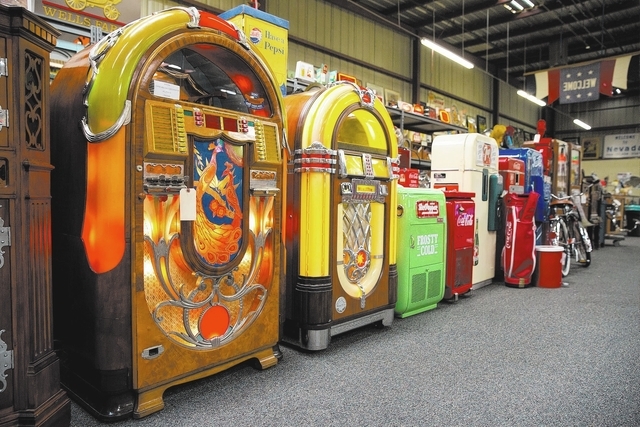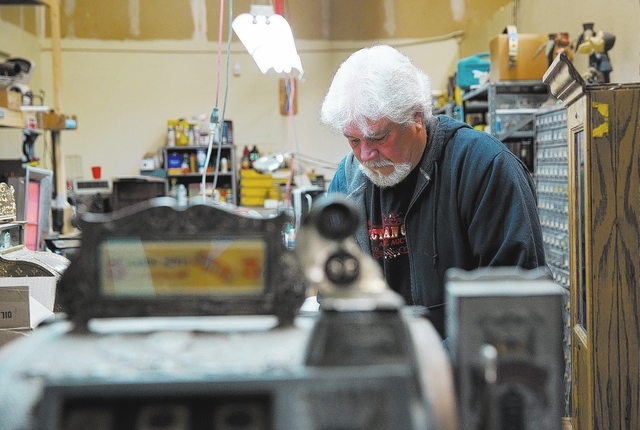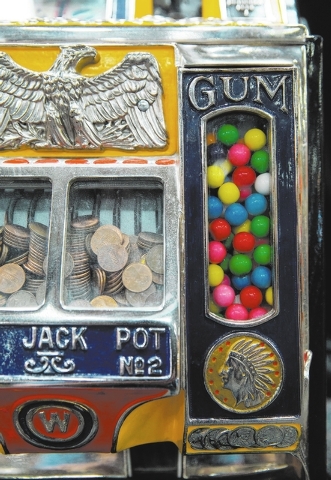 Neon advertising signs from the 1950s fit like puzzle pieces on the walls. Eighty-year-old slot machines neatly line shelves and tables. Dust-free jukeboxes from the 1940s play songs for a penny.
Victorian Casino Antiques, 4520 Arville St., looks and feels a lot like most grandparents' attics but a little more organized. Every item has its place, lot number and description in an auction catalog.
"(The shop) is called Victorian Casino Antiques, but the stuff comes from everywhere," said owner Peter Sidlow. "It's really nothing anybody needs, but they sure want it."
The shop plans an auction for 9 a.m. Jan. 18-19. About 350 people are expected to attend as 1,200 items, ranging from arcade games to gas pumps, are scheduled to be auctioned.
"In this auction, I have a couple pieces that could sell for $60,000 to $80,000," Sidlow said, "but for the most part, it varies each time. You never know what you're going to get."
According to Sidlow, customers from Canada, England, Germany and Switzerland have traveled to Las Vegas for the auctions.
"People love to come to Las Vegas, so it's like an excuse to come here," Sidlow said. "We also sell to about 20 or 30 different countries online."
In addition to the auctions, the shop regularly sells items, such as toys and Coca-Cola memorabilia, through its retail shop and website.
"The Internet is changing the whole way the business is run," Sidlow said. "People used to come in, bid on it and take it home. Now, half the stuff goes online so we have to deal with people wherever they are, collect their money and ship it to them."
The shop receives items through consignments, mailing lists and personal contacts, Sidlow said. Employees research, photograph and repair the items for the catalog.
According to Sidlow, the shop has auctioned items for hundreds of thousands of dollars, including a coin-operated roulette slot machine by Caille Brothers Co. for $250,000.
"We've sold a number of those," Sidlow said. "It's a very desirable item for people who collect machines and who can afford it."
The shop is set to auction a Mills Novelty Co. Double Violano-Virtuoso, a mechanical music machine that plays songs on two violins and a piano for a nickel. The item dates to about 1912 and could sell for $50,000 to $75,000, according to Sidlow.
A 1930s baseball arcade game made by the Amusement Machine Corp., valued at more than $50,000, is also planned for auction, Sidlow said.
"It's hard to find these things that have stayed in good condition because they were made to be used," Sidlow said, "but they've somehow survived."
For more than 70 years, Sidlow has been collecting items such as advertising pieces, gambling machines, comic books and cars. He regularly attended the shop's auctions as a customer before purchasing the business 11 years ago.
"I have experience in what we're selling because it's the kind of stuff I've been collecting my whole life," Sidlow said. "I have a whole house full of this stuff."
Sidlow's son Dan, 43, also helps run the shop's website and make the catalogs.
"It's not a normal 9-to-5 job," Dan said. "It's different every day. You never know what someone's going to call you up for."
Victorian Casino Antiques is scheduled to be open from 9 a.m. to 3 p.m. through Jan. 17 for auction previewing. For more information, visit vcaauction.com or call 702-382-2466.
Contact Southwest/Spring Valley View reporter Caitlyn Belcher at cbelcher@viewnews.com or 702-383-0403.