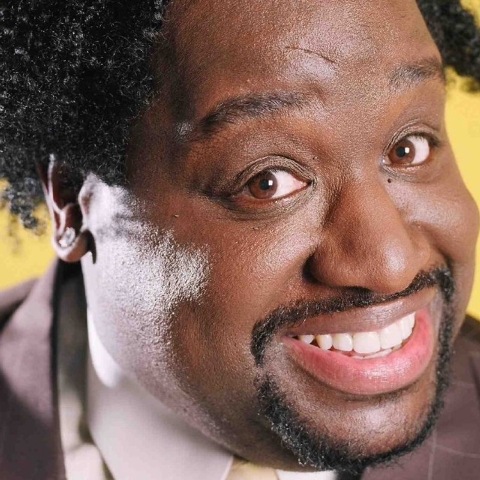 Even if you have the money to live in Hollywood, that doesn't mean you should. Comedian and actor Bruce Bruce lives in his native Atlanta, partly to save cash.
"In L.A., it's $2,800 a month for one bedroom. For $2,800 in Atlanta, you can get almost half a mansion!" Bruce Bruce says.
I tell him he should move to Vegas and buy a house for a dollar (yes, a bad joke). But he's not biting: "It gets hot in Vegas."
Bruce Bruce performs stand-up comedy Friday and Saturday at the Suncoast.
Lately, he's been filming a new Chris Rock-directed comedy, "Finally Famous," co-starring Rock, Adam Sandler, Jerry Seinfeld, Gabrielle Union, Rosario Dawson and Tracy Morgan.
As a director, Rock is "very, very good to work with," Bruce Bruce says.
"He really let us be ourselves, and that made it even more better.
"We go back pretty far, man. The cool thing (is), I didn't have to audition. It was a phone call: 'I want Bruce to play this part.' It's done and over, and you walk in comfortable and relaxed, and ready to do it."
Is Rock his favorite comedian? Not quite.
"I grew up listening to Redd Foxx and Richard Pryor and Bill Cosby, but my favorite comedian of all time is Uncle Milton Berle. He was quick with one-liners, he was witty, he was fast, and he was funny."
This is where I remind Bruce Bruce that Berle was known in Hollywood to have the biggest, umm, underpants.
"That's what I hear!" Bruce Bruce says. "They say he was the man. Go, Uncle Milton!"
CAGE CRUE
Nicolas Cage, who does live here, took his son Wes, 22, to see Motley Crue at the Hard Rock Hotel on Sunday.
Cage had already seen the show and liked it. He and singer Vince Neil have hung out. They saw Harrah's "Million Dollar Quartet" together in April.
Anyway, TMZ reports Cage was talking to Neil backstage Sunday when Crue drummer Tommy Lee was walking to his dressing room but found his path accidentally blocked by Wes, so Lee screamed at Wes, leading to a screaming match until security broke things up.
Also Sunday night, Lee posted a cocaine-photo joke on Twitter of him shoving his nose onto a huge scoop with the words, "Love me a tiny aftershow BUMP!!!!" And he posted a photo meme saying: "Some people just need a high five. In the face. With a chair."
On Tuesday, Wes went on Twitter to ask TMZ to stop contacting his mom: "We don't speak anymore and it's extremely sophomoric of you."
Before all that, on Saturday, Cage took his other son, Kal-El, 7, (named after Superman) to Sky Zone for a birthday party, because he's just trying to take his kids to fun stuff.
On Monday, the acting legend lunched with red wine at Wolfgang Puck's Pizzeria &Cucina at CityCenter.
ANOTHER RESTAURANT GONE
The Palms' new Heraea already has closed. Former 49er Dwight Clark was supposed to appear as a celebrity host at Heraea tonight. And the swinger ("lifestyle") group Purrfect Party had scheduled a mingling there for this Saturday. I preferred Garduno's in that spot. I had a sad meal at Heraea and didn't return.
CARROT TOP HAD A GUITAR
Luxor headliner Carrot Top donated a star-autographed pink guitar to an auction for the Susan G. Komen Foundation of Southern Nevada.
His guitar is signed by more than 30 famous people, including Tommy Chong, Dale Earnhardt Jr., Kix Brooks, Vinnie Paul, Wayne Static, Geoff Tate, Joey Fatone and Lance Bass.
The auction closes Oct. 10 (www.charitybuzz.com/catalog_items/383700?preview=1). On Wednesday, the top bid was $1,100.
Doug Elfman's column appears on Page 3A in the main section on Mondays, Tuesdays, Thursdays and Saturdays. He also writes for Neon on Fridays. Email him at delfman@reviewjournal.com. He blogs at reviewjournal.com/elfman.