Comedian David Spade often just grins and bears it
February 4, 2014 - 7:18 am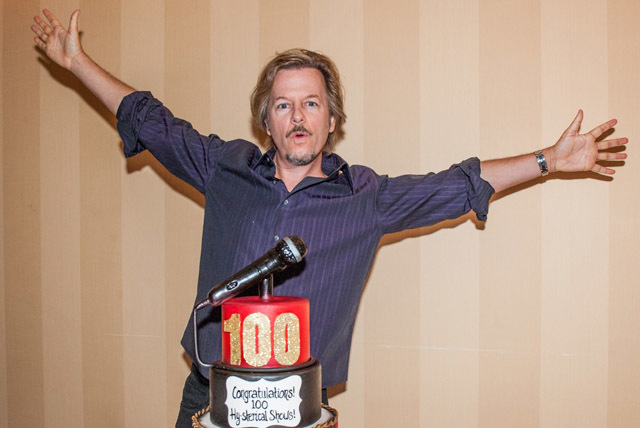 Hello again, David Spade, comedy star of stage and screen. What's it like to have fans walk up to you all the time on the Vegas Strip?
"It's a bit of a production because those casinos are so full of people and everyone has a camera," Spade says.
"It used to be autographs. Now no one ever gets an autograph. You hear the term, 'Quick picture' a lot."
Spade performs stand-up Friday-Saturday at The Venetian. Which mode of fan appreciation would he prefer, posing for photos or signing autographs?
"I like autographs. I don't like flashes. I never look directly in the camera, and I always gets complaints: 'Dude, you didn't look in the camera.' I go, 'I looked one inch to the side. Everything's going to be fine. Relax.' "
Does that satisfy photo requesters?
"Oh my God, they take it, then they go, 'Don't leave. Let me check it out and see if I like it.' I go, 'Um, how about no.' "
I can actually attest to Spade's kindness to fans. A few times over the years, I have happened to be standing in rooms where Spade didn't know I was lurking, watching while he interacted with fans. I have never seen him be rude. I have always seen him hide under a cap, Hollywood-style.
Anyway, you can try to track him down for photos around The Venetian this weekend. He says his shows there should be better than usual, but he says so in a very self-deprecating, David Spade way.
"I just did a Comedy Central special so I had to practice," he says, "so I think the act is going to be OK when I come in. Is that a good pitch?
"It'll be fine. They'll walk out and go, 'That was fine.' That's what I'm looking for, to really bowl them over with 'fine.' "
Spade's Comedy Central special will probably run in April. By going to traditional old Comedy Central, Spade is bucking the trend of comedians' releasing their specials on Netflix. But he thinks he can get more new fans with Comedy Central.
"With Netflix, they have to come find you, which is sometimes trickier," Spade says. "My regular fans will go find it (on Netflix), but you want to stumble out and find some new fans.
"Comedy Central has so many comedy fans that, I mean, they see 'Black Sheep' and 'Joe Dirt' (Spade's classic comedies), but they don't really know I do stand-up."
Spade is also developing a half-hour single-camera comedy (a comedy without a studio audience). HBO has first-dibs on it.
The comedy would star Spade as a band manager who was big in the 1990s but who has fallen on hard times so now he manages a DJ from Vegas and a boy band called The Five Commandments. Spade describes the character like this:
"I'm trying to get back on top, so you know my car is like a 2001 Mercedes, the last year I could re-up. You can sort of tell I'm on the skids."
Hmm. I told Spade my car is even older, a 2000 Town Car worth about $6,000.
"Ha-ha," Spade says. "I drive an '87 Buick Grand National."
Holy crap. You know what? I thought he was kidding, but there are photos all over Google of David Spade driving that old '80s muscle car. I guess he really is Joe Dirt.
Doug Elfman's column appears on Page 3A in the main section on Mondays, Tuesdays, Thursdays and Saturdays. He also writes for Neon on Fridays. Email him at delfman@reviewjournal.com. He blogs at reviewjournal.com/elfman.