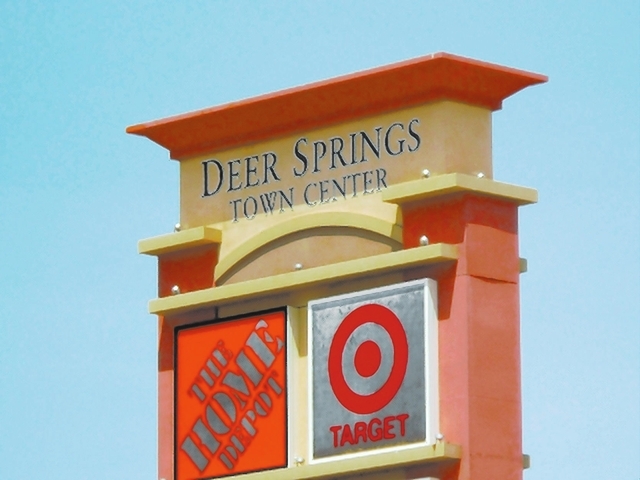 Revival of Southern Nevada's commercial market is a work in progress, although 2013 has brought a spate of big deals.
Plus, projects under construction should give the market an assist in 2014.
That's according to commercial brokerage Avison Young's Fall 2013 Commercial Real Estate Investment Review.
Investment volume in Las Vegas remains well below pre-recession levels, when prices were considerably higher. Investors dropped just under $1 billion on commercial properties in the first six months of 2013, with more than half of those dollars going to multifamily residential properties. For now, the market is on track to at least match 2012's total of a little less than $2 billion in buys. But it won't come close to the $5 billion in deals in 2007.
Local investment reached a low point in 2009, when it slumped to around $250 million.
Stoltz Real Estate Partners of Pennsylvania made the biggest buy in the first half of 2013, with its $50.5 million purchase of the 513,000-square-foot Deer Springs Town Center, a retail project at 7090 N. Fifth St.
The other four biggest deals are Las Vegas investor John Lai's $44 million purchase of the Coronado Bay Club apartments at 7600 S. Jones Blvd.; Colorado-based Griffis Group's $41 million buy of Quest Apartments at 210 Quest Park St.; San Francisco-based Prologis' $23.3 million purchase of the Cheyenne Distribution Center at 4150 E. Cheyenne Ave.; and California-based Realty Income Corp.'s $21.7 million purchase of Durango Medical Plaza at 8530 W. Sunset Road.
Avison Young also pointed to a recent deal — Blackstone's $347 million purchase of the Hughes Center in September — that should dwarf all other local investments when the year-end numbers come out.
Other developments should drive improvements in the local market in the next 12 to 18 months. The report pointed to the 2014 openings of the SLS Hotel and The Linq will "create a much-needed influx of jobs and visitor volume for the local market," the report said.
■ A report from Marcus &Millichap Real Estate Investment Services backs up the idea that the retail sector in particular is recovering.
For evidence, the study pointed to the revival of the Shops at Summerlin Centre and the Gramercy, formerly Manhattan West, both on the west side along the 215 Beltway.
"Both projects are expected to boost local economic activity as they attract customers from around the metro," the report said.
But interest isn't reserved for large, upscale projects. There's big demand for properties and not enough supply. Developers will add just 55,000 square feet of retail space in 2013, down from 432,000 square feet in 2012. That's laid the groundwork for a bit of a feeding frenzy: Distressed properties field multiple bids and sell above asking price in some cases.
The market still has hurdles, though. It relies on continued recovery in a housing market that's shown recent cooling in annual price gains. Plus, the Las Vegas metro area will end 2013 having regained just 36 percent of the jobs it lost in the recession. As long as employment remains so far below pre-recession levels, consumer spending will lag potential.
Still, the brokerage forecasts a 2013 retail vacancy drop to 10.9 percent, down from 11.9 percent in 2012.
■ A victim of the recession is making a comeback.
HomeAid America, a nonprofit provider of housing for the homeless, is partnering with the Southern Nevada Home Builders Association to re-establish a Las Vegas chapter.
Before HomeAid closed its local chapter during the housing downturn, it built nearly 100,000 square feet of space valued at more than $1.4 million for groups including St. Jude's Ranch for Children and Lutheran Social Services of Nevada.
The new branch will be the group's first new outpost in more than five years.
"We are thrilled to be back in business in Nevada," said HomeAid America CEO Peter Simons. "Las Vegas is one of the biggest and most vibrant housing markets in the country, and the (homebuilders' association) is doing a remarkable job leading the local industry out of a difficult period. By adopting a HomeAid chapter, they can now also enhance their giving back to the community as they rebuild."
■ Land brokers at Colliers International have been busy.
The brokerage's Brian Riffel represented Insight Inv. Partners LLC in its $7.8 million purchase of 78 acres in North Las Vegas, near two cross streets that aren't yet named. Colliers' Michael Stuart represented the seller, NLV Parcel 5.03 LLC and Parcel NVL 1.13 LLC.
Vincent Schettler represented Deer Springs Way Trust in its sale of 5 acres on West Deer Springs Way. Ryland Homes Nevada LLC bought the parcel for $1.11 million.
Robert Torres and Scott Gragson brokered the sale of two parcels at Decatur Boulevard and Teco Avenue. United Investments LLC bought a 2.5-acre lot for $850,000, and a 1.26-acre parcel for $425,000.
Dan Doherty, SIOR, represented CW LV Real Estate LLC in its $3.5 million purchase of 11.25 acres of industrial property in southwest Las Vegas. Spencer Pinter represented the seller, Post Road &Hinson Properties LLC.
Greg Pancirov, SIOR, and Mike De Lew, SIOR, helped Landis Enterprises buy a 19,786-square-foot industrial property at 6275 S. Pioneer Way, inside the Buffalo 215 Business Park. Brian Riffel represented the seller, Pioneer Post LLC, in the $3 million deal.
Riffel also represented CML-NV Airport South LLC in its $619,000 sale of 7,378 square feet of industrial property at 2099 Pama Lane, inside Pama Airport South. Michael McLeod of Albright Callister &Associates represented the buyer, Jaybird Holdings LLC.
Eric Molfetta represented tenant California Produce Wholesalers in a 51-month lease of 15,350 square feet of space at 6630 Arroyo Springs St., inside Arroyo North Business Center, Phase I. Spencer Pinter represented landlord EJM Arroyo North I Property LLC in the $411,507 deal.
Contact reporter Jennifer Robison at jrobison@reviewjournal.com or 702-380-4512. Follow @J_Robison1 on Twitter.