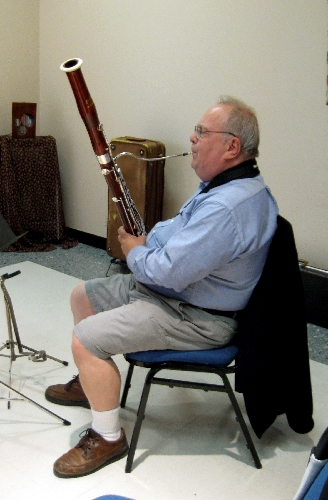 Before they start playing, the room is filled with snippets of songs, running scales and random notes. After they start to play, it all comes together for a polished sound that rings off the walls.
The Vegas Valley Legacy Concert Band has been a part of Las Vegas since 2002. It practices from 6:30 to 8:30 p.m. every Monday at the c ity of Las Vegas' Durango Hills Community Center, operated by the YMCA at 3521 N Durango Drive.
The community band, a non profit organization, has performed for groups all over Southern Nevada, including the Coast Guard Reserve, the American Legion and the U.S. Air Force Thunderbirds, as well as at community centers, retirement homes, hospitals and schools. The band plays all types of music from classics to parade to pop. Members get as much out of it as those who attend the concerts.
"It keeps you young," said Marv Winchell, the group's treasurer.
Legacy is actually two bands. One is a 17-piece swing band that delivers a big jazz sound and plays at dances, parties, special functions and concerts.
The main band is called the concert band. Its numbers fluctuate between 20 and 40, mostly due to some members being snow birds and other member s' prior commitments.
At 90, Anita Charboneau is one of the more senior members. She plays the baritone but hadn't played it, by her own admission, for 60 years before that. She was having a difficult time when she heard of the band.
"I had a triple bypass in 1998," she said. "I thought my life was over … but I've rebounded. It's the band that did it. … I feel useful again."
Charboneau, whose popularity was evident by the many greetings when she arrived, estimated that she has made at least 50 new friends by joining the group.
Other Legacy band members had their own stories.
Judie Brush was a registered nurse for most of her life.
The only time she played an instrument before joining the group was in high school.
Now, she has reacquainted herself with her instrument, the French horn.
Cameron Thomas of Henderson took up the tuba again after 35 years. Although he'd been a professional player and a music teacher, he said he was rusty at first and chuckled at the memory.
"I'm surprised he (the band leader) let me play with them the first couple months," he said.
Bob Pearce, a clarinetist, joined Legacy six years ago. He said he finds joy in the camaraderie and "just playing."
Jim Wallace has been playing the trombone since "forever."
At 22, he came to Las Vegas and played in the Stardust's lounge . He later worked with headliners Johnny Mathis and Milton Berle.
"I'd seen him on TV as a kid," he said of Berle . "And here I was, playing in his show. What a trip."
Not all the members have professional back grounds. They include lawyers, teachers, casino workers, sales people, health care professionals and manufacturers' representatives. Some are students as young as 12.
Anyone is invited to try out, and if their skills are not quite polished, band members often will offer suggestions, along with encouragement.
The group, said president Charlie Law , never gives up on a new member who is struggling to play along but is sincere in his efforts. For more information, visit vegas
valleylegacyband.com.
Contact Summerlin and Summerlin South View reporter Jan Hogan at jhogan@viewnews.com or 387-2949.