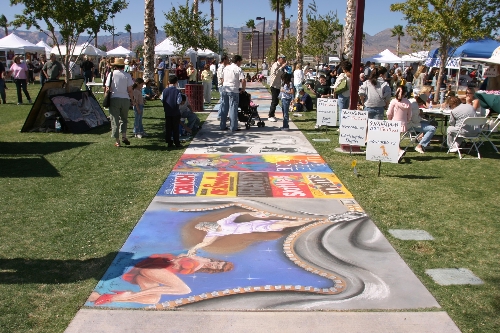 The public is invited to attend the Summerlin Art Festival, today and Sunday from 10 a.m. to 5 p.m. at Summerlin Centre Community Park, 1800 S. Town Center Drive. There is no cost to attend the event.
The festival will feature the works of more than 100 artists and craftsman, chalk art masterpieces, fruit and ice carving demonstrations by Le Cordon Bleu Chef Chanh Boupha, performances by actors in Defending the Caveman, dance performances by Nevada Ballet Theatre, Sergei's Dance Studio and Flash Mob, and live music by Recycled Percussion, Jeremy Cornwell Project and Nick Mattiera. Featured chalk artist, Donovan Fitzgerald, owner of Fitzgerald Artworks, will be working on a classical reproduction throughout the event.
"The Summerlin Art Festival is a popular annual tradition for thousands of valley residents," said Nikkole Liesse, director of marketing for Summerlin.
"The community has been hosting various art festivals and cultural celebrations for nearly 20 years. Summerlin is truly a culturally rich and diverse community, which only adds to its charm."
In addition to the displayed artworks, chalk art and entertainment lineup, the Summerlin Art Festival will offer more than a dozen food and drink options, face painters and the opportunity to create chalk art for $5.
The Summerlin Art Festival is made possible through a partnership with CBS Radio Las Vegas, which is owned and operated by CBS Radio, one of the largest major-market radio operators in the United States. CBS Radio Las Vegas owns and operates Mix 94.1-FM, KXNT News Radio 100.5-FM and 840-AM, 98.5 KLUC-FM, X107.5-FM and KYDZ 1140-AM.
Other sponsors include Southern Nevada Heath District, Findlay Kia, Euphoria Institute of Beauty, Suncoast Hotel and Casino, USN Accelerated BSN Program, Dry Dock Boat Sales, We Care Eye Care and American Heart Association.
For more information on the event, visit summerlinsartfestival.com. For more information on Summerlin, visit summerlin.com or call 791-4500 or become a fan of Summerlin on Facebook.