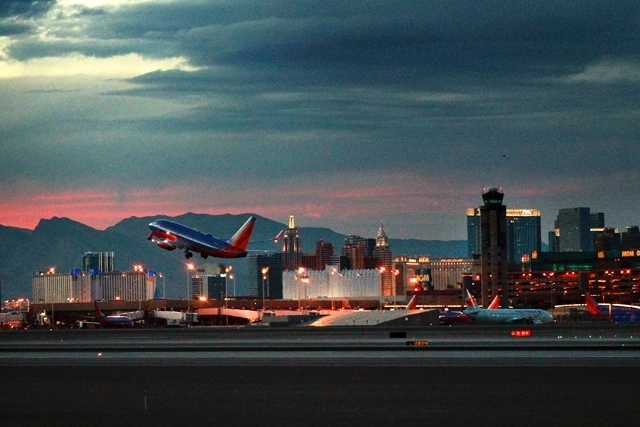 As he calls on airline headquarters around the world in his quest for new flights to Las Vegas, Mark Suman finds that a personal question occasionally makes the agenda: Does he live in a hotel?
Suman, the air service development administrator at Mc­Carran International Airport, will then patiently explain that Las Vegas spreads beyond the megawatt lights of the Strip. Many of the 2 million residents live and work in ways that are not tied to gaming or weekend pool parties.
The opportunity to set the record straight for a crowd of airline schedule planners and let them see the destination firsthand has elevated the World Routes conference, which starts today at the Las Vegas Convention Center, to a point of prominence rare among local officials accustomed to big conventions in Las Vegas.
Since landing World Routes three years ago, tourist industry leaders have viewed it as a chance to hit home runs in attracting new air service, particularly international flights, rather than squeeze out bunts and singles. It draws 2,800 people in the industry, including representatives of 300 airlines.
"The whole point is the phenomenal opportunity to show Las Vegas to airline schedule planners," said Rosemary Vassiliadis, Clark County Aviation director. "We can show the pictures and talk about the major events, but there is nothing like seeing it yourself."
With it comes the promise that more flights and passengers will follow, giving a much-needed boost to an industry that has experienced a plodding recovery with flat passenger counts at McCarran. World Routes organizers tout gains at other cities that have hosted the convention during its 19-year existence as proof of its value.
But examining the before and after traffic at 10 recent World Routes host cities shows no pattern. Some cities gained momentum; others lost it. In a number of cases, outside factors such as the economic recession eclipsed World Routes.
Madrid showed strong passenger gains after hosting World Routes in 2004, but has absorbed repeated declines following Spain's economic meltdown in 2008. Dubai has continued to attract more passengers as the hub for Emirates, the fast-growing local flagship carrier. Kuala Lumpur has also seen its counts rise as the capital and center of a booming Malaysian economy.
Beijing, on the other hand, has seen growth slow down substantially after hosting World Routes in 2009. In addition, Stockholm and Vancouver, British Columbia, have gone through post-World Routes struggles building their totals.
But impact studies for the conference, staged by Manchester, England-based UBM Aviation Worldwide Ltd., depict the numbers as relative.
"The key to this is to look at an airport compared to other airports in the region," said Nigel Mayes, vice president-commercial for World Routes. "The cities that hosted World Routes have done better."
Based on that potential, World Routes is unusual in that host cities commonly pledge financial support to get its business. In Las Vegas, that has meant $2.2 million, including $1.2 million from the Las Vegas Convention and Visitors Authority and $400,000 from McCarran. The cash sponsorship fees come to $1.4 million, with the rest donations such as food, entertainment and transportation.
The sponsorship will net local officials 55 meetings with airline managers, compared with a dozen each for other cities that will have booths on the exhibit floor, Vassiliadis said. The 20-minute sessions are a cockpit version of speed dating.
However, aviation experts contend World Routes provides almost no stimulus where it is most needed, with domestic airlines. Those carriers account for 90 percent of the nearly 42 million people who annually pass through McCarran, but their traffic has been stuck in the doldrums. Last year, domestic traffic slipped 0.1 percent, followed by another 0.6 percent drop through August.
"What can Routes do? Really nothing," said aviation consultant Michael DiGirolamo, a former deputy executive director at Los Angeles International Airport. "The domestic carriers know where Las Vegas is."
Domestic airlines have collected servers full of crucial data such as passenger demand, percentage of seats sold and how much people are willing to pay, he said.
"Adding flights is a very cold and pragmatic decision," said San Francisco-based analyst Harry Harteveldt with the consulting firm Hudson Crossing.
Although Las Vegas remains a popular vacation and meeting destination, particularly with travelers looking to spend frequent flyer miles, airlines have focused intently on how much money they can wring out of each seat at a time when fuel prices are near historic highs. With a small general business base compared with cities such as Boston, San Francisco or New York, Las Vegas loses out.
The strong positions of Southwest Airlines and Allegiant Air also hold down fares for other airlines, Harteveldt said. Combined, No. 1 Southwest and No. 5 Allegiant carry half of the U.S.-based passengers going through McCarran.
"You need more Burberry and fewer backpacks," Harteveldt said. "What will really help Las Vegas is if it is able to attract a core business over time that is not tied directly to casinos or lodging."
But Rossi Ralenkotter, CEO of the convention authority, said World Routes provides valuable face time.
"We need to continue the dialogue with domestic carriers and build relation­ships," he said. "Seeing Las Vegas is selling Las Vegas."
Everyone agrees World Route's biggest potential payoff is in international flight expansion. DiGirolamo recalls discussions that either started at or were advanced at World Routes sessions that resulted in the addition of several trans-Pacific flights to Los Angeles.
"On the international side, this is a face-to-face opportunity we have never had before," Vassiliadis said.
Although it's a small piece of the passenger base at McCarran, international traffic has grown consistently in recent years. Much of the growth has come from Canada, particularly with WestJet, but a changing lineup of carriers from other countries bring more passengers as well. This ties in with local marketing efforts to lure more foreign visitors.
Las Vegas, however, faces a much different task than other cities planning booths on the World Routes exhibit floor. Few people could locate places such as Swaziland, Guangdong, China and Ras al Khaimah, one of the United Arab Emirates, without a map. Others, such as Los Angeles or Frankfurt, Germany, already have strong international service but want more.
Experts say Las Vegas might suffer by overexposure, at least in its depiction in movies such as "The Hangover" and "Ocean's Eleven."
"The farther people get away from Las Vegas, the less people have knowledge of what it is actually like," Ralenkotter said. "Some people think all we have is gaming."
Coinciding with world routes, international airlines have or will soon start adding to their fleets the Boeing 787 and Airbus A350, both long-range jets with lower operating costs and higher seating capacities than current jumbo jets. The economics, Harteveldt said, make it much more attractive to fly to secondary cities such as Las Vegas and bypass big airline hubs.
On the other hand, these planes also enable a longer list of cities vying for service. For example, Japan Airlines uses a 787 for nonstops between Tokyo and San Diego, while All Nippon Airways started flights between Tokyo and San Jose, Calif.
Any benefit from World Routes likely will take time to ripen. Local officials note that discussions that led to British Airways' service to McCarran took two years, but five years with Panama's Copa Airlines and 10 years with Virgin Atlantic.
"It is very expensive to start a route," Harteveldt said. "It can take years from the start of considering a route to opening flights. It's not going to be an overnight feat of magic."
Contact reporter Tim O'Reiley at toreiley@reviewjournal.com or at 702-387-5290