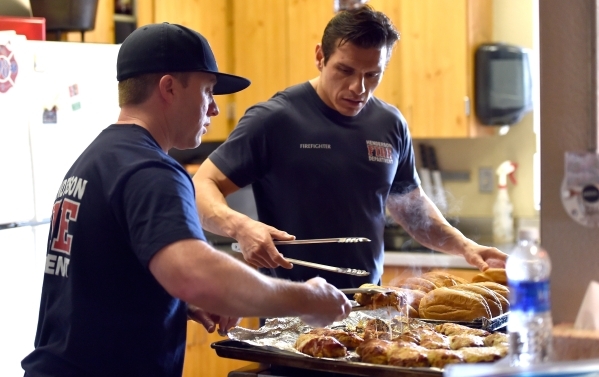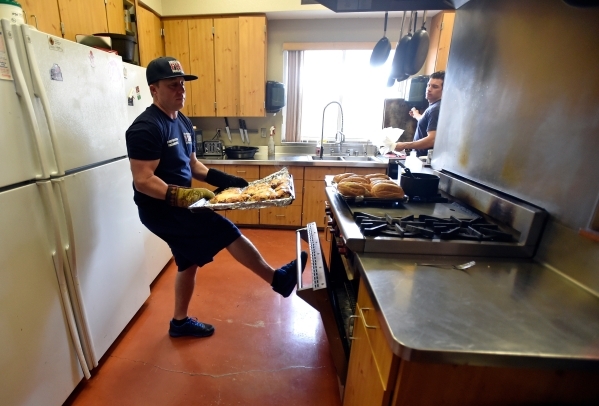 When Chris Alvarez traded his chef's hat for a firefighter's helmet, the transition was more seamless than one might imagine.
Alvarez — who graduated from Schenectady County Community College'€‹'s School of Hotel, Culinary Arts & Tourism in Schenectady, N.Y., and studied restaurant management at UNLV — was able to combine his culinary training with his career: He now does nearly all of the cooking while working the C shift at Henderson Fire Department Station 82, 401 Parkson Road.
"I think every day I cook here," he said on Jan. 5. "Like today, I'm planning to make roasted chicken, sweet potatoes and salad."
Culinary training or not, firefighters are required to whip up meals on a rotating basis while working their shifts, unless other arrangements are made with station personnel.
"It's an unwritten rule," said Chad Engel, who works the B shift at Station 98, 891 Coronado Center Drive.
Engel, who said he also does the cooking at home for his family, was frying 13 chicken cutlets in two large iron skillets Jan. 4 at the station, where chicken parmigiana heroes were on the lunch menu. Other firefighters sat and talked while Enrique Porras assisted Engel. Both were responsible for manning the ladder truck that day in the event of any calls.
When the food is served, firefighters ring one of two wall-mounted bells near the kitchen to alert other station members.
"We all sit down together and have lunch at the same time; have dinner at the same time," Porras said.
The same holds true at Station 82, Alvarez said.
"It's like a second family," he said. "It's set up like a house, and everybody else is just like brothers and sisters."
Porras said he has expanded his cooking repertoire since joining the department in 1999. He said firefighters try to prepare meals that are simple but also delicious.
"This way, we can come back and pick up where we left off if we have to take off (on a call)," Porras said. "Otherwise, we'd ruin it."
Health is also a consideration when preparing meals, Alvarez said. That includes making food that's lower in fat, prepared from scratch or otherwise tailoring it to specific dietary needs.
"On our crew, we have a couple of vegetarians," Alvarez said. "Another guy eats gluten-free, so I'll make separate dishes. Like recently, I made a meat lasagna, a vegetarian lasagna and a gluten-free lasagna. We have one guy on our crew who loves banana bread, so I always make him that."
Alvarez said he also makes cafe con leche regularly to offer an alternative to "firehouse coffee," which he compared to mud.
He also cooks for local fundraisers to support local nonprofits, including the the Firefighters of Southern Nevada Burn Foundation and the Trauma Intervention Program of Southern Nevada.
"Every year, TIP has a fundraiser, so we offer dinner at a firehouse for a certain number of people," Alvarez said.
At Station 98, Mike Consul has earned a reputation as one of the better cooks, staff members there said.
"I'd say our best meals are when one of our paramedics, Mike, cooks," said station member Jeff Humphrey. "He cooks pretty well."
"He just smoked some really good turkey," Porras added while slicing rolls for the chicken parmigiana heroes. "He makes some really good stuff. His wife makes really good desserts."
Firefighters typically chip in to purchase ingredients for cooked meals and also pool funds for common items, such as coffee, condiments and breakfast cereal, Humphrey said.
On occasion, community members bring food to the station to show appreciation for the fire department's services.
"We have some really, really thankful customers who bring trays of food — cookies or bigger things, especially around the holidays," Humphrey said.
"A lot of people are extremely generous," Alvarez said.
— To reach Henderson View reporter Cassandra Keenan, email ckeenan@viewnews.com or call 702-383-0278. Find her on Twitter: @CassandraKNews