Cortez Masto stresses middle class at union pay summit
January 12, 2016 - 6:12 pm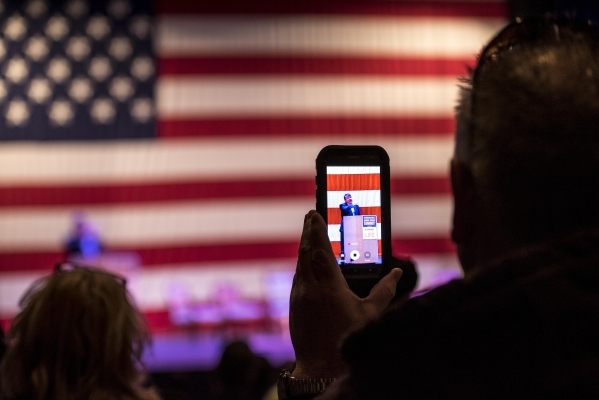 Catherine Cortez Masto, a Democratic candidate for the seat of retiring U.S. Sen. Harry Reid, said Tuesday that barriers to the middle class need to be torn down.
Cortez Masto spoke at the Raising Wages Summit in North Las Vegas that was organized by the Nevada AFL-CIO. The event, with heavy involvement from labor groups, focused broadly on the issue of raising wages for working families.
Cortez Masto touched on broad labor themes, saying there's a need to close the wage gap and for working families to have family and sick leave.
"Our economy needs to work for everyone," Cortez Masto said.
She touted the labor roots of her father, who was born in Mexico and was a Teamsters member while working as a parking attendant at the old Dunes Hotel in Las Vegas. Her father, the late Manny Cortez, later led the Las Vegas Convention and Visitors Authority.
"To me, that's what the American dream is about and everyone should have a shot at it," she said in her nearly 10-minute speech.
Cortez Masto is a former Nevada attorney general and a former federal prosecutor.
In Washington, Cortez Masto said, "too many people are concerned with pointing fingers rather than rolling up their sleeves and getting things done."
The leading Republican candidate in the Senate race is U.S. Rep. Joe Heck, R-Nev.
Contact Ben Botkin at bbotkin@reviewjournal.com or 702-387-2904. Find him on Twitter: @BenBotkin1